Actress Ashley Judd confirmed that her mother, country singer Naomi Judd, died via suicide last month, adding that her mother was dealing with longstanding mental health issues.
"She used a weapon," Ashley Judd told ABC News in a Thursday interview. "A firearm. So that's the piece of information we are very uncomfortable sharing."
On April 30, Ashley and sister Wynonna Judd, also a singer, jointly announced that their 76-year-old mother died from the "disease of mental illness," without elaborating at the time.
"Because we don't want it to be part of the gossip economy I will share with you that she used a weapon; my mother used a firearm," added the 54-year-old actress in the interview, adding, "understand that we're in a position that if we don't say it, someone else is going to."
Naomi Judd "was seen and she was heard in her anguish, and she was walked home," Ashley Judd said. "When we're talking about mental illness, it's very important to be clear and to make the distinction between our loved one and the disease," she added in the interview. "It's very real … it lies, it's savage."
"Our mother couldn't hang on until she was inducted into the Hall of Fame by her peers," the actress continued. "That is the level of catastrophe of what was going on inside of her, because the barrier between the regard in which they held her couldn't penetrate into her heart, and the lie the disease told her was so convincing."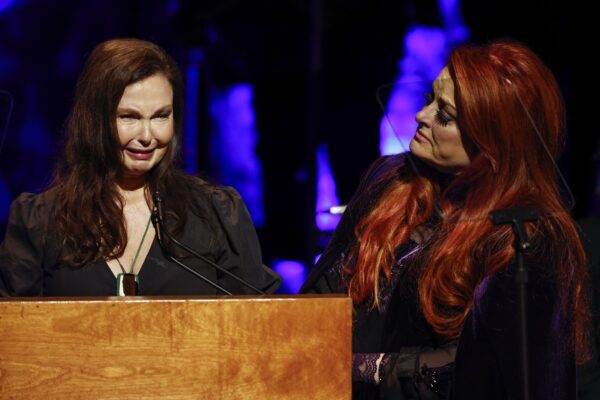 Naomi Judd died near Nashville, Tennessee, said a statement on behalf of her husband and fellow singer, Larry Strickland, in late April.
Born Diana Ellen Judd in Ashland, Kentucky, Naomi was working as a single mother and nurse in Nashville, when she and Wynonna started singing together professionally. Their unique harmonies, together with elements of acoustic music, bluegrass, and blues, made them stand out in the genre at the time.
The Judds' hits included "Love Can Build a Bridge" in 1990, "Mama He's Crazy" in 1984, "Why Not Me" in 1984, "Turn It Loose" in 1988, "Girls Night Out" in 1985, "Rockin' With the Rhythm of the Rain" in 1986 and "Grandpa" in 1986.
The Judds released six studio albums and an EP between 1984 and 1991 and won nine Country Music Association Awards and seven from the Academy of Country Music. They earned a total of five Grammy Awards together on hits like "Why Not Me" and "Give A Little Love," and Naomi earned a sixth Grammy for writing "Love Can Build a Bridge."
If you or someone you know is considering suicide, contact the National Suicide Prevention Lifeline at 1-800-273-TALK (8255), or text "STRENGTH" to the Crisis Text Line at 741-741. The suicidepreventionlifeline.org website is also available.
The Associated Press contributed to this report.