DARWIN—U.S. Marines deployed to Australia's northern city of Darwin reflect President Donald Trump's continued commitment to a security "pivot" to Asia at a time of heightened tensions, the Marines' commander said on Wednesday.
Some 1,250 Marines began arriving in Darwin by plane on Tuesday for joint training maneuvers under a 25-year program started by former U.S. President Barack Obama in 2011 as a part of his "pivot" to Asia policy.
Trump's early rhetoric demanding Asian allies carry a fair share of the security burden in the region had caused uncertainty over the U.S. military "pivot", but he has since committed to defending Asian allies in the face of recent North Korean threats.
"The deployment of a Marine Air Ground Taskforce to Australia certainly continues to communicate a sustained commitment to the region, I believe that's why we continue to see the growth and the evolution of the (taskforce)," Marines' commander Lieutenant Colonel Brian Middleton told Reuters in an interview in Darwin.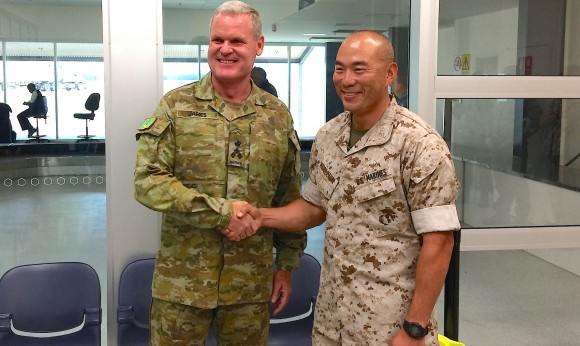 "I'm well aware of all the tensions, certainly, there's no lack of activity and things to keep either Australian or American attention in the Pacific area of influence here."
The strength of this year's contingent lags well behind the initial plan to reach 2,500 Marines this year, but Middleton said the aim to grow the force remains.
"I think at the right time when our interoperability gets to the point that it needs to, and when both countries agree to it, we'll continue to proceed and eventually get to the 2,500," Middleton said.
Australia is a staunch U.S. ally which sent troops to fight in Afghanistan and Iraq, as well as alongside Americans in wars in Vietnam and Korea.
The 13 aircraft sent with the Marines is the largest U.S. aircraft detachment sent to Australia in peacetime history, with four tilt-rotor MV-22 Ospreys, expanding the Marines' range to 850 nautical miles, which from their base at Australia's Robertson Barracks includes most of eastern Indonesia.
Middleton has no plans to visit Indonesia and said his mission was mainly training inside Australia to "contribute to stability in the region and make both the Marine Corps, the United States and Australia better postured to be able to respond to crises whether or not they be natural or unnatural."
During the Marines six-month deployment training exercises with Australian, Japanese, and Chinese troops are scheduled.