As Hurricane Erick gained strength in the eastern Pacific as it churned toward Hawaii, another weather system, tropical storm Flossie brewing farther east is likely to become a hurricane later on Tuesday, July 30, forecasters said.
Tropical Storm Erick grew into a hurricane late on Monday in the eastern Pacific, packing maximum sustained winds of 80 mph as it churned more than 1,000 miles from Hawaii's Big Island.
Erick, the Pacific season's third hurricane, is rated Category 1 on the Saffir-Simpson hurricane wind scale and could reach category 3, with sustained winds of more than 111 mph in the next two days, the National Hurricane Center in Miami said.
Tropical Storm #Erick is forecast to move toward the Hawaiian Islands through the week, crossing into the Central Pacific basin late Monday or early Tuesday. Follow @NWSHonolulu for more info on Erick's possible impacts on the islands later in the week. https://t.co/N7jDnjmLGs pic.twitter.com/ksikXPcWTO

— NHC Eastern Pacific (@NHC_Pacific) July 28, 2019
"A weakening trend is expected to begin later in the week," it said in an advisory.
The weather system is expected to weaken back into a tropical storm by the time it makes its closest approach to Hawaii, and is forecast to skirt south of the Big Island on Friday morning. Forecasts call for a higher chance of gale-force winds from the storm on the Big Island later this week.
The National Oceanic and Atmospheric Administration (NOAA) says it anticipates Hurricane Erick should exit Hawaiian waters by Saturday.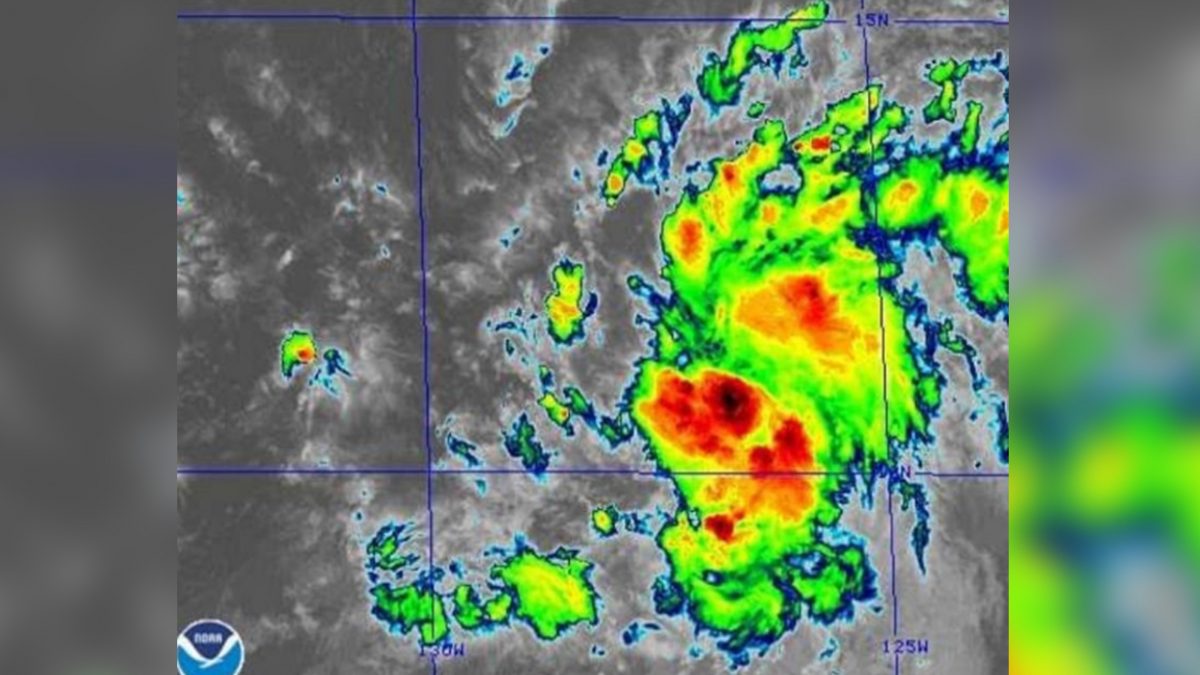 Another tropical storm, Flossie, was trailing Erick farther out in the eastern Pacific, packing winds of 65 mph early on Tuesday.
Flossie is expected to become the fourth hurricane of the Pacific this season later in the day, forecasters said. It was about 965 miles southwest of Baja, California, an advisory said, and was slowly headed west.
As both storms strengthen, NOAA says it will monitor them via radar.
#NOAA20 is watching two tropical storms, #Erick and #Flossie, strengthening in the Eastern Pacific. @NWSNHC predicts Erick will continue heading toward Hawaii, attaining #hurricane status today, while Flossie will on Tuesday. More: https://t.co/9jyKRptzvk pic.twitter.com/KJQ5Ur3OIP

— NOAA Satellites (@NOAASatellites) July 29, 2019
Remembering Iniki
Hurricane Iniki was the most powerful hurricane on record to hit Hawaii, making landfall on Kauai island on September 11, 1992, as a Category 4.
A NOAA summary of the storm lays out the devastation Iniki caused, particularly for Kauai but also for nearby Oahu. The hurricane damaged or destroyed 14,350 homes on Kauai, causing about $3 billion in damage, according to Red Cross figures.
At the time, Kauai had a population of just over 51,000 people. Local officials reported that 12,000 people were accommodated in public shelters after the storm, according to a 1993 government report. On Oahu, officials estimated that a third of the population evacuated.
Six people died in incidents connected to the storm, including a National Guardsman who was killed when his truck overturned trying to avoid live wires during storm cleanup. More than 100 people were injured.
The hurricane wreaked havoc on the island's electrical and phone systems as well. Four weeks after the storm, only 20% of the power had been restored, NOAA said.
In all, Hurricane Iniki's $3 billion in damage made it one of the costliest storms in American history at the time. Even now, 26 years later, it remains the most costly and powerful hurricane to strike the Hawaiian islands, according to NOAA.
The CNN Wire contributed to this article.