As China's Mega Dam Rises, So Do Strains and Fear
November 14, 2007 12:00 am Last Updated: November 14, 2007 12:00 am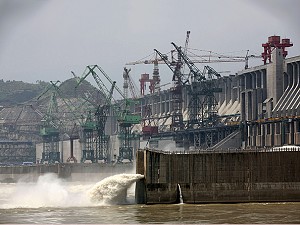 BADONG, China—The slopes of Chenjialing Village have shuddered and groaned lately, cracking and warping homes and fields, and making residents fear the banks of China's swelling Three Gorges Dam may hold deadly perils.
The vast hydro scheme is meant to subdue the Yangtze River, but as the water levels rise, parts of its shores have strained and cracked, dismaying scientists and officials and alarming villages such as Chenjialing in Badong County.
Xiang Chuncai, who has lived much of her 84 years on this hillside of orange groves above the Yangtze, recalled waking in fright last year to rattling windows and rumbling noises from the earth. The tremors returned several times in past months, residents of this village in Hubei province said.
"It's all been splitting since the Three Gorges Dam was filled," Xiang said, poking a wide crack snaking up a wall in her earth-brick home. "We don't have the money to move … I'm scared what will happen if we stay," Xiang added.
Along the 660-km (410-mile) reservoir, residents pointed to erosion, slides and deformed terrain they said have seriously worsened since last year, when the water level was raised a second time.
While authorities have vowed to contain geological aftershocks from the dam, poor farmers worry about being swallowed up by landslides. The resulting tensions threaten to rekindle the bitter clashes that long dogged the project.
"Sometimes the ground rumbles and shakes, dogs bark, babies cry. It frightens us too," said Xiang's neighbour, Su Gongxiang, showing his front door that will no longer shut.
Facts About China's
Three Gorges Dam
Reuters
China's Three Gorges Dam lies across the country's longest river, the Yangtze, and will be the world's largest flood control and hydropower station when completed.
Here are some facts about the dam, which scientists have warned is experiencing damaging environmental problems and straining the surrounding land.
Location:
— The more than a mile-long dam lies on what is regarded as one of the most scenic stretches of the Yangtze River, near Sandouping, in the central province of Hubei.
— The dam is a third of the way along the river, which winds 6,300 kilometres (3,910 miles) from glacial Tibetan marshlands to the Yellow Sea near Shanghai.
Construction:
— In 1919, Sun Yat-sen, considered the "father" of modern China, proposed a dam near the Three Gorges. In the 1950s and '60s, the Communist revolutionary leader Mao Zedong encouraged planning for a dam but then abandoned the idea.
— Construction of the dam began in Dec. 1994, and officials say it will cost $25 billion.
— Two cities, 11 counties, 116 towns, and hundreds of cultural sites in Hubei province and neighbouring Chongqing municipality have been flooded to create its reservoir. About 1.4 million people have been displaced.
— State media has said the project could be completed by the end of 2008.
— The dam is a concrete cavity type, 185 metres high and with a storage capacity of some 39 billion cubic metres of water.
Purpose:
— Flood control, cheap electricity, improved shipping navigation and tourism have all been cited as benefits.
— At full capacity, the dam should be capable of generating 18,200 megawatts of electricity from 26 power turbines.
— Ocean-going freighters will be able to sail more safely along the deepened, widened, waterway between the dam and Chongqing, and on to Shanghai, dam builder the China Three Gorges Project Corporation (CTGPC) says.
— The dam will also tame periodic devastating floods, reducing the Yangtze's major flood threat from once every ten years to once every 100 years, dam officials say.
Controversy:
— Environmentalists have long criticised the project, saying that the dam traps silt, causes erosion and has drowned precious natural and cultural treasures. Critics say that the dam's reservoir risks turning into a pool of sewage and industrial chemicals backing onto the mega-city of Chongqing.
— Many of the people moved to make way for the dam are poor farmers, and in past years there were protests and petitions claiming that the they were victims of inadequate compensation and widespread embezzlement.
Sources: Reuters, China Three Gorges Project (www.ctgpc.com)
Mastering Nature
These days, China stands almost alone among nations in wielding the wealth and will to conjure up vast engineering efforts to alter the flow of rivers and lives of millions.
The Three Gorges Dam is the world's biggest, an engineering feat that seeks to tame the world's third longest river while displacing 1.4 million people.
The 6,300-km (3,910-mile) Yangtze, which rises on the Tibetan plateau, flows through the towering Three Gorges to irrigate, and often flood, much of the country's central and eastern plains.
From 1919 a succession of leaders argued that a dam would end devastating floods and generate power. That dream eluded the revolutionary founder Mao Zedong, whose plans for a dam foundered in political turmoil and poverty.
But in the 1980s, a new generation of Communist Party leaders championed the plan as a trophy of growing economic power.
They faced down opposition from environmental critics and sceptical scientists who in 1992 persuaded an unprecedented third of the usually docile Party-controlled parliament either to oppose the plan or abstain from voting.
Construction began in 1994.
Since the 2,309-metre-long dam was finished in 2003, the reservoir has been filled with water in stages. If all goes to plan, it will reach its maximum capacity of 39.3 billion cubic meters of water by the end of 2008, capping a year of national glory centred on the Beijing Olympics.
'Never Like This Before'
But in Chenjialing this engineering triumph has brought bewilderment and the resigned anger that comes easily to people with little say over their own lives.
Its 1,400 villagers live above what was once a rivulet that could be waded across. These days it is a deep inlet that can moor big coal boats plying the Yangtze.
Everywhere among the fruit groves and potato fields is evidence of a bruised and unsettled landscape.
A hulking old tree has begun to tilt riverward, a nearby earth terrace suddenly subsided, and many houses show cracks and warping, all since last year, villagers said.
"We worry about staying but can't move," said Su Zhonghen, washing clothes in an outdoor stone sink that now skews to one side. "Only families with flooded homes get compensation."
A nearby bank of the Yangtze collapsed last year, tossing several homes into the water, and the county government has put signs around Chenjialing warning of "geological hazards".
The coal mine at the foot of the village probably does not help, with its dynamite blasts regularly shaking the quiet air.
Residents said they had been visited by a handful of worried but lowly officials who said there was little else they could do.
Tan Lianyong, a wiry 45-year-old farmer who also works in the mine, said he worried that land slips could trap him in a tunnel.
"We're just peasants. We've got to earn money to survive. We can't choose how," he said, eyeing the vegetable patch in front of his home that suddenly sank in the middle.
Pulverised Houses
The dam region is granite-solid in parts but also spans brittle terrain. Scientists have long forecast greater instability as rising and falling dam waters punch at shorelines, block seepage, and squeeze weak spots.
"The dam area was always prone to landslides, and now the raising of water levels is adding to the pressure on the sides," said Lei Hengshun, an environment expert at Chongqing University.
The raised water loosened vulnerable layers of earth and rock, and drought and torrential rain could intensify risks of major land collapses, he said.
The pulverised slope of Qianjiangping Village in Zigui County, Hubei, suggest the dangers these shocks may bring.
In July 2003, after the dam began to fill, a landslide there killed 24 people and left 1,100 homeless, churning a whole hillside into a jumble of rock and earth and shattered homes.
State media said at the time the dam was not to blame, and torrential rain had at least played a part, experts said.
But villagers nearby said they feared that as waters rose again, landslide monitors would be unable to give enough warning.
"The first sign will be cracks in the older homes, like ours," said a former resident of Qianjiangping, Wang Aihua, visiting his parents there. "Keep your eyes open for anything like that," he sternly told them.
In the rainy summer of 2007, landslides across the dam area killed at least 13 people, according to local news reports and the dam environmental agency.
A report fronm the CCP-controlled Xinhua news agency last year cited over 1,900 geological hazards around the dam, including 362 urgently needing safety work. Thirteen had received it.
Scientists in state institutes have suggested that officials did too little to anticipate the dangers.
"The scale and intensity of these problems seems to have exceeded predictions", said Liu Changming, a hydro-engineer at the Chinese Academy of Sciences with long involvement in the dam.

Alarm at the top is growing too.
In April, Premier Wen Jiabao, a geologist, took leadership of the dam construction committee and later held a cabinet meeting to discuss the Three Gorges' environmental strains.
In September, a senior project official warned that land upheavals could spell "environmental calamity" — an abrupt switch from bright propaganda about the dam's benefits.
Since then, officials have softened their warnings and said the hazards are well under control, pointing to billions of yuan already spent to control risks.
Yet despite their assurances, the reality on the ground leaves little doubt that many thousands of farmers, if not more, must either move away or risk living on dangerous land.
'Just Listen and Wait'
Abrupt efforts to uproot endangered villagers, however, threaten to rekindle the bitter clashes between officials and dispossessed residents that marred the dam's construction.
In Kangle Township, villagers described an angry meeting with local officials after receiving notice in early November urging them to voluntarily move by the end of 2007 or risk landslides.
The compensation offered was not enough to build new homes, and moving high in the hills would put them too far from their fields and water sources, villagers said.
"If we don't move, we're scared of landslides, but if we want to move, we can't afford it," said farmer Jin Shihe.
On the other side of the valley, cracks have spread in homes but residents said they had not received any notice to move.
"At night if it's raining, you don't dare go to sleep," said Li Zhongchen, a grandmother in her sixties. "If a landslide comes, it will be without much sound or warning, so you can just try to listen and wait".