Commentary
"In America, I post comments without fear of disgrace
In China, they're censored, what a great loss of face!"
Ironically, these lines about online censorship, translated here from the original Chinese, were what led to me being censored for the first time in my life.
As an American exchange student in Nanjing completing the U.S. Defense Department's Chinese Language Flagship Program, I competed in a Chinese-language competition for foreign students, co-sponsored by China Central Television and the Confucius Institute headquarters. I'd been invited to participate by an administrator at Nanjing University, and, rather than emulate the studious and self-serious efforts that other students made to showcase their "true knowledge" of Chinese language and culture, I instead decided to speak the truth.
I wrote an irreverent poem in Chinese, titled "Forever a Foreign Devil," which humorously addressed the reality, learned over time while living in China, that no matter how advanced my Chinese language skills became or how deeply I came to understand Chinese culture, I would always be identified in China's insular society, first and foremost, as a foreigner.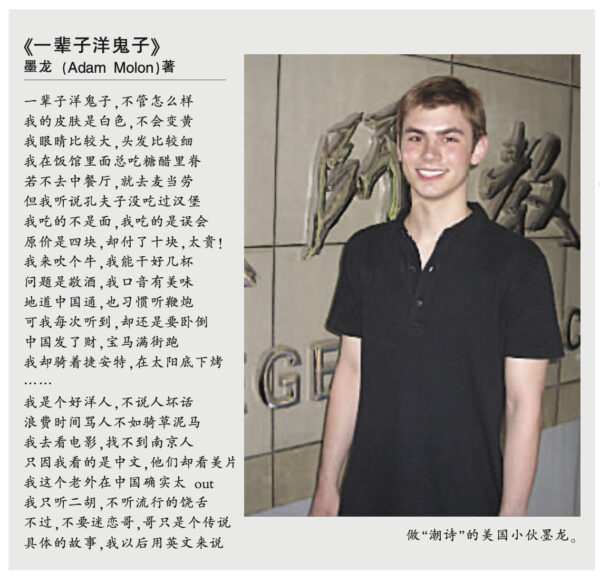 Following my performance, judges selected me to advance from the regional competition in Jiangsu Province to the televised national competition in Beijing, and my poem was printed the next day in The Yangtse Evening Post, one of China's most widely circulated newspapers.
The poem—included under the headline "Foreign Students Are 'Cool,' Local Students Are 'School': Young Foreigner's 'Hip Poem' Leaves Chinese Audience in Stitches"—was printed in its entirety, with the exception of my lines critiquing censorship in China. There were other portions of the poem that I thought to be edgier, but pointing out the systematic suppression of speech in authoritarian China turned out to be the real red line for censors.
In The Yangtse Evening Post and, later, when the poem was reprinted in a Chinese-language textbook published by Peking University Press, the lines on censorship were deleted and replaced by an ambiguous row of dots.
At the time, as a student in my early 20s, I was proud of the censorship of my poem, and saw it as a badge of honor. Authoritarian China is afraid to acknowledge to its own people the suppression of their fundamental human rights, including freedom of speech, I realized. I felt secure in the knowledge that in the United States, freedom of speech without censorship is a fundamental right that is strongly protected.
US Censorship
Fast forward a decade to 2021, and within the past two months, my free speech has been censored for the first time on U.S. social media. The problem, as anonymous censors apparently see it, is that I had the audacity to point out the allegations of widespread fraud that took place in the 2020 presidential election, which was plainly witnessed by Americans across the nation and documented in detail in a series of scholarly reports by Peter Navarro, a professor who holds a doctorate in economics from Harvard University.
It's evident that the inconvenient truth of the undermining of the integrity of our electoral system during the 2020 election is viewed with trepidation by many members of the political establishment and allied social media platforms. And, given the near-impossibility of convincingly disputing the evidence and statistical receipts of the allegations documented in Navarro's reports, major social media firms have decided to forego intellectually honest debate and instead resort to the blunt force of censorship.
I was first censored by Facebook. I was then censored for the first time by LinkedIn on Jan. 8. Both of these instances were detailed in the piece, "I'm Sounding the Alarm: PRC-Style Censorship Has Arrived in the United States."
Perhaps even more surprising, I was later censored for a second time by LinkedIn. My post, which included the simple statement, "My latest piece. Today, Americans say, 'Thank You, President Trump,'" was removed by LinkedIn the next day without explanation.
After this second post was censored by LinkedIn, I reached out to an executive contact at LinkedIn to ask why my posts were censored and suppressed, and was put in touch with a LinkedIn representative via LinkedIn's help page.
I wrote to the LinkedIn representative: "I would appreciate detailed information on why and how my posts were censored. … Will censorship of free speech continue on LinkedIn?
"My experience with social media censorship in the U.S. this past month reminds me of the social media environment I witnessed firsthand when living in authoritarian China, where there is systematic censorship and suppression of speech. This is truly alarming, not only to me, but to other Americans who care about the fundamental right of free speech without censorship."
After several days of what felt like a stonewalling back-and-forth process in which I provided detailed information about the censored posts, including screenshots, the representative flatly and falsely denied that my posts had been censored, and attempted to close the inquiry. She stated in writing: "LinkedIn has not removed any of your content Adam. If we did, I would be happy to explain what happened and why; however, that is not the case with your account."
After several more days of correspondence, the representative apologized and acknowledged LinkedIn's censorship of my posts.
One of the many written messages I received from the LinkedIn­ representative included the following apology: "I apologize for any errors or incorrect information I initially gave you with regards to your case. While there is certain information I can't divulge regarding your post/content, I assure you that LinkedIn doesn't suppress or censor content simply because it differs in opinion. We welcome content and articles that are robust, meaningful, and factual."
The representative advised that the post containing the link to the article "Thank You, President Trump," had finally been restored nearly a week after it had first been censored by LinkedIn. She later told me via phone that they had given it a second review and found it hadn't violated any of their policies.
Of course, I had to initiate and go through a long and tedious process with LinkedIn for them to eventually restore this post.
Objectionable Information
My first censored post containing the article "Why I'm Protesting for the First Time on Jan. 6" continues to be censored by LinkedIn, however.
While unwilling to answer specific questions in writing about why and how my posts were censored, the LinkedIn representative offered to provide further information via a phone call. During the call, the representative told me that she couldn't go into detail about why my posts were censored by LinkedIn.
But the issue was that any allegations of fraud in the 2020 election hadn't been confirmed.
In response to this, I noted Navarro's extensively sourced series of scholarly reports prominently cited in the article attached to the censored post in question.
But that wasn't sufficient, the representative told me, because they couldn't verify it themselves.
The representative stated that LinkedIn checks with multiple sources regarding the accuracy of posts that are flagged to be censored. When I asked for specifics regarding which sources LinkedIn utilizes, she responded that she couldn't divulge specific sources, but that they were basic sources such as CNN.
As has been widely reported, recordings of conversations with CNN employees during the past two years, including raw recordings of numerous internal CNN conference calls from late 2020, were leaked, revealing and confirming a heavy anti-Trump bias among CNN executives and reporters.
After exchanging dozens of written messages with LinkedIn over the course of weeks and receiving multiple apologies from LinkedIn, in writing and verbally, for the acknowledged "errors or incorrect information" that LinkedIn made and provided regarding my censored posts, I had finally received some meaningful information—seemingly given in unplanned candor—from the LinkedIn representative via phone.
The representative admitted that while the information in my censored post pertaining to protesting election fraud "could be accurate," LinkedIn may have deemed it "objectionable" after checking with sources that include CNN, which is demonstrably anti-Trump in its bias.
As we have seen recently, the type of politically driven censorship that I've experienced during the past two months has also been experienced by countless other Americans across major social media platforms, including Twitter, Facebook, and LinkedIn. And, as an American who has experienced and witnessed systematic censorship in authoritarian China, I understand how important it is that we protect our freedom of speech in the United States and stop censorship here before it becomes a new normal.
In the final lines of my poem, I closed with this statement, translated here from the original Chinese:
"But don't worry about me, my story's an epic,
And when all's said and done, I'll use English to tell it."
Censorship of this poem is just the tip of the iceberg of what I experienced during my years living in authoritarian China.
And now, after being censored in the United States, I'm exercising my freedom of speech to share this truth today: As Americans, we cannot take for granted—and must continue to maintain and defend—the free society and fundamental rights, including free speech, that we've built up over generations.
Adam Michael Molon is an American writer and journalist. He holds a master's degree in journalism from Columbia University and undergraduate degrees in finance and Chinese language from Indiana University–Bloomington.
Views expressed in this article are the opinions of the author and do not necessarily reflect the views of The Epoch Times.