Gas prices this week hit the highest level since 2014, in the wake of a cyberattack that led to one of the nation's largest pipelines being taken offline.
The average price per gallon across the United States hit $3, according to the American Automobile Association (AAA). The last time the nation saw average prices at $2.99 and higher was November 2014.
The lowest prices are in the south and upper Midwest, where some people can find a gallon for $2.68. Across the western U.S., consumers may see prices as high as $4.11, according to AAA.
The average price per gallon last month was $2.79, up from a low of $1.87 in April and May 2020 in the depths of the COVID-19 pandemic, according to data from the U.S. Energy Information Administration. The average in April 2019 was $2.83.
A cybercriminal ring called DarkSide stole data from Colonial last week, prompting the company to take certain parts of its network offline, leading to the closure of its 5,500-plus mile pipeline.
The pipeline stretches from Texas to New Jersey.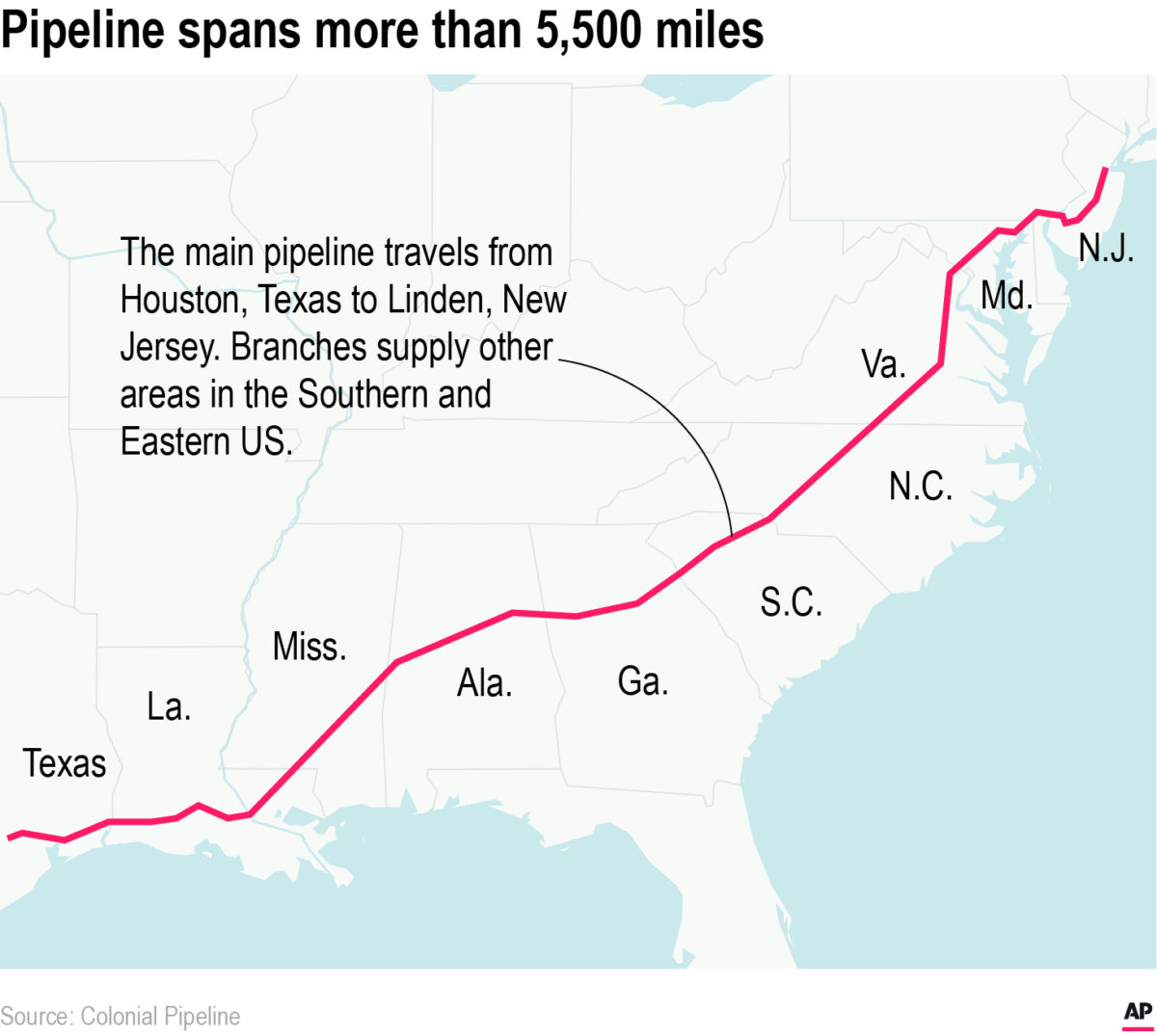 The company restored a major portion of the line on Monday but was still working to stand up spurs, or offshoots, and other parts of the main line, Energy Secretary Jennifer Granholm told reporters in Washington on Tuesday.
Federal efforts to respond to the situation include waiving rules governing how much gasoline tankers can carry on highways, assessing which ships can carry fuel from the Gulf of Mexico up the Eastern Seaboard, and surveying railroads to try to use some to ferry fuel inland from ports.
Granholm claimed there were no fuel shortages, but stations across at least eight states were out of fuel as of early Wednesday, including 15 percent of stations in Virginia and nearly a quarter of stations in North Carolina, according to Gas Buddy. According to the Associated Press, the S&P's Oil Price Information Service on Tuesday pegged the number of stations out of gas at over 1,000.
Many stations that still had supply were seeing long lines.
Experts say a dearth of fuel truck drivers is helping drive the crisis, as well as higher demand stoked by panic buying as people read and hear about the Colonial attack and its aftermath.
"The supply is there. Unfortunately, like other goods you've seen throughout the pandemic, there will be a delay in delivery," Devin Gladden, a spokesman for AAA, told The Epoch Times.