President Donald Trump praised Amy Coney Barrett on Sept. 24, just hours after House Republicans encouraged him to choose her for his next Supreme Court nomination.
"She's an incredible person, brilliant and everything else," Trump said on Fox News Radio.
Barrett, 48, serves as a circuit judge on the U.S. Court of Appeals for the 7th Circuit, a position she was confirmed to by the Senate 55–43 in 2017.
Trump will announce his nomination for the Supreme Court vacancy on Sept. 26.
He has narrowed down his options to five, all women. The vacant seat was held by Justice Ruth Bader Ginsburg until her death last week.
Other than Barrett, Trump has confirmed only one other candidate: Barbara Lagoa, a federal judge in Florida.
"She is on my list. I don't have a meeting planned, but she is on my list," Trump told reporters at the White House on Sept. 23.
The president is scheduled to hold a rally in Jacksonville on Sept. 24.
Trump said on the radio that he doesn't know yet if he'll be meeting with Lagoa.
"But there's been tremendous false reporting. Just not intentionally or anything, but they have me meeting with people that I really wasn't meeting with," the president said.
Unconfirmed reports say Trump met with Barrett at least once in Washington.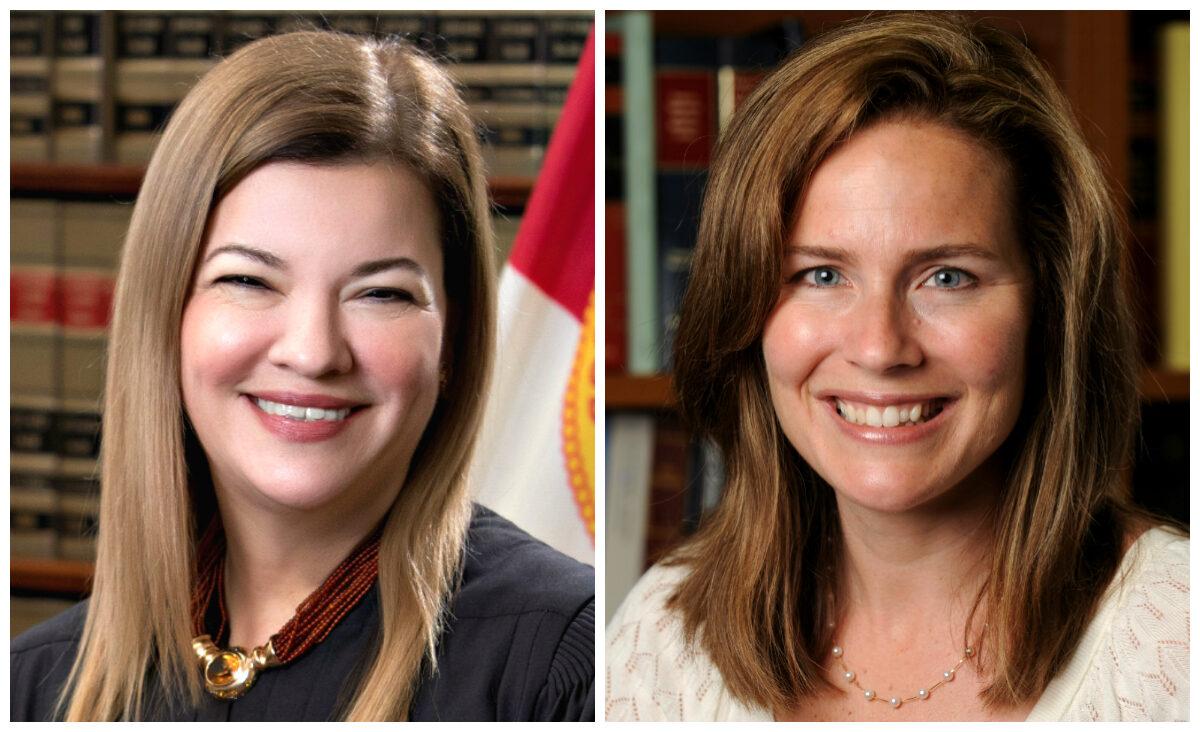 Trump told reporters earlier this week that Barrett is "very respected" while Lagoa is "highly thought of and has got a lot of support."
On Sept. 24, he portrayed himself as impressed with all five women on his shortlist, but particularly drawn to one.
"I think in my mind I have one that I—I like them all. I mean, to be honest, I could put any of the five, they're all genius," he said.
Trump's praise of Barrett came after five House Republicans wrote a letter to the president, urging him to pick her.
"We are confident that Judge Barrett, if nominated and confirmed to the Supreme Court, will respect and defend the original text of the U.S. Constitution, as intended by America's founding fathers," Reps. Andy Biggs (R-Ariz.), Jim Banks (R-Ind.), Peter King (R-N.Y.), Steve King (R-Iowa), and Jackie Walorski (R-Ind.) wrote.
"Her presence and critical vote on our nation's highest court will help restore the balance of the separation of powers between the executive, legislative, and judicial branches."
Sen. Josh Hawley (R-Mo.), who is pushing for future Supreme Court nominees who believe the landmark abortion case Roe v. Wade was wrongly decided,
told
a reporter in Washington this week that Barrett "meets that standard."
Asked about Lagoa, he added: "I don't know the answer to that. She doesn't have as much of a record in some ways as others" on Roe v. Wade.