Pfizer's experimental COVID-19 antiviral treatment is able to reduce the risk of hospitalization or death from the CCP (
Chinese Communist Party
) virus by 89 percent when taken shortly after initial symptoms, the company announced on Tuesday in its full analysis of data from the trial.
Albert Bourla, Pfizer's chief executive, said in a
statement
 the treatment also appears to be effective against the Omicron variant of the CCP virus, a strain that was first noticed in South Africa last month.
"Emerging variants of concern, like Omicron, have exacerbated the need for accessible treatment options for those who contract the virus, and we are confident that ... this potential treatment could be a critical tool to help quell the pandemic," Bourla said.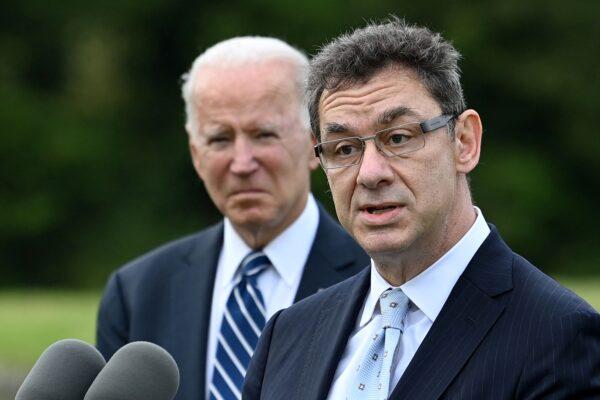 Health experts have spread concern that Omicron appears to be able to evade the protection of antibodies induced by vaccines. Most Omicron cases have already
been reported in fully vaccinated
individuals.
Pfizer tested the antiviral combination treatment, which is given together with an older antiviral called ritonavir, against a man-made version of a key protein that Omicron uses to reproduce itself.
Antivirals, just like
Merck's molnupiravir
, need to be given to patients as early as possible to be most effective, best within days of the onset of symptoms. Pfizer's combination treatment consists of three pills given twice daily. Both the Merck and Pfizer pills are expected by health authorities to perform well against Omicron because they don't target the coronavirus' spike protein, which contains most of the new variant's mutations.
The U.S. Food and Drug Administration (FDA) is expected to soon rule on whether to authorize the pill, as well as Merck's molnupiravir, which was submitted to regulators several weeks earlier. If granted, the drug would be the first treatment against the CCP virus that Americans could pick up at a pharmacy and take at home.
Dr. Anthony Fauci, chief medical adviser to the Biden administration, said it is "good news" that after Pfizer released final results, the data remained "just as good, if not better" compared to its interim analysis.
"That's really good news," Fauci said. "So, they're going to be submitting that to the FDA and hopefully we'll get some action on that soon," he added.
President Joe Biden 
said on Nov. 5
 while he delivered remarks on the October jobs report that the United States has already secured millions of doses of the experimental antiviral pill.
"If authorized by the FDA we may soon have pills that treat the virus in those who become infected," Biden said. "We've already secured millions of doses. The therapy would be another tool in our toolbox to protect people from the worst outcomes of COVID."
Currently, the only COVID-19
antiviral treatment
 granted an emergency use authorization by the FDA is remdesivir, which is being sold under the brand name Veklury.
The treatment involves combining remdesivir with the anti-inflammatory oral drug baricitinib for patients 2 years of age or older who need supplemental oxygen, invasive mechanical ventilation, or extracorporeal membrane oxygenation (ECMO), 
according to the FDA
.
The Associated Press contributed to this report.