More than 60,000 healthcare workers in California, Oregon, and Washington voted on Sept. 14 to authorize a strike against Kaiser Permanente if a labor agreement is not reached with the healthcare giant by the end of the month.
The Service Employees International Union-United Healthcare Workers West, the union representing the tens of thousands of healthcare workers, said 98 percent of its more than 57,000 members across California voted in favor of striking if a new contract cannot be reached.
Roughly 4,000 Kaiser Permanente workers in Oregon and Washington also voted 98 percent Thursday to strike if no agreement is reached by Sept. 30, according to reports.
Last week, 99 percent of Kaiser Permanente workers in Colorado—amounting to more than 3,000 healthcare employees—voted to authorize a strike.
Several other coalition unions are still to vote on authorizing strikes.
The union has accused Kaiser of unfair labor practices related to bargaining as well as unsafe staffing shortages, inadequate pay that has failed to keep up with inflation, and a failure to protect employees against subcontracting.
Union members last negotiated a contract with Kaiser in 2019, prior to the COVID-19 pandemic, which saw healthcare workers on the frontlines of a heavily strained healthcare system.
They are now asking Kaiser for a $25 per hour minimum wage and annual pay increases of 7 percent in the first and second years of a new contract and 6.25 percent increases in the third and fourth years.
Kaiser, however, has offered workers a $21 per hour minimum wage across its facilities and cumulative wage increases of between 10 percent and 14 percent over the next four years.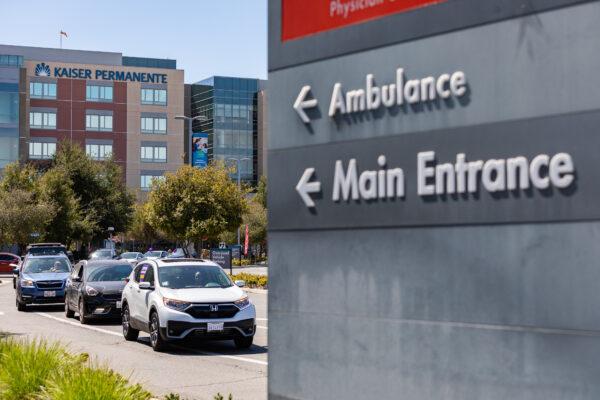 Conditions for Workers, Patients 'Devastating'
"We've watched as co-worker after co-worker has left Kaiser for better paying, less stressful jobs. This has been devastating for our working conditions and for our patients—they wait endlessly to see us, and we are too rushed, stressed out, and exhausted to give them the care they deserve," union officials said.

"Kaiser's solution? To bargain in bad faith and to continue to commit unfair labor practices, while at the same time raising rates on patients, proposing cuts to our PSP, and eliminating protections against subcontracting," officials continued. We keep telling Kaiser's millionaire execs that something has to change. But they're not listening.

"To deal with the staffing crisis, Kaiser must bargain in good faith and stop committing unfair labor practices," union officials said.

The union said its next and last bargaining session with Kaiser is scheduled for Sept. 21–22.

If an agreement is not made between workers and the healthcare giant by the end of the month, and "unless Kaiser stops its unfair labor practices," union members will have no choice but to go on strike, officials said.

A vote to strike does not mean a strike will occur; rather, union bosses will call one if a new labor agreement cannot be reached.

Healthcare workers in Oregon are also required by law to give 10 days' notice prior to going on strike to allow for patients to be moved to other facilities.
Strike Votes Are 'Disappointing'
According to the union, Kaiser Permanente—one of the largest nonprofit health plans in the United States and operates 39 hospitals and more than 700 medical offices across the nation—reported more than $21 billion in profit over the last five years, while its net worth doubled between 2018 and 2022, to $58.9 billion.

"The CEO of Kaiser Permanente was compensated more than $16 million in 2021. Forty-nine executives at Kaiser Permanente are compensated more than $1 million annually," the union said.

If the thousands of Kaiser Permanente workers were to go on strike, it could well be the largest healthcare strike in U.S. history.

In a statement Thursday, Kaiser Permanente said a strike authorization vote "does not reflect any breakdown in bargaining, nor does it indicate a strike is imminent or will happen at all."

"It is a disappointing action considering our progress at the bargaining table," the statement said. "We take any threat to disrupt care for our members seriously and have comprehensive plans to ensure continued access to needed healthcare services should a strike occur later this year."

The healthcare giant also noted it had taken "extraordinary steps" to support and protect its workforce during the COVID-19 pandemic, including providing $800 million in special pandemic benefits to"ensure that front-line employees had access to alternate housing options," as well as special child care grants and additional paid leave for COVID-19 illness and exposure.

Kaiser also said the union's call for a single national wage increase "would not reflect market labor costs and would prevent us from addressing fair market wages."

"Our philosophy is to deliver compensation that provides wages above the local market (at or up to 10 percent above market) to attract and retain the best employees. Market wages are currently at different levels all over the country, so we need to tailor wage increases so everybody benefits fairly," it said.

Still, the company is "confident" it can reach an agreement with healthcare workers before the national agreement expires on Sept. 30.