Renowned investor and bestselling author Grant Cardone said that the key to getting rich isn't saving more—but rather putting your money to work effectively.
Cardone, whose net worth Forbes estimates at around $600 million, is a sought-after speaker on investment and personal finance, with over 7 million followers across platforms that include YouTube, Twitter, and Instagram.
He recently took to one of these platforms to share some advice on building wealth.
"That full-time job won't bring you wealth. Saving, saving, saving won't bring you wealth. Overspending won't bring you wealth. Being scared won't bring you wealth," he
wrote on Twitter
.
Only one thing will help you build wealth "beyond millions of dollars," Cardone said in an accompanying video.
"Quit saving your money," he advised. "That's what my parents did. They saved money. They didn't invest their money correctly. They didn't take money [and] leverage it into real investments because they were terrified of losing their money."
Having built a $4 billion multifamily real estate empire from scratch, Cardone is known for his 10X philosophy on wealth-building.
As outlined in his bestselling book "The 10X Rule," this is basically the idea that you should set targets ten times greater than what you think you can achieve and then take actions ten times greater than what you believe are necessary to achieve those goals. He writes that the biggest mistake people make in life is not setting goals that are ambitious enough—often out of fear.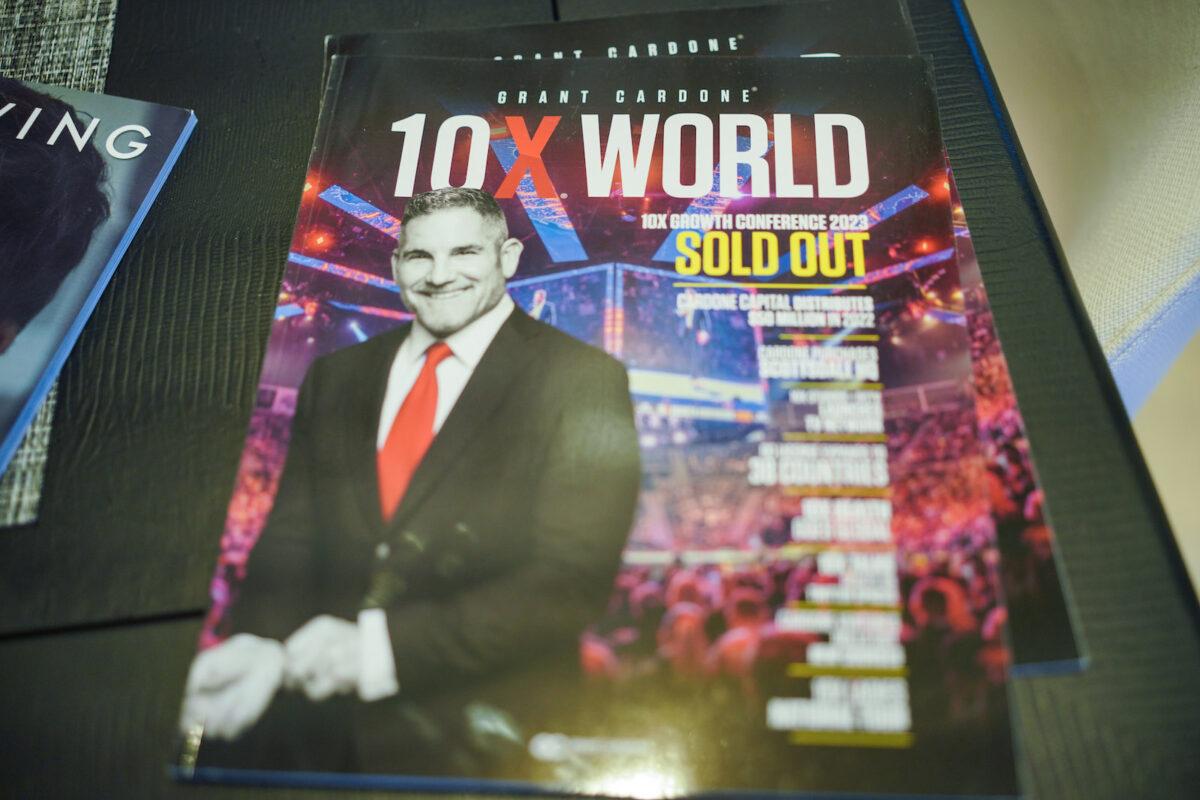 Cardone said in the video that he understands people who are scared to invest because they're afraid of loss. But, as Cardone argued, there are "asset classes out there where you can never lose your money,
While Cardone didn't go into more detail in the video, he recommended investing in things that generate cash flow, such as certain types of real estate.
In a recent
interview with Muscle and Health
, Cardone called saving money "one of the greatest lies" perpetuated by banks, who want people to park their money at financial institutions, which put it to work for profit.
"They pay you nothing to keep your money there, and then they call people like me and say, 'Mr. Cardone, would you like to borrow some money?' They then lend me your money, and I create wealth with it," he told the outlet.
"What you should be doing is investing in something that produces more money. I don't want money, and I want assets. I trade cash for assets that produce money without me putting in the time," he said.
'Dead Money'
Even though Cardone is bullish on real estate, he advises anyone who isn't rich not to put their money into a primary residence as that money can almost always be put to productive use elsewhere.

"Unless you're rich and think you're going to make a bunch of money on it, or you have so much passive income from other investments you can afford it, don't buy a house," he told Muscle and Health.

"Equity is dead money," he continued. "When I say the equity's dead, the money's stuck in the house. If you put 50 percent down on the house, the money lies dormant, earning nothing."

"It's not a golden goose. If you buy a golden goose, the golden goose should give you eggs," he says, elaborating on a common theme in his investment philosophy, namely the idea that people should invest in assets that generate cash flow.
'Go Big'
For those who want to invest in real estate, Cardone advised going big.

"More units are easier to buy, finance and manage than a few units," Cardone told GOBankingRates in a

recent interview

. "Scale is what makes you into a real investor, not a manager."
He also offered insights into where to find deals on real estate.
"Multi-family in the Southeast where there's positive job migration and tenant-friendly politics," Cardon said.
But there are also ways to start investing in real estate for people who want to start small.
REITs and ETFs
One way to profit from the real estate market without having to buy physical real estate—and deal with things like applying for a mortgage or chasing down late payments from tenants—is investing in real estate investment trusts (REIT).

REITs are companies that own income-producing real estate like apartment buildings and shopping malls. Since they're publicly traded, shares of REITs can be bought and sold easily, unlike a physical property.

So far this year, REITs have underperformed as the industry has faced headwinds due to rising interest rates.

Another way to invest in real estate without buying physical property is through exchange-traded funds (ETFs). These are instruments that trade on major exchanges, making buying and selling convenient.

ETFs are basically diversified portfolios of stocks or other assets, including commodities, bonds, and REITs.

For example, two popular ETFs with exposure to REITs are the Vanguard Real Estate ETF (VNQ) and the iShares Core US RET ETF (USRT).

Like REITs, these ETFs have also underperformed this year amid real estate sector headwinds. Some analysts suggest that they may have bottomed, however, and that investors should consider seizing the opportunity when prices are down for an entry point.