With the spread of crop circle and UFO phenomena through modern mass media, many find it easy to dismiss crop circles as hoaxes. Everyone knows what they are, and so what if someone goes out in a field with a mower to get some attention or play a prank? 
When Queen Elizabeth put a crop circle book on her summer reading list in 1989, there was a particular surge of interest and also talk of hoaxing. 
But crop circles aren't a modern fad.
Reports throughout history, before the term "crop circle" buzzed through the world, seem to refer to phenomena much like those observed today. It doesn't mean that there aren't ordinary explanations for those historical crop circles as well as today's. It simply means people have been surprised and perplexed by crop circles for centuries. Some of the explanations given in historical accounts suggest natural causes, though some allude to supernatural causes. 
'The Mowing Devil'
In 1678, a news pamphlet titled "The Mowing Devil: Or, Strange News Out of Hertfordshire," described a crop circle in Hertfordshire, England. The report was republished by Hertfordshire folklorist W.B. Gerish in 1913, and it reads:
"Being a true relation of a farmer, who bargaining with a poor mower about the cutting down three half acres of oats: Upon the mower's asking too much, the farmer swore that the devil should mow it rather than he. And so it fell out, that very night, the crop of oat shew'd as if it had been all of a flame; but the next morning appear'd so neatly mow'd by the devil or some infernal spirit, that no mortal man was able to do the like."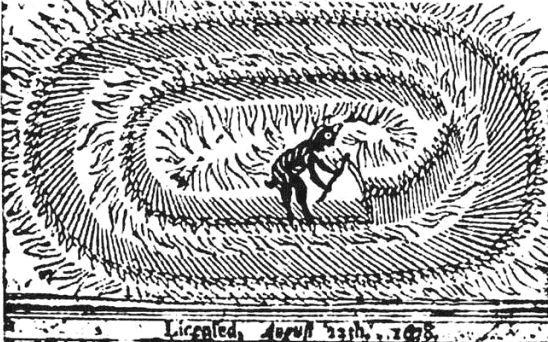 The farmer seems to have seen a bright light, like fire, in his field the night the crop was mysteriously mowed. The report goes on to state that the farmer was too scared to go collect the mowed oats. 
Crop Circles Caused by Storms?
In the July 29, 1880 edition of the journal Nature, John Rand Capron published an article titled "Storm Effects," that described crop circles in detail.
Part of his description reads: "These all presented much the same character, viz., a few standing stalks as a centre, some prostrate stalks with their heads arranged pretty evenly in a direction forming a circle round the centre, and outside these a circular wall of stalks which had not suffered." 
He wondered if these were caused by "cyclonic wind action." He noted, "The storms about this part of Surrey have been lately local and violent."
Improved Fertility in Crop Circles
In 1686, Oxford University professor of chemistry Robert Plot wrote of geometric shapes in fields in "A Natural History of Stafforshire."
He wrote, "the earth underneath having been highly improved with a fat sulpherous matter ... ever since it was first stricken, though not exerting its fertilizing quality till some time after."
Improved fertility is also said to be a characteristic of some crop circles today.
Plot hypothesized that the formations were created by lightning or other forces during thunderstorms. Gary Bobroff, in his book "Crop Circles, Jung, and the Reemergence of the Archetypal Feminine," noted: "Today, formations continue to be found the night after tremendous thunderstorms—the 2001 Milk Hill formation, consisting of 409 individual circles and spanning 1,000 feet across—being perhaps the finest example of this correlation." 
Some have suggested that Plot was describing what we know today as crop marks, not crop circles. Crop marks appear due to different conditions of the soil, often caused by buried structures. For example, a buried wall or ditch will affect how much water will collect in the soil above, thus affecting the ability of plant life to flourish. This sometimes causes discernable patterns in crops.
Henry VIII's Court Celebrates Crop Circles With a Dance?
John Leyland, a chronicler of King Henry VIII's court wrote of traditional English maypole dance: "We go out in the early hours and we learn the patterns that appear on the grass overnight."
Fairies at Work or Play
Walter Evans-Wentz gathered Celtic folklore in his 1911 book "The Fairy Faith in Celtic Countries." Bobroff noted that many of the collected descriptions of rings in the grass clearly relate to mushrooms that grow in ring formations and have long been known as "fairy rings." But some seem to relate to crop circles, as they clearly describe a flattening of crops.