States reopening without following federal guidelines crafted with his input led to a surge in COVID-19 cases, Dr. Anthony Fauci told Congress on Friday.
Fauci, who heads the National Institute of Allergy and Infectious Diseases, said in a functional sense, about 50 percent of America closed down during the weeks-long, near-nationwide lockdowns that started in many areas in March. In comparison, some 95 percent of some European countries shut down.
As a result, the United States' baseline of transmission was higher than Europe.
"So we started off with a very difficult baseline of transmission that was going on at the time that we tried to open up the country. And when we opened up the country, what we saw, particularly most recently, in the southern states, was an increase of cases to 20, 30, 40, 50 [thousand] and a couple of weeks ago, it was up to 70,000 per day and now it's down between 50 and 60," Fauci told the House Select Committee on the Coronavirus Crisis.
Fauci said the reason for the surge in cases boiled down to some states not following gateway guidelines that recommended only loosening restrictions when certain parameters were reached.
"Some were followed very carefully and some were not. And in those situations in which you were not, that led to the surging that you're showing on your chart there," he told Rep. James Clyburn (D-S.C.), the chairman of the committee.
People in states that didn't follow the guidelines ignored guidance on wearing masks, avoiding crowds, and maintaining at least six feet from non-household members, Fauci added, saying: "Hopefully as we're going forward we can turn this around."
President Donald Trump during the hearing said the reason the United States has more confirmed CCP virus cases than Europe is because of more testing. "If we had no testing, or bad testing, we would show very few CASES," he wrote on Twitter, adding: "This testing, and what we have so quickly done, is used as a Fake News weapon. Sad!"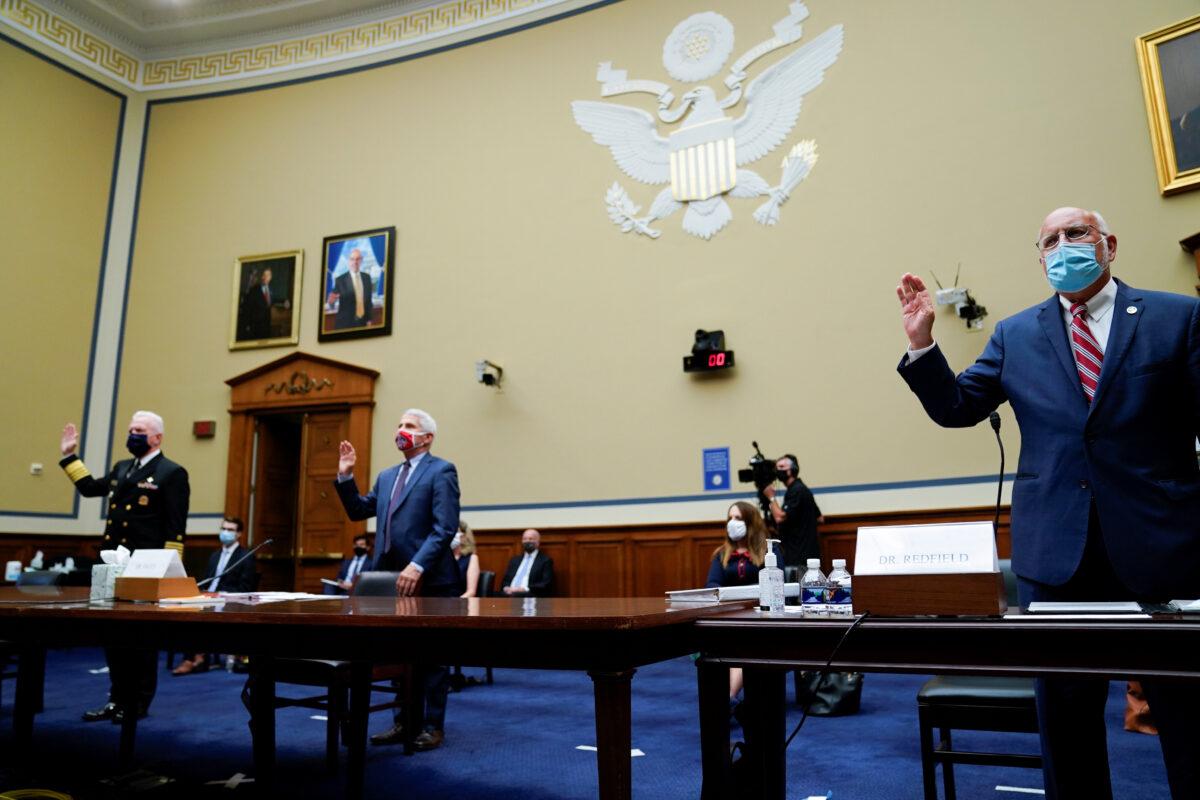 Dr. Robert Redfield, the head of the Centers for Disease Control and Prevention, in his opening statement appealed to Americans to wear a mask, maintain social distance, and regularly wash their hands.
Redfield also told lawmakers that he supports returning children to school in the fall, warning of "significant public health consequences" that have already been seen since schools were closed earlier this year.
Children get mental health service at schools as well nutritional support, the doctor said.
"We are seeing an increase in drug use disorder as well as suicide in adolescence individuals. I do think it's really important to realize it's not public health versus the economy about school opening, it's public health versus public health of the K through 12 to get the schools open," he said.
Redfield told a conference earlier this month that there's a cost to keeping schools closed, even as some push for them to remain shuttered because of fear of COVID-19, the disease caused by the 
CCP (Chinese Communist Party) virus
.
"We're seeing, sadly, far greater suicides now than we are deaths from COVID. We're seeing far greater deaths from drug overdose that are above excess that we had as background than we are seeing the deaths from COVID," he said.
"So this is why I keep coming back for the overall social [well-being] of individuals, is let's all work together and find out how we can find common ground to get these schools open in a way that people are comfortable and their safe."