Chinese leader Xi Jinping has reaffirmed the ruling communist party's strict "zero-COVID" pandemic control policy in a recent speech.
Meanwhile, the regime has put out a new regulation trying to save China's economy under the policy.
According to a report by China's state media Xinhua, Xi said that officials must "do a good job in coordinating epidemic control and economic and social development efficiently, and resolutely overcome some current difficulties in economic development" during visits he made to Sichuan Province on June 8 and 9. He reiterated that the country should "unswervingly adhere to the general policy of 'dynamic clearing' of COVID-19."
Following Xi's speech, Zhong Nanshan, the regime's top medical advisor, said on June 10 at the 14th China Bio-Industry Conference that the epidemic must be prevented, but more importantly, economic stability and development must be taken into account. He added that the latter two were equally important.
"The escalation of epidemic control measures is not advisable, as it will obviously affect economic development," Zhong said, according to a report on Yicai.com, a major Chinese financial news website.
He added that pandemic control measures were not as simple as only ensuring a "dynamic clearing" of COVID-19 cases. "At present, to do a good job in epidemic prevention and control, we need to focus on precise prevention and control, and we need to rely on science."
Wang He, a China affairs commentator, told The Epoch Times, "Zhong Nanshan, as a leading figure in China's science and technology circle, is well aware of the CCP's insistence on 'zero COVID' and will not cross the line. So he expressed his opinion as a kind of euphemistic persuasion directed at
the authorities, which also reflects the public opinion to a certain extent."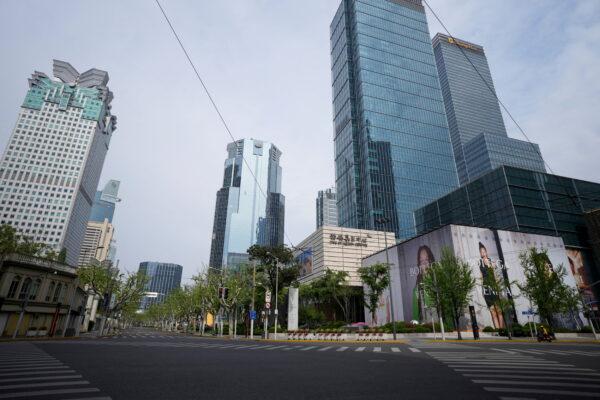 Prominent figures in Chinese business circles directly expressed their opposition against "zero-COVID" policy and measures, but they were quickly silenced.
Zhou Hang, the chairman of Cao Cao Travel, a car-sharing company under Geely Automobile Group, who's also a permanent resident of Canada, wrote an article that was shared on Chinese social media criticizing the "stupid and extremely destructive zero-COVID policy and the suppression of the business world."
Zhou said that under the restrictions of China's epidemic prevention and control, he and other businessmen feel like they are dancing with shackles, while waiting for the hammer of the lockdown to drop at any time. The article was deleted within an hour of being posted.
Liang Jianzhang, chairman of Ctrip.com's board of directors, wrote an article criticizing the mass lockdowns and refuting mainland economist Li Daokui's claim that "anti-epidemic measures increase life expectancy." He shared the article on Chinese social media Weibo, which led to his Weibo account being subsequently blocked.
In the face of China's rapid economic decline, the State Council of the CCP issued "nine prohibitions" on June 6. The order emphasized that, under the premise of adhering to the general "zero-COVID" policy, it is necessary to efficiently coordinate epidemic prevention and control with economic and social development. It also stated that the epidemic prevention and control measures shouldn't be simplistic, one-size-fits-all orders or expanded more than necessary.
Cai Shenkun, a U.S.-based current affairs commentator told VOA that the regime's issuing of its new regulation was because if it continues with its "zero-COVID" policies to forcefully implement mass lockdowns without taking action to save the economy, great disasters will befall China.
Others pointed out that despite the directive's wish, achieving both zero-COVID and economic development are impossible. They attributed the policy change to the regime's attempt to avoid blame for the failing economy.
Wang said, "Now, if the economy collapses due to epidemic prevention, it's the local officials's fault as they didn't understand the central government's strategy well and implemented it wrong."
Kuo Yin-zhe, an associate professor at the Department of Political Science of Tunghai University in Taiwan, told VOA that although the CCP had pledged to stick to "zero-COVID" and warned that coexistence with the virus was a misguided idea before, it has no choice now but to update its policy, even if the "nine prohibitions" seem contradictory to the initial directives. But of course, the authorities will not admit that "zero-COVID" was a failed policy.
"In fact, it is because they know that the 'dynamic clearing' of COVID is impossible to achieve and they are being criticized for the Shanghai lockdown. So they are eager to whitewash it with the new 'nine prohibitions' and possibly shift the blame to the Jiang faction (former CCP party boss Jiang Zemin and his followers) of the CCP before the party's 20th conference in the fall," Kuo Said.
Xia Song contributed to the report.