Officials in the northern China city of Harbin have underreported cases of the
CCP virus
during the second wave of its local outbreak, according to internal government documents obtained by The Epoch Times.
Meanwhile, one major hospital in Harbin has stopped accepting new patients because of overcapacity and infections among medical staff. Some workers were being observed for symptoms at quarantine centers.
In early April, authorities in the northeastern province of Heilongjiang reported another wave of infections in several cities,
the most severe in Harbin
, the provincial capital. When China's initial outbreak became severe in January, Harbin designated
24 hospitals
for treating patients with the Chinese Communist Party (CCP) virus, commonly known as novel coronavirus.
The Epoch Times also
obtained
an internal "warning notice" issued by the Heilongjiang government on April 13, in which it admitted that the outbreak in Harbin was in "an aggregated, explosive situation."
Real Figures
The Epoch Times
obtained
a statistical data sheet from Daowai, one of 18
districts
in Harbin, which recorded the newly diagnosed patients in the district on April 10. The sheet listed 34 people's names, ID numbers, cellphone numbers, antibody test results, and other information.
All patients who were tested were close contacts of confirmed patients, though it's unclear whether they were close contacts of the same patients. All of them were counted as domestic infections, which means they weren't contacts of people who had returned to China from another country.
Heilongjiang authorities require that all suspected patients receive a nucleic acid diagnostic test, antibody blood test, and a CT scan. An expert will then confirm whether the patient has the virus.
While the datasheet only showed the results of the patients' antibody blood test, officials determined all 34 to be "diagnosed patients" on April 10. Of the group, 20 were being treated at Harbin No. 2 Hospital, while the other 14 were sent to four quarantine centers—sites usually converted from hotels.
Government policy is to treat all diagnosed patients at designated hospitals in China; confirmed virus patients staying at quarantine centers may indicate that local hospitals have become fully occupied with patients.
"The Chinese regime hasn't announced the true situation of the outbreak since day one, so we have to think about the worst-case scenario," said U.S.-based China affairs commentator Tang Jingyuan in an interview. When hospitals are full, "patients with mild symptoms may have to stay at quarantine centers."
Official Data
For April 10, Harbin only
announced
one infection: an 87-year-old man, named Mr. Chen, who lives in Daowai. Harbin authorities claimed he was the city's second domestic infection in the second-wave outbreak.
Meanwhile, internal data demonstrates far more infections that day.
Harbin authorities also said that the
first infection
in the city's second wave was diagnosed on April 9, identifying the patient as a 54-year-old man surnamed Guo from Daowai. They also found that Guo had been in close contact with 24 people.
Authorities later announced that close contacts of Guo were asymptomatic, while several close contacts of Chen later tested positive.
Chen has spread the virus to a total of 78 people, who were from Harbin, other cities in Heilongjiang province, as well as one from Liaoning province, and two from Inner Mongolia, state-run Beijing Daily
reported
on April 22. They had come into contact with Chen at the First Affiliated Hospital of Harbin Medical University and Harbin No. 2 Hospital, where Chen was being treated.
The 78 people were either receiving treatment at the hospital or relatives of patients at the hospital.
However, none of the announced 78 patients, nor Chen's close contacts announced by authorities as virus patients, match the patients listed on the datasheet obtained by The Epoch Times.
The 34 patients diagnosed on April 10 aren't contacts of Guo or Chen, so how they became infected is a mystery.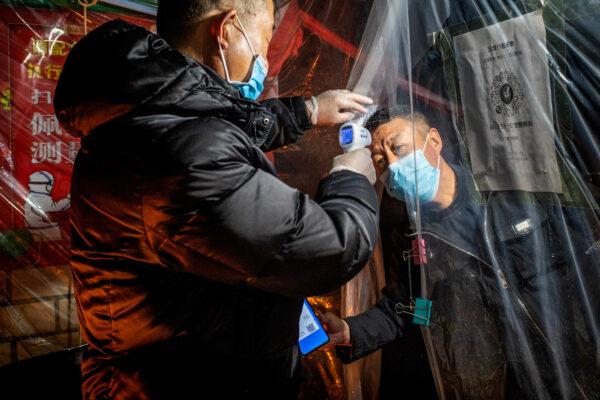 Severe Situation
Two doctors and six nurses were diagnosed with the virus at Harbin No. 2 Hospital, and were being treated at designated hospitals, state-run newspaper Yangtze Daily reported on April 22,
citing
the Heilongjiang provincial health commission.
Meanwhile, 216 medical staff from the hospital were under observation at quarantine centers; 189 others were sent home to self-quarantine. Only about 130 remain at work in the hospital.
Harbin No. 2 Hospital
announced
on April 20 that it would not take any more new patients because "there are too many coronavirus infections in our hospital recently."
Harbin residents
told
the Chinese-language Epoch Times that they are very nervous about the virus's spread.
"The alert level in Daowai district is very, very high. It's horrible ... Some residential units, residential buildings, and residential compounds were locked down," said Mr. Li, a Daowai resident.
Li said that authorities lock down a unit if a member of the household is confirmed to have the virus. When several units have infections, the whole building will be locked down. When several buildings within a complex have infections, the whole residential compound will be locked down.
He thinks there are far more infections that authorities have admitted.
"The government hasn't announced the truth," he said.
Another resident of Harbin, Mr. Yu,
told
the Chinese-language Epoch Times that he heard of outbreaks in Qiqihar, a city to the north.
Qiqihar authorities haven't announced new diagnoses in recent weeks.