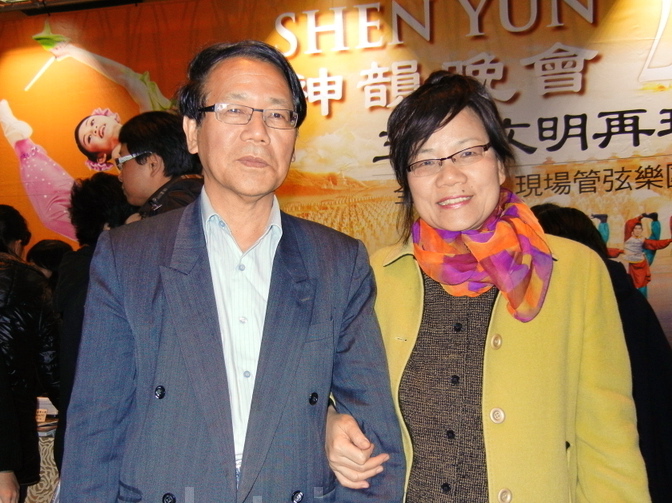 KAOHSIUNG, Taiwan—Shen Yun Performing Arts New York Company debuted in Kaohsiung at the Chih-The Hall of the Kaohsiung City Cultural Center on March 12. Mr. Gong Tianfa, an executive director of the Art Promotion Association in Kaohsiung and former deputy director of Tourism Bureau, Kaohsiung, saw the performance with his wife. Mr. Gong expressed that he was very touched by the performance. "Shen Yun educates people," he said.
Mr. Gong said that he comes to see Shen Yun every year, and he has seen the performance six times. "I like to see Shen Yun because one can't see such a quality performance elsewhere," he said.
The New York-based Shen Yun produces an all-new program each year and has three touring companies that perform simultaneously around the world, with a mission to revive the authentic, divinely inspired Chinese culture.
In the program, How the Monkey King Came To Be, Mr. Gong said the technique of the dynamic backdrop was wonderfully matched with the performers on stage. "The program was fascinating. The air of the entire program was quite stunning," he added.
Mr. Gong's wife, Li Suzhen, is the principal of Fu Xing Elementary School in Kaohsiung City, as well as an artist. "I study fine arts. The colors and the beauty of Shen Yun are worthy of seeing!" she said, adding that Shen Yun was really beautiful and the programs were very refined. "It ended at a splendid point in every program. So it always left something for people to ponder and to think over." She stressed, "I was so touched that I'll really recommend it to others sincerely."
She said she was very moved by the program Mu Guiying Commands the Troops. "I cried. Maybe we might encounter a similar situation. The world seems to have continuous wars. We just need something righteous." She added, "We see Shen Yun every year. I think its artistry is of a very high standard."
Ms. Li was especially touched by the solo performance of the erhu, a two-stringed Chinese instrument that can stir the soul like no other. She said: "The music she played was amazing. When I closed my eyes, I really felt my soul being touched.
"I was just thinking that every [Shen Yun performer] seems to be able to accomplish superb feats.
"Every program performed this year was wonderful. Everyone was fascinating. So I prepare to tell the teachers in my school that it is really worthy of coming to see!" she said happily.
Reporting by Chen Bozhou and Sunny Chao
Shen Yun Performing Arts, based in New York, tours the world on a mission to revive traditional Chinese culture. Shen Yun Performing Arts New York Company will perform in seven cities in Taiwan until April 8 and then continue to top venues in Australia and New Zealand.
For more information visit ShenYunPerformingArts.org
Read the original Chinese article