LONDON—British armed police fired a stun gun at a man who reached for a knife as he ran toward officers guarding one of the gates to the Westminster parliament in central London on Friday, witnesses said.
Police said the man was acting suspiciously at around 11:00 am (6.00 a.m. ET) near one of the gates where a militant killed a policeman less than three months ago.
After firing a Taser stun gun, police detained the man. Armed police had guns trained on the man as he was restrained and bundled into a police van, witnesses at the scene told Reuters.
"The man reached for a knife," police said. "Nobody was injured."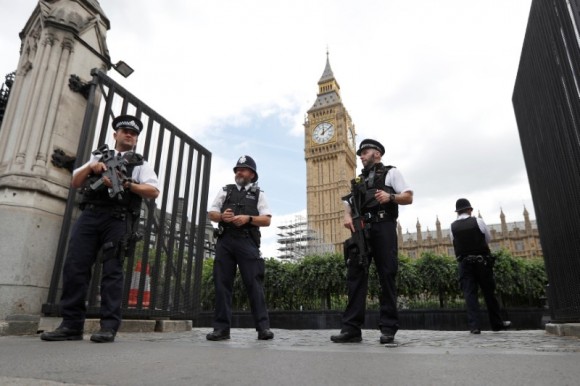 A witness at the scene told Reuters the man, who police said was in his 30s, had run toward one of the gates.
"You could tell he was suspicious, he was stood there fists clenched. He looked quite an angry geezer," Bradley Allen, 19, told Reuters.
"We got seconds down the road and they had him on the floor, pinned. Police around him, telling everyone to move back."
The incident occurred less than three months since a man drove a car into pedestrians on Westminster Bridge, and then stabbed a policeman to death in the grounds of parliament, the first of three deadly attacks in Britain which has put the security services on high alert.
"There were about three or four policeman, one of them shouting at the crowd to get back," another witness, who asked not to be identified, told Reuters.
"The guy was on the ground on his front on the pavement alongside Parliament Square. They had him on the ground and were warning they would taze (stun) him again."
Parliament said it was aware of the incident.
"There is no reason for alarm but please continue to remain vigilant," the House of Commons, the lower house of the British parliament, said.
The gates to parliament were closed and armed police were patrolling as usual inside the perimeter, a Reuters reporter inside the building said.
On March 22, Khalid Masood drove a car into pedestrians on Westminster Bridge, killing four people, before he ran into the grounds of parliament and stabbed a police officer to death. He was shot dead at the scene and his attack prompted a review of security around Westminster.
That attack was followed by a suicide bombing in Manchester and a similar deadly attack on London Bridge, thrusting security and policing to the fore of campaigning before last Thursday's election.
The spate of recent attacks were the deadliest in Britain since four British Islamist suicide bombers killed 52 people on the London transport system in July 2005.