An Arizona judge ordered the deportation of an activist who claimed she would be targeted if removed to her native Mexico.
Immigration Judge Thomas Michael O'Leary denied Alejandra Pablos's asylum request on Dec. 11 and ordered her removed from the United States.
Pablos, 33, is a permanent legal resident of the United States and was brought to the country as a baby.
But she committed a string of crimes from 2005 to 2010, including driving under the influence of alcohol (DUI), endangerment, aggravated DUI, and solicitation to possess a dangerous drug.
Pablos blamed the crimes on her life circumstances at the time and said she wished she could "take it all back." She claimed she had transformed while serving two years in a detention center.
O'Leary disagreed, saying, "For right now, her past haunts her," reported the Arizona Daily Star. Her criminal record is "deserved," he added.
Pablos was arrested twice this year, once for trespassing and obstructing justice during a protest in Virginia in January at a Department of Homeland Security Building and then during a routine check-in with Immigration and Customs Enforcement (ICE) in March. She was released about a month later under an immigration judge's bond order, ICE spokeswoman Yasmeen Pitts O'Keefe said.
Pablos tried claiming asylum as an activist for abortion, saying she believed she'd face death in Mexico, but did not provide evidence backing up her claim.
Judge O'Leary noted that the group isn't recognized as a persecuted group in need of protection under the asylum statute and said there wasn't evidence that Pablos would face persecution for her activism.
Pablos said in a statement that she was going to appeal the decision and wants Arizona Gov. Doug Ducey to pardon her for her crimes.
A petition asking for the pardon has garnered nearly 17,000 signatures.
"Alejandra's only option to stop her deportation is a governor's pardon. Join us in demanding that Governor Ducey do the right thing by issuing a pardon for Ale's 8-year-old criminal record, giving her a chance to stay home," the petition organizers wrote.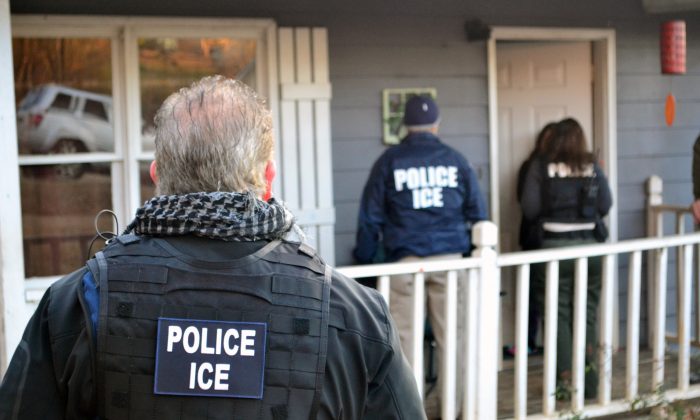 Pablos claimed she's been targeted for speaking out against President Donald Trump administration's actions on immigration.
"ICE does not target unlawfully present aliens for arrest based on advocacy positions they hold or in retaliation for critical comments they make," the agency said in a statement obtained by KGUN. "Any suggestion to the contrary is irresponsible, speculative, and inaccurate."
"ICE focuses its enforcement resources on individuals who pose a threat to national security, public safety, and border security. We will continue to target criminal aliens whenever and however they come to our attention," the agency added.
"As ICE leadership has made clear, ICE will no longer exempt classes or categories of removable aliens from potential enforcement. All of those in violation of the immigration laws may be subject to immigration arrest, detention, and—if found removable by final order—removal from the United States."
From NTD News