An Argentine Navy submarine was found on Nov. 17, under the surface of the Atlantic Ocean a year and two days after disappearing.
The Seabed Constructor, a vessel owned by United States-based Ocean Infinity, found the missing submarine.
The Ocean Infinity ship "decided to do a new search and, thanks to God, it was able to find the zone," navy spokesman Rodolfo Ramallo told Todo Noticias TV, reported AFP.
"Now another chapter opens. From the analysis of the state in which the submarine has been found, we will see how to proceed."
Ocean Infinity has been involved in a number of high-profile searches, including the search for missing Malaysia Airlines Flight MH370, according to the company's website.
The Argentine Navy confirmed in a statement that the vessel was found at a depth of 2,620 feet (800 meters). The submarine, the ARA San Juan, vanished around 270 miles (430 kilometers) off the Argentine coast on Nov. 15, 2017.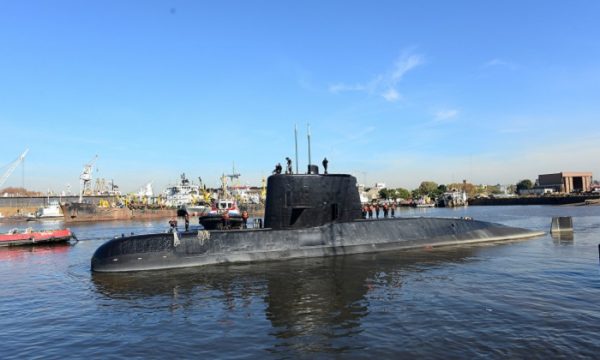 'Search for the Truth'
All 44 people inside the submarine were dead, as was expected due to the length of time the submarine had been missing.
Relatives of the crew indicated a sense of closure but noted that their work is not done.
"We have found them," Jorge Villarreal, father of one crew members, told a local radio station, reported Reuters.
"Now we are going to search for the truth. For us, this is the start of a new chapter."
Luiz Tagliapietro, the father of one of the sailors had told a local radio station eight days after the disappearance last year, that officials indicated everyone on board had died.
"My son's boss confirmed that they are all dead. There's no human being who survives that," he said. "They are all dead. I can't talk much. They called me 15 minutes ago to tell me that it exploded."
Final Transmission Reported Fire
Just before vanishing, a crewman sent a strange message, heightening the mystery surrounding the sub's disappearance. In addition, the last message transmitted from the sub reported a fire on board due to a short-circuited battery.
Along with the fire, the captain said water leaked into the ventilation system through the sub's snorkel.
The water reached a battery connection tray in the prow and "caused a short-circuit and the beginning of a fire, or smoke without flame," said Enrique Balbi, Argentine Navy spokesman.
"They had to electrically isolate the battery and continue sailing underwater to Mar del Plata using another battery circuit."
The Argentine Navy also said an explosion was reported near where the vessel vanished, notified of the explosion by the United States Navy, which described the explosion as an unnatural sound.
Officials said that the submarine wasn't armed with nuclear weapons and the explosion was not believed to have involved a weapon. An international search effort was launched to find the ship but didn't turn it up and gradually dissipated.
From NTD News