The Chinese regime shut down one of the largest hospitals in the city of Chengdu in southwest Sichuan Province on Tuesday, and ordered residents of several districts to line up for COVID-19 testing overnight.
During the next day, it was announced there were new COVID-19 patients in the city, with officials suspecting they were infected with the Delta variant of the CCP (Chinese Communist Party) virus, commonly known as novel coronavirus.
The Sichuan People's Hospital announced a reopening on Wednesday evening, and explained that the first three diagnosed COVID-19 patients had visited the hospital on Tuesday which resulted in the hospital halting its clinics' operations.
Starting from late Tuesday, the regime locked down the residential compounds of those identified as infected plus the homes of those deemed to be their close contacts. This was done with no prior notification, which resulted in many local residents being unable to return home.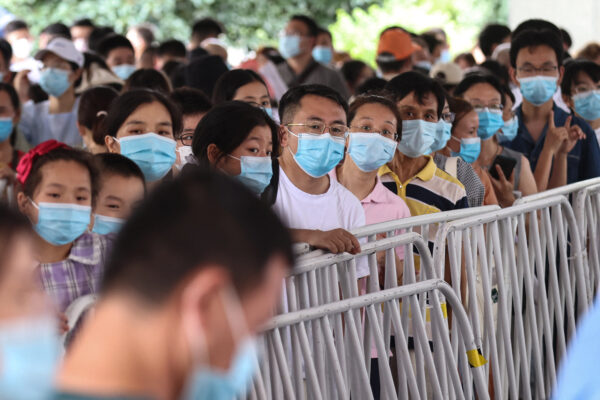 The Chengdu Health Commission announced late on Wednesday that by 6 p.m. of that day, five local residents were diagnosed with COVID-19, while another  was diagnosed as an asymptomatic carrier.
The commission said all six infections might have contracted the virus from Nanjing City in eastern Jiangsu Province. The Chinese regime have confirmed that the variant that circulates in Nanjing at present is Delta, which is believed to be more transmissible than other versions and was first identified in India in late 2020.
Sudden Lockdown
Details of the sudden lockdown's affects were shared online by many in this city of some 20 million people.
"I just came out for a morning jog. Now, I can't go home!" one woman said in a widely circulated video on Wednesday.
She explained that she lives in Gaoxin District in Chengdu, where the regime hadn't announced any infections when she left home for a jog.
When she returned the road that connects her home was blocked and police told her that some residents at a nearby residential compound were positively diagnosed, and the whole neighborhood was in lockdown.
"What can I do? I can't go home now. The diagnosed patients live in another residential compound, rather than mine?" the woman said. "How can I go home?"
This woman was not the only person who got a surprise. Tens of thousands of residents in Qingyang and Gaoxin districts were ordered to line up overnight at temporary testing sites to pick up their throat swabs for a COVID-19 test.
"In the late evening [of Tuesday], we, all staff of the shopping mall, were asked to get a test and not go home. The staff who had gone home were called back for the test," Jimu media quoted a person who was lining up outside the mall in Qingyang district in the early morning of Wednesday.
The people queuing together with mall staff were local residents who had been called from their homes and forced to take a test.
The Chengdu Health Commission announced on Wednesday evening that 35 temporary testing sites had been established in the two districts and at the Chengdu Tianfu International Airport.
The sudden lockdown scared many Chengdu residents.
Worried that a wider lockdown was looming, many rushed to supermarkets and open markets. Most of the vegetables and meats were bought out in a short time.
"Vegetables were sold out! Meats were even sold out earlier! All are gone," a shopper complained in a wide-circulated video on social media platforms on Wednesday.
Chengdu is the capital of Sichuan Province. It's both an important business center and transportation hub in southwestern China.