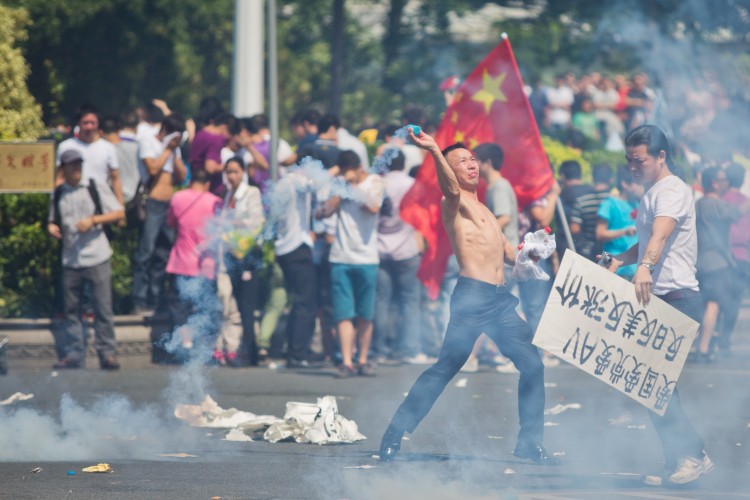 On Tuesday in Beijing the car of U.S. Ambassador Gary Locke was attacked outside the U.S. Embassy by a mob of several dozen Chinese involved in anti-Japan protests.
Tuesday, Sept. 18 was the anniversary of the Mudken Incident, when Japan invaded Manchuria in 1931, beginning a 14-year occupation. Chinese protesters burned the Japanese flag in front of the Japanese Embassy in Beijing and dozens of anti-Japan protests flared in cities across China. In addition, tens of thousands of Chinese fishing boats headed toward the disputed Senkaku Islands.
Chinese official media denied that the government had a hand in the unrest, while some said the protesters and the fishermen were encouraged or compensated by the regime.
In China, Japanese retail stores closed on Sept. 18. Japanese automakers Toyota, Honda, and Mazda shut their plants on Sept. 18, according to Hong-King based, Beijing-friendly broadcaster Phoenix.
Chinese Foreign Ministry spokesman Hong Lei said, "The protests are spontaneous actions by the general public."
Some Chinese people expressed doubt. A Shanghai petitioner told Sound of Hope Radio, "There has never been a parade allowed in China since 1949. Last week, Wang Zhihua from Shanghai went to the Shanghai Public Security seeking permission to have a march. He was told, you can't march anywhere else, only in front of the Japanese Embassy."
Shandong University professor Sun Wenguang told Sound of Hope, an overseas Chinese radio station, "You can clearly see, [the Chinese regime] is trying to divert domestic political pressure."
The trial of former Chongqing police chief Wang Lijun ended on Sept. 18. Wang was former Chongqing leader Bo Xilai's second in command. He fled to the U.S. Embassy, reportedly with documentation of extensive crimes by Bo, including state-sponsored organ harvesting. No verdict has been announced.
In Shenyang, where the Japanese invasion started in 1931, air raid sirens sounded for three minutes at 9:18 a.m. Japan's occupation of China included a puppet government based in Manchuria, and many atrocities. Shenyang radio and TV stations cut into programs with "Don't forget the national humiliation, rejuvenate China."
The protests were large. More than 5,000 people assembled at the Japanese Embassy in Beijing, where they threw water bottles and other objects. According to Radio Free Asia and Voice of America, nearly 10,000 protesters marched in Shanghai, Shenyang, and Chengdu. Police arrested some protesters in Shanghai.
At the same time as the invasion anniversary, the dispute over the South China Sea intensified. Chinese Communist Party Central Military Commission Vice Chairman Xu Caihou met with visiting U.S. Defense Secretary Leon Panetta. Xu condemned Panetta's statement that the Senkaku Islands are inside an area covered by the U.S.-Japan security treaty, Ifeng reported.
Tensions over the islands increased when Japanese media reported that two Japanese nationalists landed on the Senkaku Islands on Sept. 18.
Japanese Economic News reported that Japan plans to send warships from the Japanese self-defense forces when the Japanese Coast Guard can no longer handle the situation. On the same day Kyodo News reported that the coast guard said 14 Chinese government ships had entered the area. Fuji News Network, in Japan, reported that two Chinese frigates were found 80 nautical miles from the Senkaku Islands.
Deputy secretary-general of the National Security Policy Committee at China's Policy Research Council, Maj. Gen. Peng Guangqian, told Chinese media that Japan sending forces to the Senkaku Islands would start a military confrontation.
According to a Beijing Times report, after a three-and-a-half-month East China Sea fishing moratorium, on Sept. 16, thousands of fishing boats from Zhejiang and Fujian provinces embarked for the disputed waters.
Chinese state media Qianjiang Evening News said, "Thousands of Chinese fishing boats went to Diaoyu Island, Japan, facing a formidable enemy." Hexun.com, a Chinese financial website, reported that the islands dispute and the fishing boats "caused the Japanese stock market to suddenly drop 0.35 percent."
Posts percolated on Weibo, the social messaging platform that the regime had told fishermen that they'd be compensated if they went fishing near the Senkaku Islands.
Read the original Chinese article.
The Epoch Times publishes in 35 countries and in 19 languages. Subscribe to our e-newsletter.
Click www.ept.ms/ccp-crisis to read about the most recent developments in the ongoing crisis within the Chinese communist regime. In this special topic, we provide readers with the necessary context to understand the situation. Get the RSS feed. Who are the Major Players?