Annette Bening on Acting and Empathy
September 16, 2013 10:24 am Last Updated: September 23, 2013 5:54 pm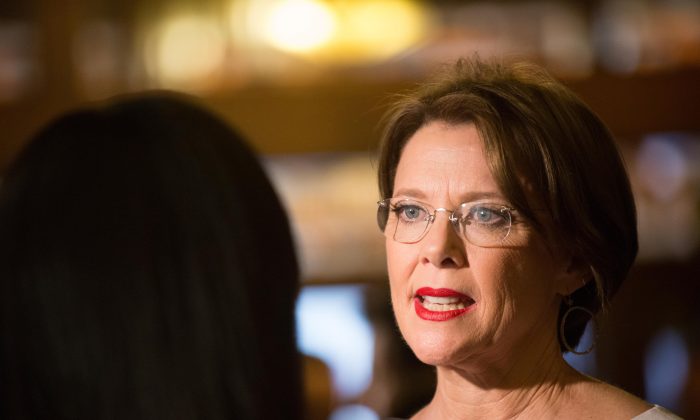 TORONTO—Actress Annette Bening told the Epoch Times that learning to be another person as an actress has also changed her as a person—for the better.
Acting requires its practitioners to submit to a director's vision, and look at the world through someone else's eyes, said Bening. 
"It's very healthy, because of course there is a part of you that knows it is not real. If you don't, then you're insane," she joked.
"It becomes a doorway into trying to empathize," she said. 
Bening shared her thoughts during the red carpet world premiere of "The Face of Love" on Sept.12 at the Toronto International Film Festival.
In "The Face of Love," Bening plays a character whose beloved husband dies and she ends up falling for a man that looks and acts remarkably similar. 
In real life, Bening is happily married to actor Warren Beatty. 
The first step to becoming a character is self-reflection, she said. That process begins with considering her own feelings and reactions in a given situation.
"Everything starts with oneself, that's always the jumping off point. Then it's really a series of 'what if' questions, sometimes going to a place that maybe you have never imagined going."
She said there was a real pleasure at learning to look at the world differently through someone else's eyes.
"Not only is it to serve a story, which is the most important part, but also as a way of learning and growing as a human being," she said.
Acting gives a person an opportunity to be totally subjective, she said. In other words, it's not about looking at someone from the outside to judge them.
"You just have to try to find the world through somebody else's eyes." 
It's a process that can happen in many ways, she said. It's not always as easy as trying to imagine what the person would feel like, sometimes it takes research, and sometimes a random coincidence to give her the sense of what her character would feel. 
She said it is important to find something that connects her to the character, some small thing that lets her invoke the feelings or perspective needed to imbue that personality. 
In this film, that thing was a coincidence.
"I was driving in my car and I saw someone go by in a car and he looked just like someone I had known that I had had a very painful relationship with, who in fact, had died."
She said even though it wasn't the person, she responded as if it was.
"It is almost like a physical reaction. So in a way, that is what the movie is involved in. Where does our mind take us, in terms of revealing to us what is deeper and maybe what we don't even really know is going on, in terms of what is motivating us."
Bening is earning warm reviews for her leading role opposite Ed Harris who plays the object of her affection. 
"The Face of Love" is directed by Arie Posin and could be in theaters in September but release dates have not been confirmed.