Murray's Superior Fitness Keys Rogers Cup Victory
August 16, 2009 10:44 pm Last Updated: October 1, 2015 9:30 pm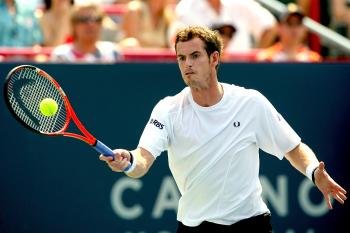 Andy Murray survived the Juan Martin del Potro onslaught and won his first Rogers Cup on Sunday in Montreal 6–7, 7–6, 6–1.
The talented Scot put an end to the tall Argentine's red-hot streak of 10 straight match wins, which included two over Andy Roddick. He is now the No. 2 ranked player on the ATP Tour.
Del Potro was visibly tired in third set, having finished his semifinal against Andy Roddick at about 9:30 p.m. on Saturday night. Andy Murray was clearly more rested as he finished at around 3:00 p.m. on Saturday. Del Potro had also played a lot more tennis recently, having won the Legg Mason title last Sunday.
It didn't help del Potro that temperatures soared to 90 degrees at the Uniprix Stadium. The summer hard courts surface can absorb the heat making on-court temperatures climb to well above 100 degrees. Murray had prepared extremely well by practicing in the humidity of South Florida.
Differing Tactics
Murray likes to let the points develop and use the full geometry of the court. He clearly wanted to make del Potro run a lot, as he has the advantage in the fitness department.
Del Potro tries to keep the points short, using his big serve and ground strokes. Del Potro hits the ball fairly flat and doesn't have much margin for error. When he misses, he misses badly.
For a player who is 6'6", del Potro moves very well along the baseline and has very good technique at the net. Murray can be a grinder on court as he doesn't have the one big shot that can finish rallies.
Throughout the match, del Potro gave the impression that he was very tired, often leaning on his racket, bending over, and lumbering around slowly between points at the baseline. But he kept on hitting winners and winning baseline exchanges.
Murray broke del Potro's serve in the opening game of the second set but del Potro broke right back. The second set, like the first one, went to a tiebreak but then, Del Potro made critical errors at key moments.
The wind was clearly knocked out from del Potro's sails and he didn't look mentally prepared to fight for the third set. The Montreal crowd understood how tired he was as Murray raced out to a 4–0 lead.
Murray served extremely well all day, out-acing his taller opponent 16–11. He won 85 percent of his first serve points and only lost 24 percent of the points on his serve.
"I just needed to hang in there," said Murray after the match in an interview with CBC.
"I couldn't quite take my chances, I had to stay strong." Murray had 10 break opportunities but only broke del Potro once in the first two sets.
"I really enjoyed playing in Montreal. We had great crowds all week," said Murray.
In fact, the Rogers Cup became the first one-week tennis tournament to sell more than 200,000 tickets. Another noteworthy statistic is that the top eight players all made the quarterfinals.
Roger Federer bowed out in the quarters to Frenchman Jo-Wilfried Tsonga after a complete collapse in the third set.
Rafael Nadal's first tournament since the French Open also ended at the quarters, as he had no answer for del Potro.
Both players now head to Cincinnati for the Western & Southern Financial Group Masters. As luck would have it, del Potro and Murray could face each other in the quarterfinals.