Andie MacDowell in 'Cedar Cove': Peaceful Respite From TV Gore
July 21, 2013 11:20 am Last Updated: July 22, 2013 5:07 am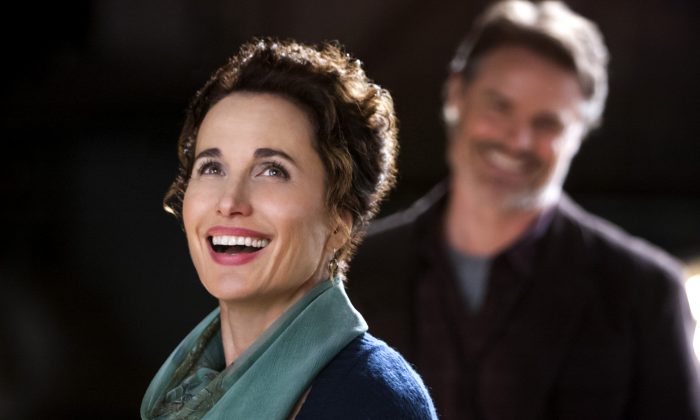 Andie MacDowell calls her new role as a small town judge in Hallmark's Cedar Cove a light alternative to the agitation common on television today.
The series premiered July 20 and reviews have noted its uniquely placid nature, remaining hopeful that it will still capture the attention of viewers more accustomed to zombies, high drama, and big-city settings.
"I don't want to be agitated so much on television," MacDowell told Zap2It.com. "I don't need to watch any more agitation."
Bruce Boxleitner, who plays a lifelong resident of Cedar Cove, told Zap2It: "I am tired of zombies. I am tired of vampires. … There has to be some safe harbor in the evening from news and destruction … and there has to be some place where there is a refuge, where people can have an engrossing story line and get away from their lives for an hour or two; nothing to jar you or shock you."
The series chronicles the daily trials, tribulations, and joys of small-town life. MacDowell's character, municipal judge Olivia Lockhart mourns the death of her son, worries about her daughter's relationship with an older man, and encounters romance of her own.
The decisions she must make in her courtroom also deeply affect the lives of those in Cedar Cove—the pilot features a divorce case with complexities arising from an emotional struggle after the death of the couple's newborn child. The local newspaper opens the personal lives of those involved, including Lockhart, to the whole town.
Boxleitner's character is happily married to his high-school sweetheart, a phenomenon much less common on television than it once was.
Much like some viewers, Jack, a reporter who moves to the town from Philadelphia, must adjust to small town life—looking for a story to write, he finds the big attraction at the community center is the annual seagull-calling contest. Jack also struggles with alcoholism. 
Based on Debbie Macomber's best-selling novels, the series' full title is Debbie Macomber's Cedar Cove.
Brian Lowry, television columnist for Variety is doubtful the series will gain traction, though "some will no doubt view this as a refreshing tonic from sex and violence elsewhere," he writes.
But, he notes, "To be fair, Cedar Cove isn't intended to rival the current crop of ambitious cable dramas, but rather to offer a distinct alternative to them."
Jacqueline Cutler writes in a Zap2It review published in Newsday: "The series fills a gap. It's a quiet drama, without dismemberments, supernatural forces, or fantastic premises. For those who have had enough boorish behavior, this is a welcome respite."
Los Angeles Times television critic Mary McNamara writes: "MacDowell is working very much within her comfort zone here, radiant and resonant. And amid all the noise and haste of modern television, there is something to be said for going placidly."
She sums it up as a "placid but hopeful drama series."