ANAHEIM, Calif.—As staff shortages continue to be a problem at hospitals, registered nurses experiencing "moral distress" picketed outside West Anaheim Medical Center on Feb. 14 demanding better work conditions.
About a dozen or so health care workers were standing at the corner of South Beach Boulevard and West Orange Avenue with signs reading, "Patients First in the Hospital," "Safe Staffing Now," and "Hands Off Our Ratios. Save Lives." The organizer said about 50 to 100 more were expected to show up throughout the protest during their breaks or days off.
"A lot of nurses are being forced to take on too many patients," emergency nurse Sofia Rivera told The Epoch Times. "It makes it unsafe to provide safe care."
For emergency rooms, the nurse-to-patient ratio should be one to four, but nursing capacity has become tighter because of the staffing "crisis," while the COVID-19 surge has been flooding the hospital with patients, Rivera said.

The medical center has brought in contracted travel nurses to assist with the influx of patients, but concerns linger as many have only two months of experience in the medical field, according to Rivera.
To keep up with the demand, Rivera said, nurses at the hospital have been forced to skip their lunches and breaks to be present four to five days a week for 12 hours at a time, and most of them pick up extra shifts.
"Our patient care is in jeopardy," Rivera said. "I'm going to treat your father like they are mine, but I'm unable to if there is no help."
As many nurses are struggling to meet the demand, protesters are urging the hospital's management to take action for the sake of providing quality care to patients.
"We are out here to show management that we are ready to fight and care for our patients," Intensive Care Unit (ICU) nurse John Olarte told The Epoch Times. "We are experiencing moral distress because we can't give the care we want."
Having worked at the medical center for 10 years, Olarte hasn't seen staff members working in such compromising situations until recently as the hospital became overrun.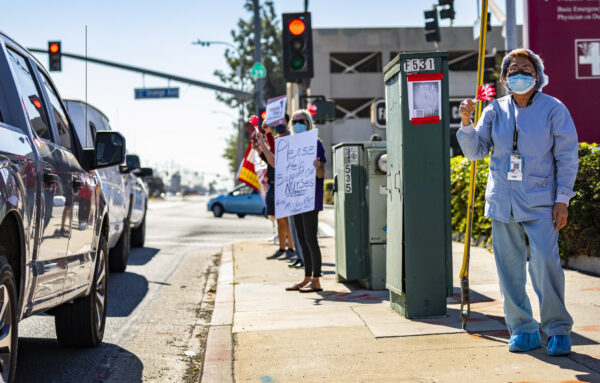 According to Olarte, the staff shortage is a result of poor working conditions that force nurses to leave to avoid the possibility of losing their licenses for mistreating a patient due to lack of time and energy.
The normal ICU nurse-to-patient ratio is two to one, Olarte said. However, as patients have been flooding hospital rooms, the ratio has been one to three.
"We are risking our lives and license to provide the care we can," Olarte said as he discussed the difficulty to identify all the medical needs of patients when resources are tight.
Protesters are demanding that management focus on recruitment and retention of nurses for them to stay employed with the medical center.
Olarte said if a better contract that can "uphold [their] standards and protect [their] patients" is offered, the staffing crisis will be alleviated.
The Epoch Times reached out to West Anaheim Medical Center, but they were not immediately available for comment.