SANTA CLARA, Calif.—Russian immigrants Lina Broydo and her husband, Sam, arrived in the United States in 1965. Sam Broydo got a job at Bell Labs, a research company looking for intelligent young engineers.
Sam's colleague Dave and his wife, Peggy, decided to invite all the immigrants working at the company to experience an American Thanksgiving at their house.
It was a potluck of about 30 people. Everyone brought a dish, so it was more like an "international Thanksgiving buffet dinner," Broydo told The Epoch Times. The hosts prepared the classic turkey, yams, and pies.
"I brought two dishes because my husband had to have potatoes with every dinner. For him, dinner without potatoes—which is so typical of Russian cuisine—was just an appetizer."
She brought mashed potatoes and stuffed potatoes. She cut potatoes in half, stuffed them with bacon and cheese, and baked them.
It was also the first time she learned to make baked green beans with Campbell's mushroom soup.
"This is like a typical dish at the Thanksgiving table that Peggy had," she said. "Till today, my children expect to have baked green beans with dried french onions in mushroom soup. It's sort of like a casserole. It's very delicious. This is the first thing that they put on the plate after they put the sliced turkey."
Guests from Canada, France, England, Egypt, Israel, Russia, and Italy all brought their own special dishes.
Children performed, guests sang, and they all learned about the holiday.
That was in New Jersey, where the couple first moved from Birmingham, England (Sam Broydo had studied at the University of Birmingham).
The annual gatherings continued there for 10 years, until Broydo and her family moved to California. She brought the tradition with her to San Francisco.
Carrying on the Tradition in California
"It is my favorite holiday because there is no attachment to any of the religions. It was all just [a] celebration of American history, American customs, and American tradition," Broydo said. "We continue this with our family."
Her family has added its own twist to Thanksgiving celebrations.
"On Thanksgiving, everybody gets a present of new pajamas," she said. "We light up the fireplace and the whole house smells [of] the delicious aroma of turkey cooking in the oven."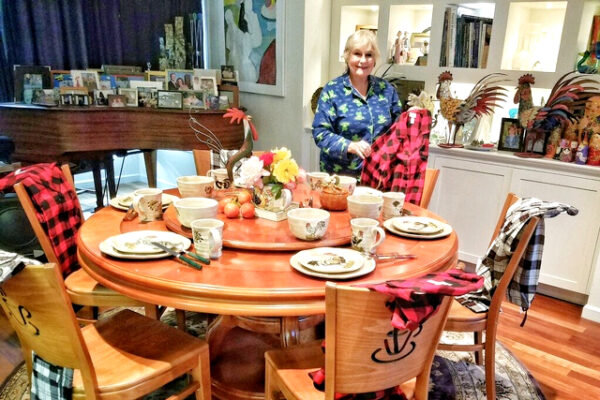 "We pull out the photo albums so the children and grandchildren can look at all the photographs of our life in [the] United States," she said. "They learn the history of our family and our life in the United States. This is what we are thankful for."
Life in the United States
Broydo's son was born in England and was 2 when they moved to New Jersey. Her daughter was born in New Jersey. Thanks to her husband's good job, Broydo didn't have to work for sustenance and was able to study metal sculpting in an art school. She joined an art gallery and was inspired by the various media other artists worked with.
Broydo also taught Russian at an adult education school in New Jersey.
When they moved to California, she worked at a hotel—"It was a dream from childhood for me."
"When I was 5 years old and we were in the Soviet Union, I would walk in the streets with my mom, and sometimes we had nothing to eat for three days and we would walk in the streets and all of a sudden, a door of a building opens, an aroma of fresh bread would come out. … When you are hungry, fresh bread is very delicious."
"So I would say to my mom, I said 'Mom, look! They have bread in here!' My mom would look up and she said, 'Yes, darling. This is [a] hotel. So from then on, it was a dream of mine to work in a hotel."
She said that in the old days, hoteliers worked and lived in the hotels. "So it was almost like a survival profession," she said. "You always had some food and you have a roof above your head."
When someone informed her about an interview to work for a luxury hotel opening up in San Jose, California, she went through 11 interviews and was hired as director of public relations.
"When we opened the hotel, I walked with him [the general manager] through the corridors of the hotel, and I said, 'There is no smell of fresh bread in this hotel.' And he said 'Darling, we have such a good exhaust system,'" she said.
"Then I told him to open the doors to the restaurant of the hotel so people would get attracted to the restaurant. And that was a very good marketing tool."
For 22 years, she has welcomed and hosted celebrities, heads of states, and officials from all over the world at the hotel.
"I don't use the word 'retire,' I use the word 'graduate.' I graduated from there," she said.
Lots to Feel Thankful For
Broydo is thankful for having a beautiful family and two grandchildren.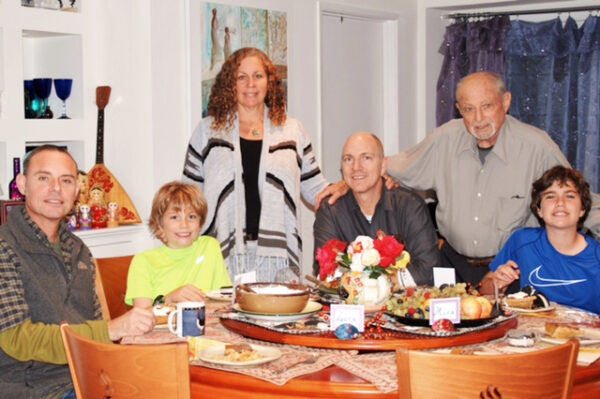 "I'm grateful that my husband, who was a very famous scientist, had the courage and desire to come to the United States and gift us with this amazing life," she said.
She also feels thankful for Dave and Peggy for showing them their first Thanksgiving.
She prepares the same dishes every year—turkey, green bean casserole with mushroom soup, potato dishes, vegetables, fresh salad, and pumpkin or pecan pie.
This year, she's trying something new. She'll add french toast to the menu after watching online how famous chef Jacques Pépin made it.
"You take French ice cream and you put it for 10 seconds in the microwave, so it becomes like a liquid. So you dip each slice of bread in this melted ice cream and fry it quickly in butter. It is so delicious that it can be a dessert."
Her family is smaller now—she, her son, her daughter, her son-in-law, two grandchildren, and two dogs—but she encourages others to also invite immigrants during Thanksgiving.
Amid COVID, things will be a little different, but her children still live close enough to visit and she has a big porch for social distancing. She plans to space out the chairs around the table. She wants things to go back to normal so she can hug her grandchildren again.
Sam passed away three years ago. Peggy has also passed.
"So I just say, on this Thanksgiving holiday, Peggy and my husband will get together for an afternoon tea and some mashed potatoes in heaven."