Two reporters with The Epoch Times' Hong Kong edition said they were being followed by suspected security agents after spotting an unusual person and a police car around them in recent days.
The local Epoch Times is one of only a handful of independent media outlets in Hong Kong, with most media holding pro-Beijing stances or being partially funded by Beijing.
Sarah Liang, an Epoch Times reporter and host of a popular local YouTube show in which she interviews prominent local pro-democracy activists, discovered that a middle-aged-looking man in a black suit was watching her as she stood at a street crossing near the busy district of Cheung Sha Wan on Aug. 10.
It happened around 2 p.m. as Liang was going to dine with a friend. The man, being one of a few people on the street at the time, was speaking in Cantonese over the phone while glancing toward Liang's direction. Liang said she became alarmed after she noticed the man following her at arm's length as she walked, and continued tailing her after she turned to the right.
Liang entered a nearby mall in an attempt to throw him off and pretended to be shopping. Looking from inside, she saw that he walked a few steps forward and thought he had left. When Liang walked out moments later, she found that the man was at the door, apparently waiting for her. After Liang made eye contact with him, the man immediately turned around and hurriedly walked away.
Liang captured a photo of his back as he left.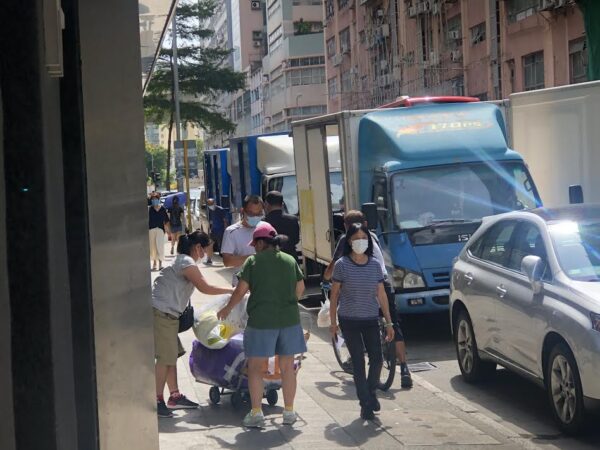 Another reporter who lives on Hong Kong Island also spotted a police car parked near their residence on the same day.
The incidents came after Hong Kong police made a high-profile arrest of 71-year-old Jimmy Lai, a media tycoon who founded local pro-democracy newspaper Apple Daily, on suspicion of colluding with foreign forces in violation of Beijing's new security law. Following that, around 200 officers swept through the Apple Daily newsroom, at one point escorting a handcuffed Lai through the office.
Beijing tightened its grip on the territory after it directly imposed the law, which criminalizes secession, subversion, terrorist activities, and foreign collusion with up to life imprisonment.
Many concerned friends who heard about Lai's arrest immediately contacted Liang to remind her to be careful, Liang said. Activist Agnes Chow said in a Facebook post that in recent days, multiple groups of three to four men took shifts to patrol outside her home from morning until night, which was particularly notable since she lives in a rural area. She was also arrested on Monday.
"It's shocking, but I can only continue to do what I believe in," Chow wrote on Aug. 9. Joshua Wong, another key activist in the protest movement in Hong Kong, also wrote recently about suspicious cars and motor vehicles following him.
While Liang said she was more alert than usual due to the current political climate, she was still shocked that someone would follow her. By calling out what she suspects to be "scare tactics," she hopes to discourage individuals from feeding into the disquieting atmosphere in Hong Kong, she said. "Creating such 'white terror' will not do any good to themselves either," she said in an interview.
Hong Kong's press freedom ranking has already slipped from 18th place in 2002 to 80th in 2020, according to the World Press Freedom Index by Reporters Without Borders, an international media watchdog. Mainland China ranks 177 out of 180.
The national security law that went into effect on the eve of July 1—marking the 23rd anniversary of the former British colony's return to Chinese rule—contains "a number of provisions that could trip up journalists," said Steven Butler, the Asia program coordinator for New York-based advocacy group Committee to Protect Journalists (CPJ), in a statement on Aug. 11.
The law is vague in describing what constitutes each offense. The Hong Kong government detailed implementation rules a week later, saying the law allows police to search any premises or electronic devices for evidence, and to wiretap individuals without a court order.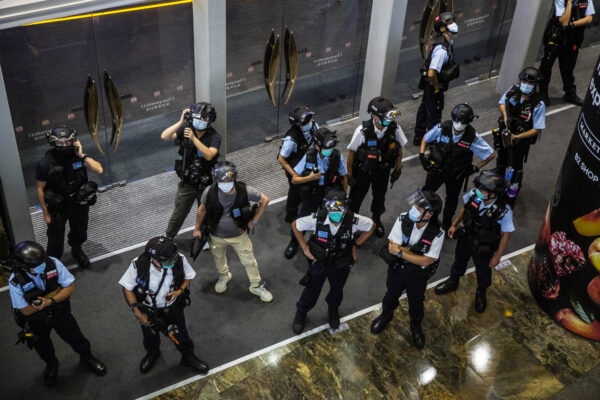 CPJ quoted from a survey they recently conducted with local journalists. "It's ridiculous if you try to second-guess where the red line is. If we did that, literally we could do nothing. They can interpret the law in any way they like, in any way that suits their purpose," an editor of a Chinese news website told CPJ under the condition of anonymity.
The Epoch Times' Hong Kong edition condemned the harassment of press members in an Aug. 11 statement, saying Liang's incident represented a "seriously trampling on media freedom." It also called for more international attention on Hong Kong's press freedom and the personal safety of journalists.