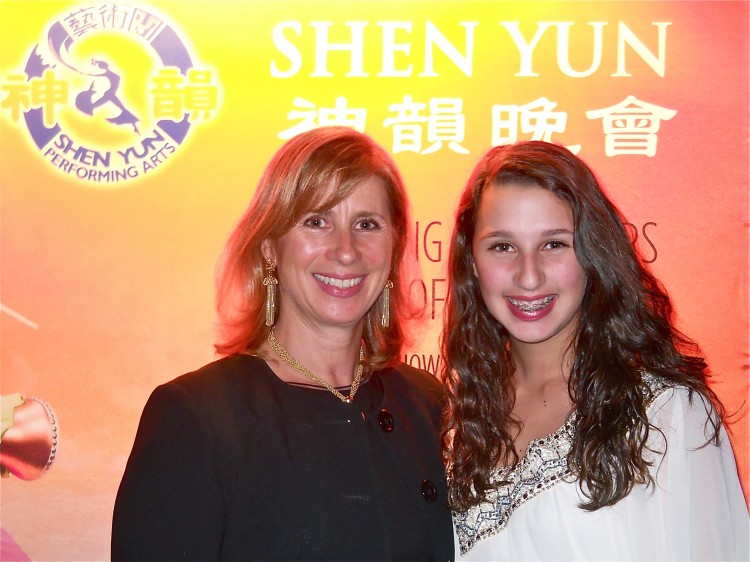 BUFFALO, N.Y.—Amherst town councilmember Barbara Nuchereno had wanted to see Shen Yun Performing Arts when it came through Buffalo last year, but missed the chance.
This year she made sure to come and brought her daughter with her to experience classical Chinese dance and music at Buffalo's beautifully restored Shea's Performing Arts Center on May 11.
Just north of Buffalo, Amherst is home to 120,000 people, big enough to be a city but content to be a town joked Ms. Nuchereno. She came that day with a proclamation to present to Shen Yun, signed by herself and five other councilmembers, thanking New York-based Shen Yun for its contribution to preserving Chinese culture.
"This is a proclamation from the town of Amherst, thanking the company for all that they've done to bring this rich culture to our part of the world," Ms. Nuchereno said.
Shen Yun left her with warm words for the presentation that night.
"I thought it was fabulous. I wasn't able to come last year, and I was excited to be able to come this year. My daughter came with me and it was just different from anything I've seen before. I wasn't sure what to expect, but visually it was very stimulating. And historically, it was very interesting, and thought-provoking," she said.
"It gave you a lot to think about and a lot to see. You could just sit and enjoy yourself or you could think about things, and it really was sort of a way to travel to China without having to travel to China," she added.
"The dancing was precise and artful," she said, adding her praise for the flips and jumps that comprise the more technical elements of classical Chinese dance.
"It was fabulous!" she said.
"Aside from the beautiful costumes, and the precise and artful dancing, and the beautiful singing, the incredible digital background was just amazing, and it was awe-inspiring."
"But what I liked the most was also the thought-provoking serious side that reminds all of us that we live in this great country where we have freedom and not everybody does. And we can never forget that, and we can never forget to help people when we can," she said.
Ms. Nuchereno said she appreciated the three dances that were set in modern China representing the current crackdown on the Falun Gong meditation practice. She said she appreciated the reminders about what it means to have freedom of belief, something that can easily be taken for granted.
"The reminder about freedom, and the lack of it really stayed with me," she said.
Besides the visual beauty of what was presented on stage, Ms. Nuchereno said she was struck with the themes of the performance.
"The good versus evil was interesting, and the parts of the culture that stress honour and perseverance, and those qualities that we all try to emulate and try to achieve in our own lives was in the show all around, and that was nice," she said.
"The meaning of all of it was inspiring so it brought together not just the culture but the values of the culture, the goodness, the evil, everything that it taught us about the culture and the history and the religion was just wonderful."
She said she was intrigued by Shen Yun's digital backdrops and how the scenes interacted with the dancers on the stage.
"They digitally had the people flying in and then coming out—that was really interesting. It also gave us a piece of China because it had the farmland, it had the mountains, it had the towns. So we were able to see some of the country through the background, which I thought was terrific."
"The digital background was quite impressive," she said.
Particularly notable for Ms. Nuchereno was Snowflakes Welcoming Spring, in which dancers take small quick steps while they spin and twirl sequined handkerchiefs as snowflakes gather for a final farewell.
"It was pretty," said Ms. Nuchereno.
The Shen Yun Performing Arts Orchestra made an impression as well. After noting earlier the great acoustics in the Shea's Performing Arts Center, Ms. Nuchereno shared her thoughts on the music performed that evening.
"They were top notch … top notch," she said.
Her teen daughter Rachel enjoyed the show as well.
"I thought it was amazing. It was really great. The dancing was awesome," added Rachel Nuchereno.
Rachel said she was particularly taken with the dance Sleeves of Silk, in which classical Chinese dancers use "water sleeves" made of flowing lengths of silk. These trails of fabric linger in the air like a visual echo of each movement.
Ms. Nuchereno said Buffalo and its surrounding areas like Amherst were fortunate to have Shen Yun come and share the history and culture of traditional China.
"On behalf of the town of Amherst we appreciate the opportunity for Western New York to share in this experience," she said.
"I would certainly hope it does come back every year."
With reporting by NTD Television

Shen Yun Performing Arts, based in New York, has three touring companies that perform simultaneously around the world, with a mission to revive traditional Chinese culture.
For more information, visit ShenYunPerformingArts.org.
The Epoch Times publishes in 35 countries and in 19 languages. Subscribe to our e-newsletter.