An American man who was shot and killed by an isolated tribesman's arrow had kept a journal and had tried to convert them to Christianity.
Hours before his death, John Allen Chau apparently wrote, "God, I don't want to die," Fox News reported.
North Sentinel Island is one of the Andaman Islands, and it is home to the Sentinelese, who reject any contact with the outside world. They're among the last people on earth to remain untouched by modern civilization. In previous years, tribesmen have shot arrows and thrown rocks at helicopters and boats. In January 2006, two fishermen were killed by the tribe when their boat got too close to the island.
The 26-year-old from Vancouver, Washington, chronicled his final days traveling to the remote Andaman Islands, located in the Indian Ocean. He was trying to make contact with the isolated Sentinelese tribe on North Sentinel Island, according to his mother in news reports.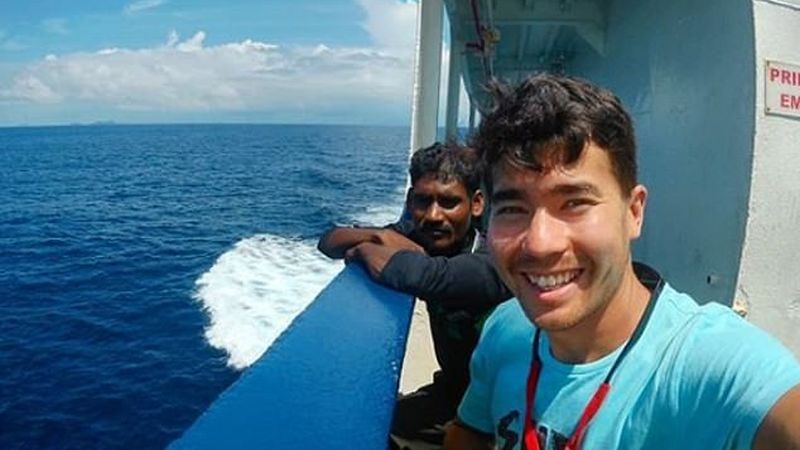 "You guys might think I'm crazy in all this but I think it's worthwhile to declare Jesus to these people," he wrote on Nov. 16 before he left the fishing boat to meet the tribe on the island. "God, I don't want to die."
He wrote that the tribesmen reacted angrily, adding that they were about 5-feet -5 inches tall and had yellow paint on their face.
"I hollered, 'My name is John, I love you, and Jesus loves you,'" Chau wrote, Fox reported.
"Well, I've been shot by the Sentinelese. … By a kid probably about 10 or so years old, maybe a teenager, short compared to those who looked like adults," he said, reported the Daily Mail, which posted a photo of his journal.
A US citizen is believed to have been killed by an isolated tribe in one of India's remote Andaman islands.

The man had illegally ventured onto the North Sentinel Island, which is out of bounds for visitors and is home to the Sentinelese tribe. https://t.co/dAbtEyBMqk

— DW News (@dwnews) November 21, 2018
A child shot an arrow at him, missing. It hit his Bible. "The little kid shot me with an arrow—directly into my Bible, which I was holding at my chest," he wrote.
Chau then made a journey back to the boat.
"I stumbled back and I recall yelling at the kid for shooting me—now as I look back at it, my Bible cover looks like bark—like tree bark, so maybe he was just curious but yikes, it sure gave me a fright," he wrote, according to the Mail.
Later, Chau noted that he's "stuck here anyway without a passport and mainly been off the grid."
"I still could make it back to the U.S. somehow as it almost seems like certain death to stay here," he continued.
Charges Filed
Another missionary told Lynda Adams-Chau, his mother, that fishermen saw the tribe burying him on the beach the following day. The fishermen who helped him travel to the island as well as a friend who organized the boat trip were arrested.
Chau's family pleaded for their release, saying he acted of "his own free will," Fox reported.
Indian authorities, meanwhile, stated that it will take some days to recover Chau's body, the BBC reported.
"We maintained a distance from the island and have not yet been able to spot the body. It may take some more days and … [reconnaissance] of the area," Dependra Pathak, director general of police on the Andaman and Nicobar Islands, was quoted by the broadcaster as saying. "We have to take care that we must not disturb them or their habitat by any means. It is a highly sensitive zone and it will take some time," he said of the islanders.
The family also said they forgave the Sentinel tribe after killing him, the BBC noted.
Planned Trip
Jeff King, the head of International Christian Concern, which Chau was aligned with, said he contacted Chau during the visit.
"John went there to bring the gospel to these people … He had talked about it … planned it for a while, so it wasn't a whim, it wasn't a lark," he told the BBC.
He added: "He'd been in the islands before, to this particular island … there were three or four visits on that day, and what happened was on the first visit he was turned back by arrows; the second visit, he came with two big fish as a gift."
""My understanding was the men accepted the gift; they sat together for an hour; he said they were menacing and they actually shot him. He went back to the boat, and then gradually went back a third time. That's when the fishermen who were looking through binoculars saw that they'd killed him and were taking him apart," King said.
"This was not a job he was doing—this was a dream he had that unfortunately went wrong," he concluded.