The Florida Department of Law Enforcement has issued an AMBER Alert for the 9-year-old missing child from Florida, Diana Alvares.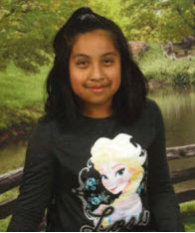 Alvares was last seen on May 29, in Fort Myers. It's believed she may be traveling with 28-year-old Jorge Guerrero, who has ties in the Orange and Okeechobee Counties.
The alert asks that people remain vigilant for a tan Chevrolet Malibu with the Florida license plate: 78NHD.
In a statement, the Lee County Sheriff's Office said: "The investigation and continuing efforts to locate Diana are very much still underway."
Diana has black hair and brown eyes, is 4 feet 5 inches tall and weighs 95 pounds. She was last seen wearing a short-sleeved shirt and shorts.
Guerrero has black hair and brown eyes, and is 5 feet 5 inches tall, weighting 145 pounds.
Alvares's biological father, Martin Alvares-Moreno said all he "can do is wait from God to tell me where my daughter is," speaking from Mexico through a translator. Alvares-Moreno was deported from Florida to Mexico back in August of 2015, following a domestic dispute, reports NBC2.
Alvarez-Moreno told the publication that he believes it is the fault of Diana's mother and step-father that she disappeared. He said he has been offered several times a way back into the United States illegally, but says he wants to do it the right way, stating he plans to ask the U.S. consulate for help.
NBC is reporting a current $6,000 reward for information leading up to the discovery of Alvares.
Several media outlets are reporting that when Alvares's mother and step-father went to wake her up for Sunday morning church, she wasn't in her bed.
At the time the AMBER Alert was released, Alvares was considered "endangered."
Anyone with information was asked to call the Lee County Sheriff's Office at (239) 477-1000, or dial 911.
Updates to come as more information becomes available.