Amazon reached a "first-of-its-kind" settlement with California's attorney general on Monday over claims it concealed COVID-19 case numbers from workers and local health agencies.
The online retail giant left workers "in the dark" and unable to track the spread of COVID-19 throughout the pandemic, while failing to adequately notify warehouse workers and local health agencies of the number of cases, the state's Attorney General Rob Bonta said in a statement.
In Bonta's initial complaint, the attorney general alleged there were "multiple instances" in which Amazon did not notify workers within one business day about potential exposure to the virus, as required by California law.
The notifications also failed to provide adequate information regarding COVID-19-related benefits, "available under applicable federal, state, or local laws; options for exposed employees, including COVID-19-related leave, company sick leave, state-mandated leave, or supplemental sick leave; and anti-retaliation and anti-discrimination protections," Bonta said in his complaint.
As part of the court agreement, Amazon has agreed to modify its COVID-19 notifications to workers and local health agencies and will issue such notifications to its workers providing them with the exact number of virus cases in their workplaces within one day.
It will also notify local health agencies of the number of virus cases within 48 hours, which will give them more time to prepare for and intervene in potential workplace outbreaks.
The tech giant was also ordered to pay $500,000 toward further enforcement of California's consumer protection laws and must submit to being monitored by the Office of the Attorney General regarding its COVID-19 notifications.
Amazon's agreement, dated Nov. 12, is still subject to court approval.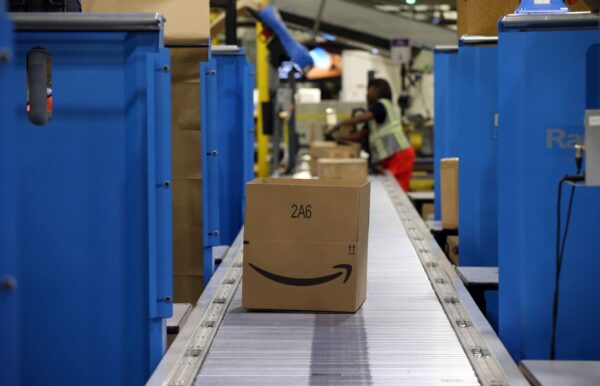 The court judgment is the "first-of-its-kind" under California's "right to know" law enacted in January requiring employers to keep workers up to date about the spread of COVID-19 and provide them with information about disinfection and safety plans and coronavirus-related benefits. Under the law, employers must also report COVID-19 cases to local health agencies.
Enacted as part of the state's broad efforts to protect the public from the CCP (Chinese Communist Party) virus, the law effectively safeguards the rights of California workers to make informed decisions about potential risks posed at their workplace.
After being notified of potential workplace exposure, the employee can decide whether he or she seeks out additional precautions such as testing, quarantining, or staying home.
The Epoch Times has contacted Amazon for comment.
Attorney General Bonta said the settlement comes at a critical time for businesses ahead of the holiday season and amid the ongoing pandemic.
"That's why California law requires employers to notify workers of potential workplace exposures and to report outbreaks to local health agencies. Today's first-of-its-kind judgment will help ensure Amazon meets that requirement for its tens of thousands of warehouse workers across California," Bonta said.
"Bottom line: Californians have a right to know about potential exposures to the coronavirus to protect themselves, their families, and their communities. I'm grateful to Assembly Majority Leader Eloise Gómez Reyes for her leadership in spearheading AB 685 to stand up for California's essential workers during these unprecedented times. This judgment sends a clear message that businesses must comply with this important law. It helps protect us all."
A spokesperson for the Seattle-based retailer told Axios that it was glad to have resolved the matter, "and to see that the AG found no substantive issues with the safety measures in our buildings."
"This settlement is solely about a technicality specific to California state law surrounding the structure of bulk employee COVID-related notifications," the spokesperson added. "There's no change to, or allegations of any problems with, our protocols for notifying employees who might have been in close contact with an affected individual."
Last year, Amazon was fined  $1,870 by the California Division of Occupational Safety and Health for violations related to working conditions at delivery and fulfillment centers, per the Los Angeles Times.
In February this year, New York Attorney General Letitia James filed a lawsuit against Amazon, alleging that the online retail giant failed to adequately protect its warehouse workers from the CCP virus pandemic.