A&M Freshman Killed, Along With Utah Freshman, in Car Wreck
July 31, 2013 7:30 am Last Updated: July 31, 2013 7:32 am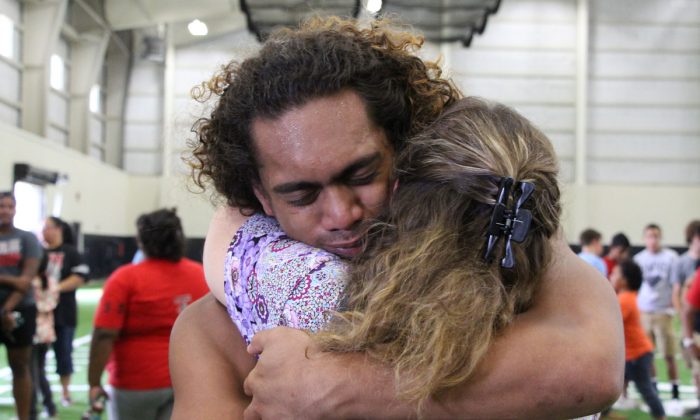 A&M Freshman killed: A car crash in the high desert of northern New Mexico Monday night claimed the lives of Polo Manukainiu, a 19-year-old defensive lineman at Texas A&M, and his friend Gaius Vaenuku, an 18-year-old incoming member of the University of Utah football team.
The two were returning to Texas from Utah, traveling on U.S. 550 as the vehicle drifted off the road, explains a statement from A&M quoted by the Washington Post. The driver, 18-year-old Siaosi Salesi Uhatafe Jr., over-corrected and the vehicle rolled several times. Manukainiu and 13-year-old Andrew Uhatafe were ejected from the vehicle and pronounced dead on the scene. Vaenuku died in an ambulance.
The driver was apparently the only one wearing a seat belt, investigators told Sports Illustrated; he and his father, Salesi Uhatafe, were the only survivors. Investigators also said alcohol was not involved.
Manukainiu's coach and teammates mourned his loss.
"We lost a terrific young man," Texas A&M coach Kevin Sumlin told Sports Illustrated. "Polo was loved by his teammates and coaches. Anyone who came in contact with him was struck by his sense of humor and smile. My heart aches for his mom and family members."
"Heart hurts waking up to news about Polo," Texas A&M's quarterback, Johnny Manziel tweeted Tuesday. "I think I speak for everyone on our team when I say we love you brother you will be missed."
Utah coach Kyle Whittingham described Vaenuku in an interview with Sports Illustrated: "Everyone who knew Gaius is heartbroken today. … He was the kind of young man who lit up a room and his future in football and life had no boundaries. Words cannot express our devastation over the loss of Gaius."