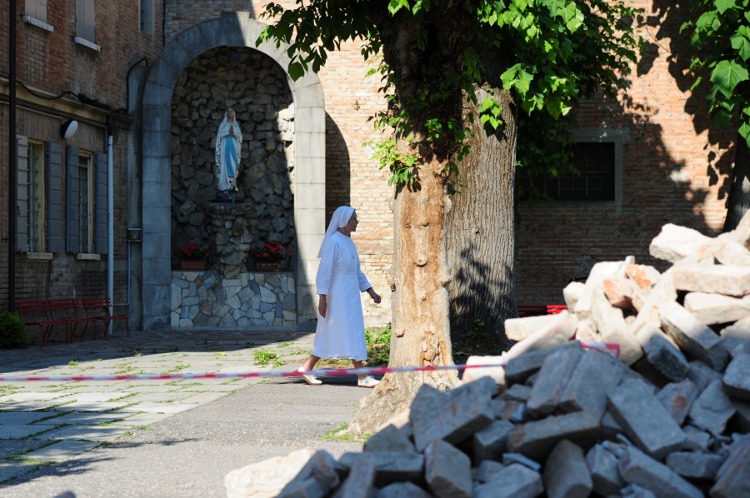 BIELLA, Italy—Just nine days after a magnitude-6.0 earthquake hit the region of Emilia Romagna in northern Italy, the earth shook again Tuesday causing more deaths, collapsed buildings, and displacing thousands of residents—and destroying all hope people had for a quick return to normality.
The magnitude-5.8 quake hit at 9:00 a.m. local time, with the epicenter in the province of Modena. The quake was followed by dozens of aftershocks, two of which were over 5.0 in magnitude, reported the National Institute of Geophysics and Volcanology (INGV).
The aftershocks killed more people than the first quake, leaving a total of at least 16 people dead, according to local reports. Rescuers, however, continued to search for survivors under the rubble throughout the evening.
Several people were killed when a factory collapsed that had just reopened after the first quake.
The Italian Civil Defense is preparing emergency shelters for 8,000 people who were forced to leave their homes. They are in addition to 6,000 who had been displaced after the first earthquake, according to numbers provided by authorities.
The local economy is on its knees, with many warehouses now unusable and farms destroyed. Churches, towers, and other historic buildings have suffered serious damage as a result of the earthquakes.
The area is famous for producing balsamic vinegar and Parmesan cheese.
The emergency situation, however, may not be over yet. The aftershocks are expected to last over a long period, Stefano Gresta, president of INGV, told Italian news channel SkyTG24.
"And we cannot exclude future strong earthquakes, like the one today," he said.
The Epoch Times publishes in 35 countries and in 19 languages. Subscribe to our e-newsletter.