The man who allegedly kidnapped Wisconsin teenager Jayme Closs has been identified as Jake Patterson, 21.
Jayme, 13, was abducted from her Barron home in October 2018. Law enforcement officers who responded to the house found her parents shot dead.
Jayme was found alive after she escaped from her abductor on Jan. 10 and found nearby residents in Gordon, about an hour's drive north from Barron, who called the police.
Barron County Sheriff Chris Fitzgerald said that Patterson, of Gordon, was arrested and is being held on two counts of first-degree intentional homicide in the murder of Jayme's parents in addition to one count of kidnapping.
Fitzgerald told reporters at a press conference on Friday that police believe Patterson killed the teen's parents because he wanted to kidnap her, but that officials believe the man and teen did not have contact prior to the kidnapping. He said that the suspect "took many proactive steps to hide his identity."
Law enforcement officials said that Patterson doesn't have a criminal history and that Gordon, a small community that's mostly wooded and dotted with cabins, was not on their radar before Jayme appeared.
Closs was missing for 88 days; a search quickly ramped up nationwide but several weeks after the kidnapping, law enforcement said it was switching gears as fewer tips were coming in.
Then, on Thursday, she appeared out of the woods, asking a woman walking her dog for help.
"This lady immediately went to a nearby house and notified that neighbor of the claim and this neighbor called 911 and my deputies responded en masse immediately and identified Jayme as the person who approached the neighbor," Douglas County Sheriff Tom Dolbeck.

Jeanne Nutter, a social worker, was identified as the woman walking her dog. "I was terrified, but I didn't want to show her that," Nutter told The Associated Press. "She just yelled please help me I don't know where I am. I'm lost."
She said she took the girl to a home other than her own because her own house was too close to the house at which she'd been held. "My only thought was to get her to a safe place," she added.
Deputies whisked Jayme away and a short time later, found Patterson driving nearby. He surrendered to the police.
"Jayme is safe and the family is asking that you respect their privacy at this extremely emotional time," Fitzgerald said.
Jayme was taken to a hospital in Duluth, Minnesota. She was being mentally evaluated, and questioned by FBI agents, before being reunited with her family later Friday. The suspect is being held at the Barron County Jail. He's slated to appear in court for the first time next week.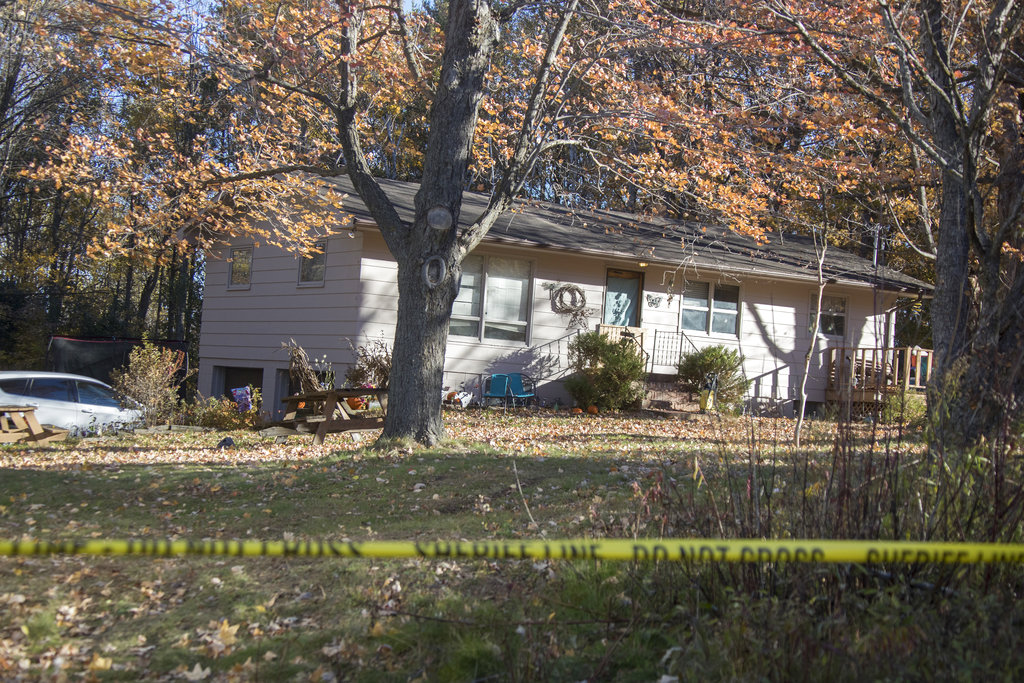 Daphne Ronning said that Patterson's parents moved to the house about 15 years ago and brought up Patterson and his brother there.
The parents moved to another house as the boys became older but Patterson and his brother stayed at the house.
Ronning told the Milwaukee Journal-Sentinel that she had trouble with the two boys but that the dispute was settled.
"We had some problems with them when they were teenagers—we caught them siphoning gas," Ronning said. "My husband talked with them and there was never anything else."
Ronning said she had not seen Jayme around and wasn't aware that Patterson was living at the house until the news broke.
Peter Kasinskas, whose home Nutter took Jayme to, said that he and his wife offered Jayme food and water but she declined. They introduced her to their new puppy and asked her about her experience.
Kasinskas told the Minneapolis Star-Tribune that Jayme was quiet, her emotions "pretty flat," while the family waited with her for about 20 minutes inside their home as police officers rushed to the scene. She didn't know where she was.
"I honestly still think I'm dreaming right now. It was like I was seeing a ghost," Kasinskas said. "It was scary and awesome at the same time. My jaw just went to the floor."
From NTD News