Australian Foreign Minister Penny Wong has called on every country to consider what it can do to stop a "catastrophic" war in the Indo-Pacific.
Speaking at King's College's Centre for Grand Strategy in London, Wong said the region mattered to everyone because it was where the "reshaping of our world" is being centred.
"We must exercise agency. We are not bystanders in this story," she said on Jan. 31.
Wong noted that the largest military build-up in the world was currently happening on the doorstep of Australia.
North Korea conducted over 60 ballistic missile launches, while Beijing has militarised artificial islands in the South China Sea and signed a security agreement with the Solomon Islands.
The Chinese regime has also been accelerating the increase in its nuclear arsenal, among numerous other efforts to militarise the region and increase its presence.
"If conflict were to break out in the Indo-Pacific, it would be catastrophic—for our people and our prosperity," Wong said.
"And with the Indo-Pacific's centrality to global prosperity and security, the cost would extend far beyond us and reach into every region."
The foreign minister said she has directly put forward Australia's view to her Chinese counterpart during her visit to Beijing in December.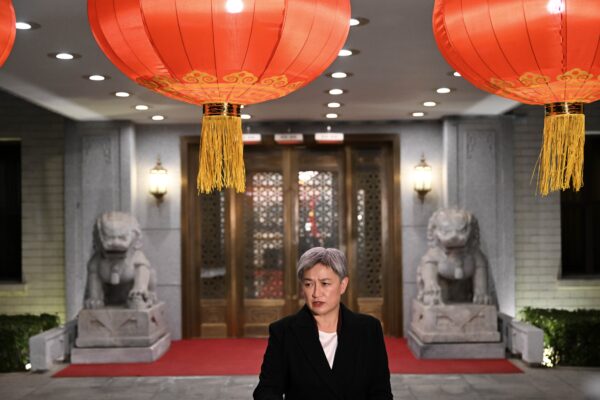 "Australia sees our investment in our future defence capabilities as essential for deterring conflict and maintaining a strategic balance in the Indo-Pacific," Wong said.
"Our historic AUKUS partnership with the United Kingdom and the United States will help us maintain our capability in the Indo-Pacific into the future and complement our collective efforts to ensure regional stability and security."
The speech comes before Wong, and Defence Minister Richard Marles met their UK counterparts for the Australia-United Kingdom Ministerial Consultations (AUKMIN) on Feb. 1 and 2.
On the agenda is "modernising" the bilateral relationship, increasing climate change cooperation, building economic resilience, and promoting global security.
Marles also met with UK Prime Minister Rishi Sunak on Feb. 1, who commented on "how full the agenda is" between the two countries, with the AUKUS pact being a central aspect.
An announcement on the optimal pathway that Australia will take, with the support of the United States and the United Kingdom, to procure nuclear submarines is nearing.
"What you'll see is when we ultimately do announce the optimal pathway that we've been working on with both the United States and the United Kingdom, that what it really is, is a genuinely trilateral effort to see both the UK and the U.S. provide Australia with a nuclear-powered submarine capability," he said.
Marles previously called the partnership one of Australia's most significant national security decisions in decades.
"I think this is a huge moment in Australian defence history," Marles told The Age in January.
"What I can say is that the body of work for both exercises is on track and, therefore, near completion."
Australia, France Deepen Pacific Engagement
AUKMIN comes after Wong and Marles met their French counterparts for the "2+2" meeting in Paris on Jan. 30.
Following discussions, the ministers hinted at a renewal of relations, which soured after the cancellation of the $90 billion (US$60 billion) submarine programme with French defence contractor Naval.
Both nations agreed to support Pacific priorities and strengthen military cooperation.
"There is no more important place for this cooperation to be given expression than in the Pacific, where both France and Australia live," Marles told reporters.
"Training is a real opportunity for France and Australia to work together to build the capability of the defence forces of Pacific Island countries."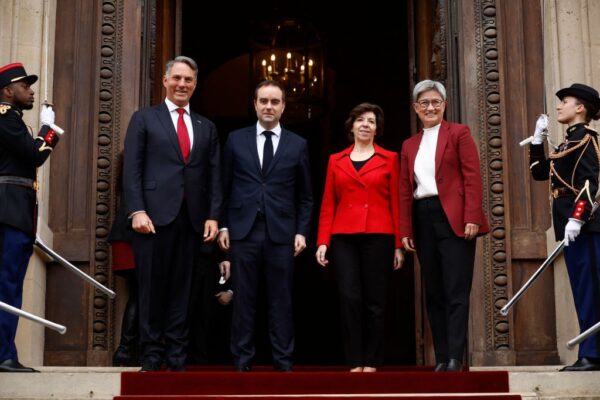 Australia and France will also undertake the joint supply of 155-millimetre artillery shells to Ukraine as a sign of greater cooperation between both defence industrial bases.
"Several thousand 155 millimetres shells will be manufactured jointly," Armed Forces of France Minister Lecornu said.
The agreement is expected to be a "multi-million-dollar project," where Australia will supply the gunpowder.