Construction has resumed across Greater Sydney for workers living within the eight local government areas (LGAs) of concern, provided they show proof of vaccination for COVID-19.
"Construction workers from the affected LGAs will be added to the list of authorised workers allowing them to work on unoccupied construction sites in Greater Sydney if they meet the vaccination conditions," New South Wales (NSW) Deputy Premier John Barilaro said in a statement on Aug. 7.
Worksites will resume at 50 percent capacity, and workers must provide evidence that they have received either two doses of a COVID-19 vaccine—one dose at least three weeks before work, or one dose within three weeks of attending work and a negative COVID-19 test within 72 hours.
Currently, the vaccines being rolled out across Australia have received provisional approval by the Therapeutic Goods Administration (TGA), meaning the public has government approval to take the vaccine if they choose while manufacturers have two years to submit more comprehensive clinical, stability, and other data for full drug approval.
"For the industry to remain viable, we need to restart those projects and get construction workers where they are most needed," NSW Treasurer Dominic Perrottet said. "But we also need to minimise the risk of COVID-19 transmission to keep our communities safe, and these measures will help us achieve that balance."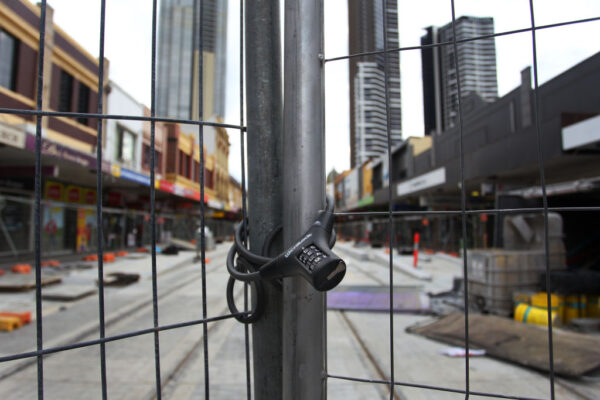 A mass vaccination hub will be opened in Sydney Olympic Park on Aug. 15 for a "Super Sunday" vaccination day.
Jobs Minister Stuart Ayres said construction workers would be prioritised and urged all workers to get a shot if they have not already done so.
Construction union CFMEU said that with all the processes in place, they believed the industry should resume at 100 percent capacity.
"With our members in the lockdown LGAs, we know you've been sitting at home now with no work going on for three weeks now," CFMEU NSW state secretary Darren Greenfield said on Facebook. "And unfortunately for you, the government has made a decision … that to come to a construction site you need to have a vaccination or proof of."
"We have argued that it shouldn't be mandatory—it should be a choice of the individual. But unfortunately, the CFMEU doesn't write the laws of this land, the governments do."
Greenfield said the union continues to meet the state government and industry daily to get the industry back to normal as soon as possible.

Peak industry body, Australian Industry Group (Ai Group), said that with AstraZeneca in abundance and vaccines now widely available, there should be no reason to further delay allowing workplaces to provide vaccinations.
"Many businesses have deep experience in arranging for workplace-based vaccination and we should start treating COVID vaccines like any other vaccine and let nurses take charge," Ai Group CEO Innes Willox said.
Willox called on the government to help by providing employers with the same indemnities as vaccine providers have.
"Employers are obligated to provide a safe workplace for their employees, and vaccination, and rapid testing are two ways of ensuring workplaces are safer," he said.
The Australian Constructors Association (ACA) said on Aug. 7 that they welcomed the easing on restrictions, but the ultimate goal was to get more workers vaccinated.
"We are working with the Department of Health to improve access by enabling vaccinations at construction sites," ACA CEO Jon Davies said. "We recognise that to fully get the industry back to work we need to increase vaccination rates so that all restrictions can be removed."
Construction work resumed for those outside of the LGAs of concern last week on Monday, Aug. 2.