Air travelers entering the United States are set to face tougher testing requirements following the discovery of the Omicron variant of the CCP virus, which causes COVID-19, a Centers for Disease Control and Prevention (CDC) spokeswoman confirmed on Nov. 30.
U.S. citizens and foreign nationals arriving in the United States will soon be required to present a negative COVID-19 test performed within 24 hours of departure, a change from the current three days allowed for vaccinated travelers. A CDC spokeswoman confirmed to Reuters that the agency is working to modify its global testing rules for travelers.
"As we learn more about the Omicron variant, a revised order would shorten the timeline for required testing for all international air travelers to one day before departure to the United States," the spokesperson said.
The administration is also reportedly considering whether to require air travelers to get a second COVID-19 test within three to five days after arrival in the United States. The CDC didn't provide a timeline for when the changes would take effect, but Reuters reports they could take effect as early as Dec. 2.
Currently, vaccinated international air travelers age 2 or older are required to present a negative COVID-19 viral test result obtained no more than three days before their departure. Meanwhile, unvaccinated travelers currently must get a negative COVID-19 test no more than one day before departure.
Nearly all foreign nationals must be vaccinated to enter the United States. Travelers are considered fully vaccinated two weeks after they receive a dose of an accepted single-dose vaccine or two weeks after they have received a second dose of an accepted two-dose regimen.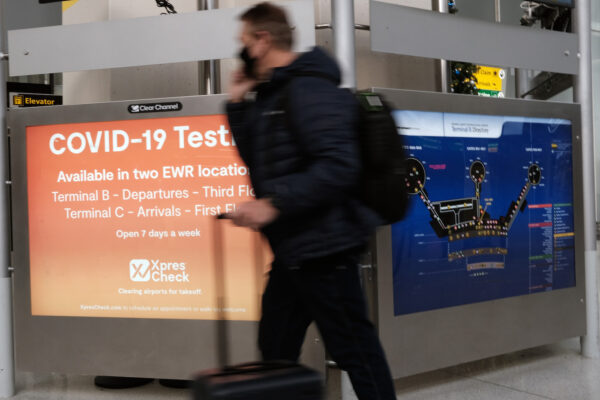 Per the CDC, travelers also are considered fully vaccinated two weeks after they have completed the full series of an accepted COVID-19 vaccine in a clinical trial, two weeks after they have received the full series of a Novavax (or Covovax) COVID-19 vaccine in a phase 3 clinical trial, or 14 days after they have received two doses of any "mix-and-match" combination of vaccines that were administered at least 17 days apart.
Travelers who don't meet these requirements won't be considered fully vaccinated.
CDC officials didn't immediately respond to a request by The Epoch Times for comment.
The potential testing change for arrivals into the United States comes after CDC Director Dr. Rochelle Walensky told reporters on Nov. 30 that the CDC is evaluating whether to change its policy by requiring that travelers be tested for COVID-19 closer to their departure date.
Walensky also said the agency is weighing "additional post-arrival testing and quarantine" measures and is working with airlines to obtain information on passengers for contact tracing, should the need arise.
"Based on the data … the medical team will make a recommendation on any changes to international travel policy," Jeff Zients, President Joe Biden's COVID-19 response coordinator, told reporters.
The CDC is also expanding its surveillance at four major international airports in a bid to determine whether Omicron is present in travelers into the United States, Walensky said. The surveillance measures will be implemented at the Hartsfield-Jackson Atlanta International Airport, John F. Kennedy International Airport in New York City, Newark Liberty International Airport in New Jersey, and San Francisco International Airport.
"This program allows for increased COVID testing for specific international arrivals," Walensky said, "increasing our capacity to identify those with COVID-19 on arrival to the United States and enhancing our surveillance for the Omicron variant."
The United States has imposed travel restrictions on eight southern African nations because of the Omicron variant, which was first detected in South Africa and Botswana last month. Those restrictions went into effect on Nov. 29.
There is growing concern among scientists about what Omicron's impact might be, given that it has an unusual combination of mutations and may be able to evade immune responses or be more transmissible.
Jack Phillips and Reuters contributed to this report.