Texas Attorney General Ken Paxton was asked on March 28 to provide an official opinion on the legal and constitutional ramifications of an unchecked border crisis.
In the request, State Rep. Matt Krause specifically asked Paxton "whether or not the federal government has failed—intentionally or unintentionally—to uphold its obligations to protect Texas from invasion under Article IV, Section 4 of the U.S. Constitution, and whether Texas has the sovereign power to defend itself from invasion."
Paxton declined to issue a formal opinion in his response, dated June 9 but not released more widely until July 8.
"The issue you raise in your opinion request involves a potential claim under consideration by States and State Attorneys General across the country in our efforts to stop illegal immigration," Paxton stated in his response, according to a copy obtained by The Epoch Times.
"While we consider that and similar new claims against the federal government, it would be improper, and could compromise Texas's litigation strategy, to comment on and telegraph the State's position and arguments on this issue through an advisory Attorney General opinion."
Paxton's response didn't elaborate on the litigation strategy. However, in a previous interview, Paxton told The Epoch Times that he didn't see the "invasion" issue as a "winner" against likely lawsuits.
"We've looked at that particular issue, [and] we don't think it's necessarily a winner for us. What we try to do is focus on ways that we think we can win. So far, no one in my office has come up with a way that that particular idea could win," Paxton said last October.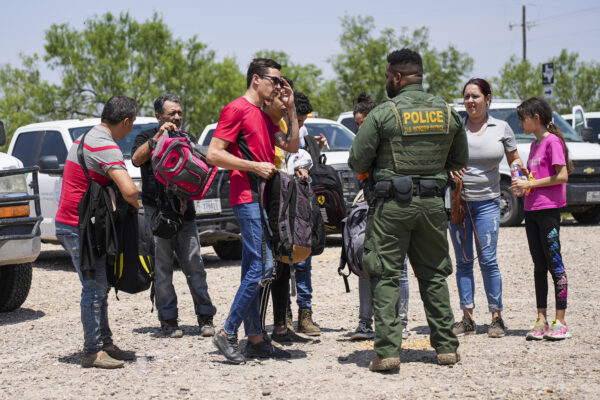 However, Paxton said he's "actively looking" for a case that would force relitigation of the 2012 Supreme Court decision against Arizona. He said the Texas Legislature approving a measure similar to what Arizona passed 12 years ago might work.
In 2010, the Arizona Legislature approved SB 1070 in an attempt to secure its own border after it said the federal government was failing in its duty. It included a section that made it illegal to transport, conceal, or harbor an illegal alien.
The legislation ignited a court battle, and in 2012, the Supreme Court ultimately gutted most of it in a 5–4 decision that concluded Arizona couldn't create state immigration offenses and expand local law enforcement's authority over immigration law.
"[Arizona v. United States] needs to be struck down. It was a bad decision," Paxton said. "It has tremendously devastating consequences. It ties our hands in a very bad way, which is, we can't stop these cartels from just running amok … [with their] human trafficking and drug trafficking and crime."
Florida Gov. Ron DeSantis agrees the Supreme Court decision was wrongly decided.
"I think it should have all been upheld, for sure. This current court probably would uphold it," DeSantis told The Epoch Times in an interview last year.
"I think there's a lot of precedent in the area that's bad, but I also think the court is much different. And I also think that the facts are so much more aggravated now."
DeSantis said he'd look to join Texas in any litigation that "could work."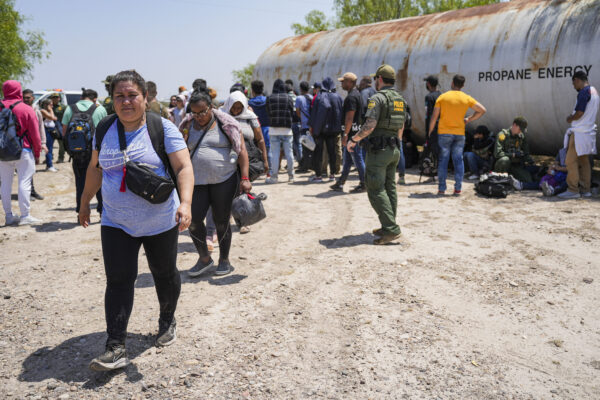 The Invasion Question
Arizona Attorney General Mark Brnovich issued an opinion on Feb. 7, saying the state can defend itself from the "invasion" on the southern border. However, Gov. Doug Ducey hasn't mobilized state police or the National Guard to stop people from illegally entering the state from Mexico.
Several Texas counties on July 5 declared an invasion in their counties and urged Texas Gov. Greg Abbott to do the same statewide and trigger his constitutional authority as commander in chief of the state to "repel" it.
Abbott has recently bandied around the word "invasion" in relation to the border but has stopped short of officially declaring it as such.
Vice President Kamala Harris, who was appointed border czar in March 2021, hit back at Abbott on July 10.
"I would suggest that so-called leaders focus on solutions instead of attacks, if they really are concerned about a problem. And that includes on the issue of immigration—passing a pathway for citizenship," Harris said in a CBS "Face the Nation" interview.
"So that we can have a humane and appropriate approach to this issue—including, of course, what we'll continue to do in terms of prioritizing border security, but understanding we also need to create a pathway."
Border Patrol agents have apprehended more than 1.6 million illegal immigrants so far this fiscal year, with three months remaining, according to Customs and Border Protection data. An additional 850,000 are known to have evaded the Border Patrol.