Soon after U.S. President Donald Trump announced that his administration would boost tariffs on Chinese imports, Beijing initiated a new policy to push domestic development of China's integrated circuit and software industries.
These high-tech sectors are part of Beijing's "Made in China 2025" strategy to turn the country into a high-tech manufacturing superpower.
But since December 2018, when Chinese leader Xi Jinping and Trump agreed to a trade truce during the G-20 summit in Argentina, Beijing has kept quiet on the policy.
This is the first indication of Beijing's countermeasures, which the Ministry of Commerce had warned of following Trump's announcement.
Meanwhile, Chinese scholars welcomed Trump's hardline stance in negotiations with China.
China's New Policy
The executive committee of China's State Council, a cabinet-like agency, initiated a policy during its May 8 meeting to provide tax relief to the integrated circuit (IC) and software industries. The policy would apply to all types of enterprises, including foreign-invested companies.
ICs make up semiconductor chips that power almost every electronic device and are one of China's largest import categories by value.
Because Beijing has continued to lag in terms of domestic manufacturing of the most advanced electronic chips, the state has tried to aggressively fund research and development.
According to the new policy, any IC company whose products are 0.8 microns (a micron is one-millionth of a meter) or less, can apply. As chips are reduced in size, they become more powerful and advanced.
If approved by the local tax bureau, the companies won't need to pay an annual tax on their profits, which by Chinese law is fixed at 25 percent, for the first two years. In the following three years, the companies would only pay half that rate.
For IC companies whose products are 0.25 microns or smaller, or their total registered capital is more than 8 billion yuan ($1.17 billion), a further tax reduction can be requested after the initial five years, paying only 21.25 percent of its profits.
Furthermore, for the second category of companies, if its operating period is longer than 15 years (Chinese companies apply for the number of years when it registering for their business licenses), the company can enjoy the first five years tax-free, and then only pay the half-rate for the next five years.
Chinese Scholars Support Trump
Since the start of the U.S.-China trade war in March 2018, many Chinese scholars and netizens have expressed their support for Trump online and in interviews with overseas media.
After the U.S. administration issued a tariff hike on $200 billion worth of Chinese goods, they praised the action.
A businessman in Shanghai who was identified only by the surname Lu told Radio Free Asia (RFA), which is partially funded by the U.S. government, on May 11 that he and his friends in business believe that Trump's policy will force the Chinese regime to follow international rules, which can bring a more-lasting peace and prosperity to Chinese society and economy.
"The current trade talks benefit our private sectors. In the long term, it will create a balanced U.S.-China economy, which will benefit China," Lu said.
Lu complained that a private company faces discrimination in China: most government resources, bank loans, and government subsidies are given to state-run enterprises. A private company has less support while it often pays more taxes to the government.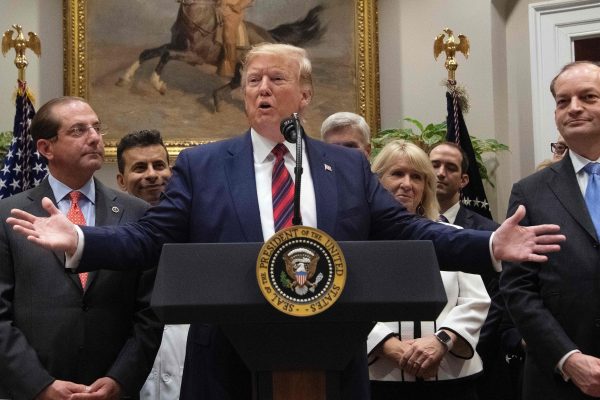 Another man, identified only by the surname Tan, told RFA that many educated Chinese choose to access free information by breaking through the "Great Firewall," China's internet censorship apparatus that includes blockading foreign websites. They make up a growing number of Chinese who support Trump's actions in the U.S.-China trade dispute.
"They are Chinese who agree with universal values, and support the U.S. government to increase the tariffs," said Tan, who is from Hunan Province.
But the great majority of Chinese can only access propaganda published by the Chinese Communist Party.
"They believe what the authorities say, which is that U.S. capitalism is trying to suppress China's rise [by increasing tariffs]," Tan said.