NEWS ANALYSIS
As the Canadian economy keeps humming along, infrastructure and construction needs have been rising, and Aecon stands to profit.
After the federal government nixed its takeover by a Chinese state-owned enterprise (SOE) in May, there has been no time to wallow in disappointment for Canada's largest publicly traded construction firm. And the rest of the industry can also feel better about its prospects being on a more level playing field.
Aecon's stock price has moved sharply higher following second-quarter earnings and is at levels approaching those just prior to the plunge when the federal government blocked the takeover. Raymond James has the stock rated as a strong buy.
Aecon has its hands full—in a good way. After a strong second quarter, CEO John Beck said he has never been more bullish on its outlook.
While Aecon's business is primarily domestic and Beck wants to grow bigger internationally, Aecon now has a record backlog of $6.4 billion in construction projects—a 52 percent increase since the start of the year. The company appears to be doing just fine without Chinese ownership.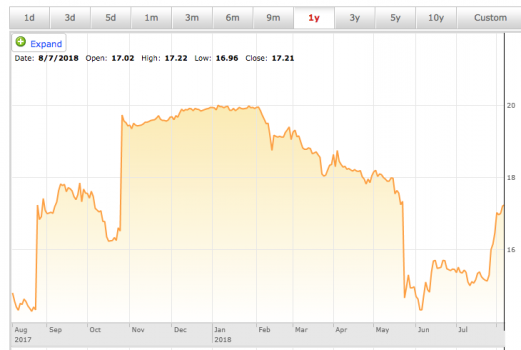 Prior to the rejection of the Chinese takeover of Aecon on national security grounds, the firm removed itself from bidding on the $4.8 billion Gordie Howe International Bridge, as the federal government would not allow it to work on the project if it was owned by a Chinese SOE.
According to The Globe and Mail, the Trudeau government felt that the Trump administration would find it unacceptable to have a Chinese SOE running the construction of a very high-profile infrastructure project. The flow of information and goods across the border is too valuable to fall into Chinese hands. The Trump administration has taken one of the strictest stances globally against Chinese foreign investment and trade.
"The perceived conflict … risk related to this deal made it very easy for them [Aecon] to walk away from it," said Frederic Bastien, infrastructure and construction analyst at Raymond James, in an interview.
Aecon is out on the Gordie Howe bridge for now, but may still get subcontracted by the winning consortium, Bastien added.
And without the spectre of ownership by an arm of the Chinese communist regime, greater opportunities could open up for Aecon. More federal-level projects are expected to come its way.
"There's a lot of momentum in the space right now and, if everyone acts in a disciplined manner, everyone is going to benefit," Bastien said.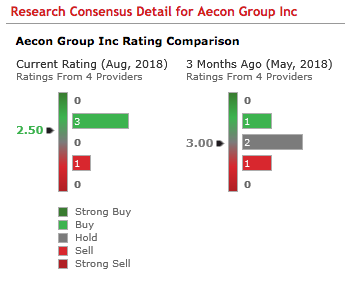 Analysts from Royal Bank say Aecon is "well positioned to capture its fair share of Canadian public infrastructure/PPP [public-private partnership] projects."
The Canada Infrastructure Bank's large revenue-generating projects should also benefit big firms like Aecon, which have the staffing capabilities. It employs about 12,000 and often works well with other firms like SNC-Lavalin, for example.
Aecon expects to get its fair share of work on CIB projects, said Beck in an interview with BNN. The CIB, believed to be ready to engage with contractors, did not respond to the Epoch Times' inquiry on what projects may have been shortlisted.
The other dynamic Bastien described that supports Aecon comes as a consequence of synchronized global growth. Now, with the U.S. and European economies improving, international players don't need to bid on Canadian jobs as aggressively as in the past few years.
"It's basic economics," Bastien said.
Strong Second Quarter
"The overall outlook for revenue and profit growth in 2018 and 2019 is increasingly strong," Beck said in a press release as Aecon reported second-quarter earnings on July 26.
Revenue of $755 million for the second quarter was higher by 10 percent from the prior year. Margins and operating profits were also higher. New contracts of $2.6 billion were booked in the second quarter of 2018, compared to $687 million during the same period in 2017.
"The boost for the overall industry is the increased demand," Bastien said. "A rising tide lifts all boats."
The rest of the infrastructure and construction sector should also see better days, but also because they don't have to compete against the Chinese government subsidizing a competitor for Canadian infrastructure work.
"A regime like China where they have a very different philosophy about the role of the state in the economy is a very valid concern," said John Gamble, president and CEO of the Association of Consulting Engineering Companies, in a prior interview.
Efficiency and profitability are secondary to gaining market share for Chinese SOEs, which ruins the integrity of a competitive marketplace.
Bastien has a $23 price target on Aecon—more than 30 percent upside from the Aug. 7 close of $17.21—as he believes it is the contractor best positioned to profit from Canada's tremendous market opportunity. This is an upgrade from a prior price target of $20.50, which is a bit higher than the Chinese takeover price of $20.37 a share.
Follow Rahul on Twitter @RV_ETBiz