NEW YORK—In light of two recent accidents involving horse-drawn carriages in New York City, animal-rights activists have held a slew of rallies and press conferences to call for a ban on the carriages.
Groups such as the Coalition to Ban Horse-Drawn Carriages (CBHDC) began fighting what they call an inhumane industry years ago. After the two incidents in July, CBHDC brought the issue forth with renewed zeal.
On July 16, a horse got spooked near Central Park and bolted for a couple of blocks before crashing its empty carriage into a vehicle. No one was hurt in this incident, but several were injured in another collision on July 25.
Jack Hidary passed by after that collision occurred; he sent CBHDC photos of a toppled carriage and a taxi with a crumpled front end. The taxi appears to have rear-ended the carriage.
"[It's] just one more example of how it's too dangerous—plus the fact that it's an inhumane practice for the animal. It's just too dangerous to have them [horse-drawn carriages] in Midtown traffic," said state Sen. Tony Avella on Sunday in response to the July 16 accident.
The state senator's comment came only a day before the second accident would occur.
Avella introduced a bill to ban horse-drawn carriages in any city within the New York state with a population of 1 million or more. Assemblywoman Linda Rosenthal introduced a companion bill in the state Assembly.
Some major cities across the globe have already banned the carriages, including London, Oxford, Paris, Toronto, and Beijing.
Mayor Michael Bloomberg and City Council Speaker Christine Quinn stand by the industry, which they say is part of the New York City experience and multibillion-dollar tourism industry. However, if the bill passes the state Legislature, they won't have much say in the matter.
The City Council passed legislation in the spring of 2010 to ensure the safety of the horses. Elizabeth Forel, president of CBHDC, says this did little to help the horses, as it simply codified practices already in place, without adding any additional insurance.
According to a Crain's New York Business poll of 627 readers conducted at that time, 78 percent of respondents believed that horse-drawn carriages should be banned.
Conor McHugh, manager of Clinton Park Stable on West 52nd Street, says animal activists paint a dismal picture of the industry, often including misinformation and exaggerations that garner public support.
McHugh stands by his industry and says that the recent accidents are not proof that it should be shut down.
"Any other mode of transportation in this city, whether it be taxis, bicycles, all of these other accepted sort of forms of getting around town are all extremely more accident-prone [than horse-drawn carriages]," McHugh asserted. He owns four horses and has been in the New York City carriage business for 25 years.
Forel has a list of reasons she says the industry is inhumane: "the too-small stalls; multi-storied stables; no turn out to pasture; not enough water in the parks—none in Times Square; no consideration for humidity index or wind chill factor; working in a crowded congested city; breathing in car exhaust; working between the shafts of their carriages for nine hours a day, seven days a week."
As McHugh opened up the doors to his stable and walked past rows of horses nibbling on fresh hay or drinking from a dispenser that the horse activates itself, he addressed many of the arguments activists, or as he calls them "the anti's," make against the industry.
In the Stables and on the Street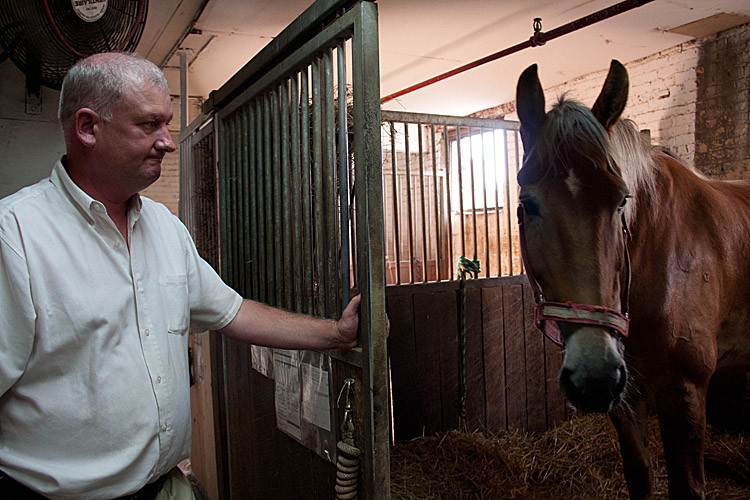 The stable was built in the 1870s or 1880s. The owner was in the cardboard box business and kept the boxes and the horses in the factory. As the automobile replaced the horse, it simply became a box warehouse. It was refurbished to serve as a stable again and currently meets all city requirements, says McHugh, but activists still call it a "warehouse."
The stalls are 10 feet by 10 feet. Forel says that isn't big enough, but McHugh pointed out that horses have ample room to lie down and move around. Water mists spray out of pipes on the ceiling and are blown with fans on the horses in hot weather. McHugh says veterinarians do not recommend air conditioning for horses. Horses are not worked if the outside temperature is 90 degrees or more. A 24-hour attendant takes care of the horses, and the animals are trimmed and shod every five to six weeks.
Horses are required by law to go out to pasture five weeks of the year. McHugh rotates his horses every few weeks, so that each animal spends about five months of the year on a farm in Pennsylvania. He says 80 percent of the drivers he knows send their horses to farms for longer than the required five weeks.
While out on the street, McHugh's horses get plenty of water. He notes the troughs at Central Park for the horses and says the drivers bring buckets of water with them. His horses have the day off just as often as he does, although drivers are permitted to work their horses seven days a week.
As to concerns for the horse's respiratory system as it walks behind cars that emit exhaust fumes, "That could apply to every dog, every cat, every person, everybody in this city," McHugh said.
Police horses are in the same position, he noted.
Forel disagrees, arguing that police horses are better off. "I think it's pretty obvious that they certainly look better," she said. She has toured the NYPD stables and says they have riding rings and stalls that are 12 feet by 12 feet.
The NYPD did not respond as of press deadline to further inquiries about how it cares for its horses.
McHugh asked what alternative his horses would have to life as carriage workers. Many horses are abandoned in the country because no one can afford to care for them after the recession, he says. People will not just take horses onto their farm to spend money feeding and housing them without making some money off them. He feels the industry saves horses from the slaughter houses, rather than sending them there when they are retired, as the activists say.
Forel explained that horse sales outside of the city do not have to be documented and she suspects many are slaughtered. The Department of Health and Mental Hygiene (DOHMH), which oversees the industry, says it is up to individual owners what they do with the horses when they are retired.
Oversight
In the city, horses must be inspected by a veterinarian twice a year, and the American Society for the Prevention of Cruelty to Animals (ASPCA) regularly monitors the animals' condition. McHugh feels city oversight is more comprehensive than any measures taken to ensure good conditions for farm horses.
According to the city comptroller's report in 2007, DOHMH and ASPCA did not find any health concerns. A 2008 Cornell University study also found the city's carriage horses in good health.
The ASPCA does, however, stand by activists calling for a ban.
"The ASPCA is not opposed to the use of horses and other equines in pulling carts and carriages for hire, provided that the animals' physiological and behavioral needs are fully met, housing and stable conditions are humane, and their working hours and conditions are carefully regulated," wrote Anita Kelso Edson of the ASPCA in an e-mail.
"Right now, New York City carriage horses live and work under conditions far removed from what nature intended and humanity dictates. Carriage horses were never meant to live and work in today's urban environment. Nature has shown us that they need space, room to move, and pasture in which to graze," she continued.
The ASPCA hopes to see Intro 86A, sponsored by Councilwoman Melissa Mark-Viverito last year, reintroduced. The bill, which did not pass in council chambers, would gradually replace horse carriage licenses with licenses for "environmentally friendly antique-replica show cars."