A lot was at stake for parents in Virginia as their new governor Glenn Youngkin took office on Jan. 15. They worked hard to get the Republican votes, and parental rights were the decisive issue for his narrow victory in the gubernatorial election.
So far, parents don't seem to be disappointed.
On his first day in office, Youngkin signed three executive orders relating to education: banning Critical Race Theory (CRT) in public education, ending the mask mandate in school, and authorizing an investigation of Loudoun County Public Schools regarding the alleged mishandling of two sexual assault cases on school grounds.
"Inherently divisive concepts, like Critical Race Theory and its progeny, instruct students to only view life through the lens of race and presumes that some students are consciously or unconsciously racist, sexist, or oppressive, and that other students are victims," stated Youngkin's first executive order.
Shawntel Cooper, a mother from northern Virginia's Loudoun County whose speech against CRT at a school board meeting last year put a national spotlight on parents' concern about the issue, attended the signing of the executive orders in the governor's office in Richmond.
"I tried not to cry, but I couldn't hold it in," Cooper told The Epoch Times. "It's a win for kids, family, and freedom—knocking down the barrier that one size suits all. It was really emotional for me to have my daughter be there and watch the signatures happening. It was so empowering, and I was honored.
"Our leaders really did what they said they were going to do on day one."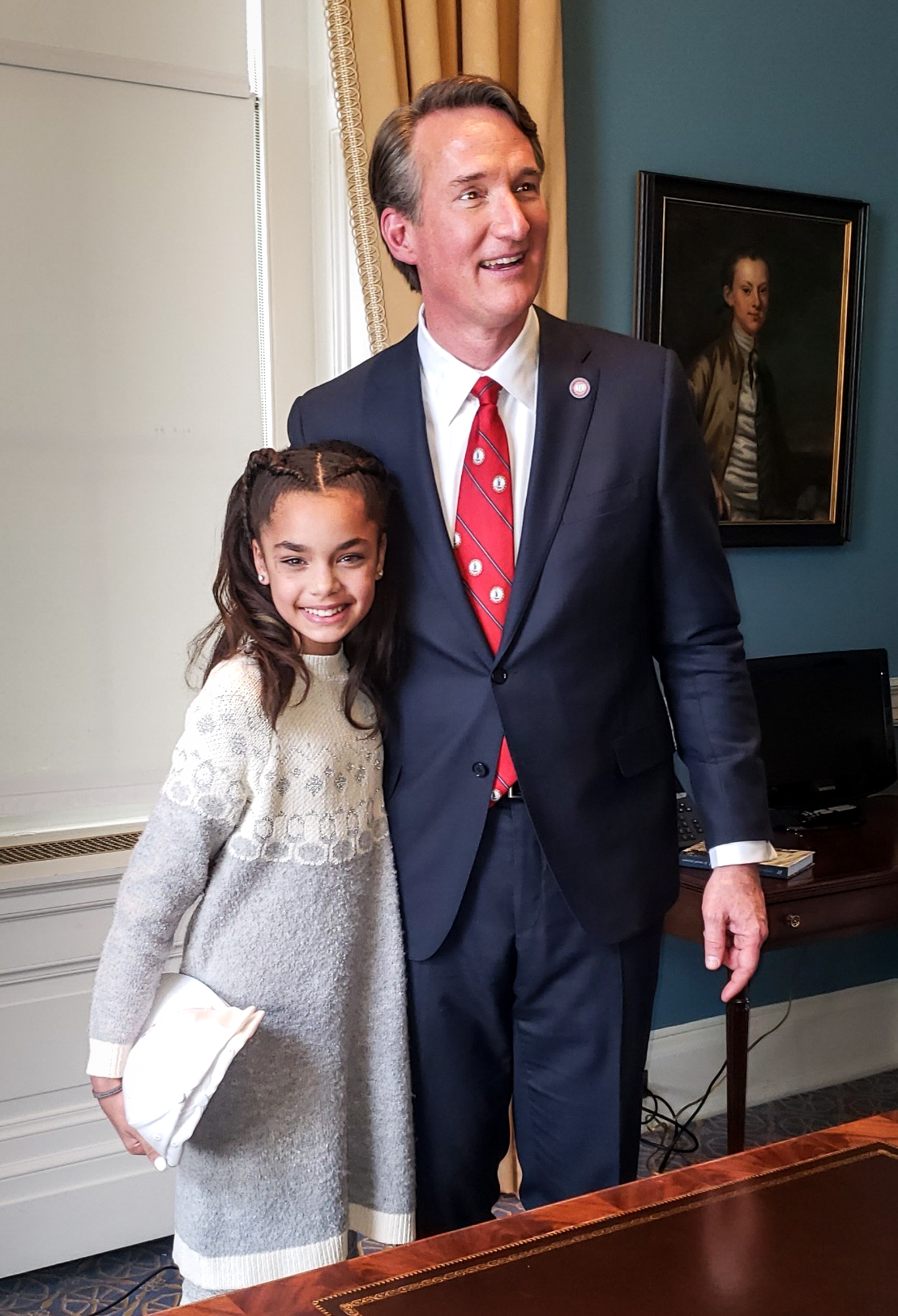 Cooper and other parents across the state and country have protested the transmission of CRT ideas in the public school system, through administration policies, training to teachers, and instruction to students. CRT is a quasi-Marxist analysis that breaks down society into "oppressor" and "oppressed" groups based on race.
Scott Mineo, the founder of the Loudoun-based advocacy group Parent against Critical Theory, also expressed appreciation for the measures.
"It was a very strong start into a very strong day one," Mineo told The Epoch Times.
Previously, Mineo had been skeptical of Youngkin's campaign promise of banning CRT. In Mineo's view, CRT is a framework that keeps changing its manifestations in public schools, such as under banners like "inclusivity" and "social-emotional learning." Without understanding the core of CRT as a lens to frame all issues by race, a leader wouldn't be able to ban it effectively, he said. In other words, banning CRT without banning its tenets wouldn't go anywhere.
But, Youngkin "addressed exactly the concern" in a Fox News interview on Sunday. "We actually went at the tenets of CRT. We went at the tenets of racially divisive concepts because that's exactly where the underpinning of CRT is embedded in our schools in Virginia," the governor said. Youngkin added that a course titled "critical race theory" was not the issue.
Loudoun County Public Schools, like other school administrators around the country, deny that CRT is being taught to students.
Meanwhile, legislative efforts have also been initiated to tackle this issue. First-term Republican delegate Wren Wiliams introduced a bill on Jan. 12, the first day of the General Assembly session, to hold educators accountable for teaching divisive concepts by making it a criminal offense. It would allow affected parents to tap into public fundings to transfer their child to a different school or for home schooling.
The bill also proposes that Virginia students be required to learn the founding documents of the United States—the Declaration of Independence, the U.S. Constitution, etc.
"My goal in carrying this legislation is to stand for Martin Luther King Jr's vision—an America where our kids are NOT judged by the color of their skin, but by the content of their character," Williams said in an emailed statement to The Epoch Times, adding that he wanted to "end Critical Race Theory at its very root, in all its forms."
Sexual Assaults in Loudoun Schools
Following Youngkin's executive order, Virginia's new Attorney General Jason Miyares announced on Jan. 15 that the investigation into an alleged cover-up of sexual assaults in Loudoun County Public Schools (LCPS) was officially open.
The assaults refer to two incidents last year involving the same teenage boy offender.
On Jan. 12, the 15-year-old boy was sentenced to probation in a locked residential facility until his 18th birthday and ordered to register as a sex offender.
The boy was found guilty on in October on accounts of forcible sodomy and forcible fellatio inside a bathroom at Stone Bridge High School on May 28. In November, he pleaded no contest to felony abduction and misdemeanor sexual battery charges for another assault that occurred in a Broad Run High School classroom on Oct. 6. On Jan. 12, a Loudoun judge ruled him guilty on all four charges.
LCPS was accused of missteps in allowing the boy to attend another high school while awaiting trial for the first assault. Superintendent Scott Ziegler has also drawn harsh criticism for allegedly concealing his knowledge of the May 28 sexual assault at a school board meeting in June. The public outcry prompted to county to hire a law firm to conduct an investigation into its handling of the assaults.
"We are thankful for our Governor Glenn Youngkin," Jessica and Scott Smith, parents of the victim in the May incident, told The Epoch Times. "Finally, sanity and transparency is returning to government."
A day before the new governor's inauguration, the Loudoun County School Board announced that LCPS had appointed a new interim Title IX coordinator. Going forward, it said it would employ a full-time Title IX coordinator and additional investigation staff to conduct a review of all harassment complaints reported in the past 12 months.
In response, the Smiths said that the steps were "too little, too late to help our child, and are little more than cosmetic in nature in an effort to save their own skin."
In the same statement, the school board said it would not release the report by the law firm that had conducted the independent investigation "because the privacy of the families involved must be protected."
The school board's statement continued, "The national interest in this investigation would preclude any chance of allowing the families to heal in private and to move forward with dignity."
It added that the report was also withheld because it fell under "protections of the attorney-client privilege."
The Smiths disagreed with LCPS' decision. They told The Epoch Times on Jan. 14: "How can an outside independent investigation, funded by the taxpayers, not be released and is instead kept secret from the public? Quite simply, the school system can't have it both ways, and their actions are completely unacceptable."
"We believe that once again LCPS continues to engage in an active cover-up and are attempting to avoid being accountable to the victims and their families," they added.
Jessica Mendez, board member of Fight for Schools, a Loudoun County advocacy group for parents, applauded the investigation by the new attorney general.
"We feel validated in a way and that our concerns are real and genuine, and that something needs to happen. People need to be held accountable," Mendez told The Epoch Times.
"Having the support of the leadership in Richmond is critical," she said, referring to the state's capital. Mendez said that Fight for Schools would continue driving changes in schools while leveraging Richmond's support as "air cover."
LCPS hasn't responded to Epoch Times' inquiry regarding its response to the state investigation.