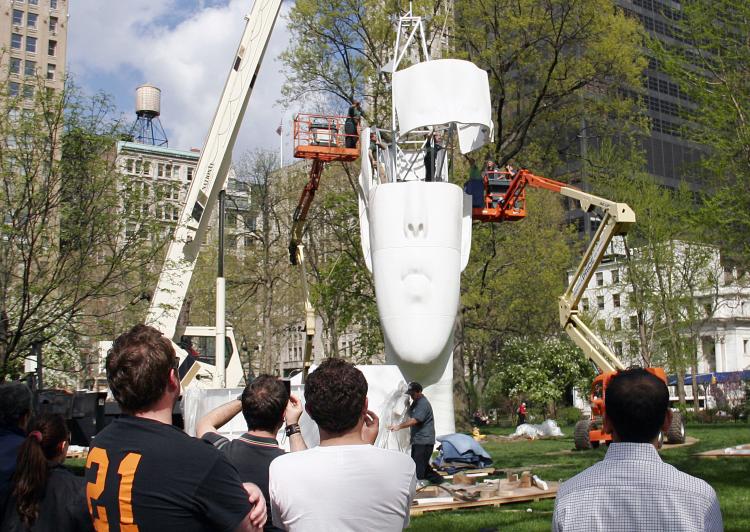 NEW YORK—A new face greeted Madison Square Park on Tuesday, in the form of a 44-foot-tall sculpture. Jaume Plensa, a world-renowned artist, created the white, gel-coated fiberglass artwork as a monument to everyday people.
The sculpture, which was installed by cranes, depicts the face of a restaurant owner's 9-year-old daughter. The work was heavily influenced by the mythical Greek nymph Echo, for which it is named. The artist's website states that the dream-like monolith "aims to introduce a quietness to the park, allowing viewers a moment of serenity and reflection in the heart of the city that never sleeps."
According to Greek mythology, Echo distracted Zeus' wife, Hera, with long and entertaining tales while Zeus cavorted with other sprites. When Hera found out, she punished Echo by taking away her voice, except for an ability to echo, or reflect, others' words. The tale lends insight into the meaning behind Plensa's artwork.
Born in 1955 and exhibiting since 1980, Plensa boasts an extensive art portfolio, including permanent works in Japan, United Kingdom, Spain, France, Canada, and United States.
One of his most famous works, the Crown Fountain in Chicago's Millennium Park, dramatically re-imagines the barrier between a conventional fountain and its observers. Plensa accomplishes this by incorporating a long, shallow reflecting pool between two 50-foot-tall, LED-illuminated glass towers that face each other. The towers feature an ever-changing display of scenery and faces of Chicago residents, who sometimes appear to spurt water through puckered lips and at other times morph into a waterfall.
Echo's official opening is scheduled for May 5, and the sculpture will remain in Madison Square Park until mid-August. It will be the largest monolithic art exhibition in the seven-year history of the park's Mad. Sq. Art public art program. Echo's presence throughout the summer will remind New Yorkers to take a break and contemplate what life is all about.