SURREY, British Columbia—While torrential rain has stopped throughout British Columbia's Lower Mainland, fallout from the storm threatens to leave a lasting impact on much of the province.
Mudslides continue to block major highways, and with extensive damage in some of the main arteries connecting the area to the rest of the country, there is no clear estimate as to when road access in many areas may be restored. Many communities are left isolated, and travellers and commercial truck drivers are stranded throughout B.C.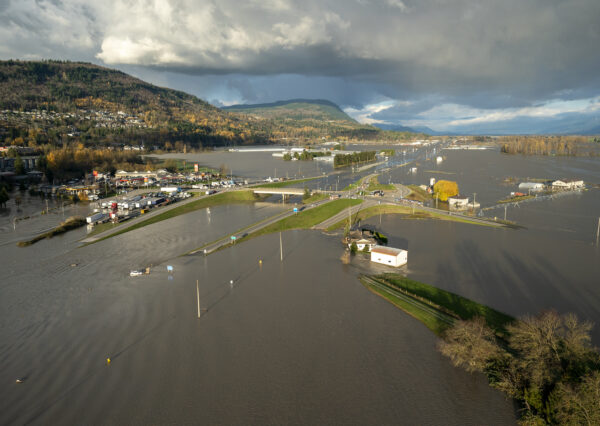 RCMP recovered the body of a woman from a landslide near Lillooet, some 160 km northeast of Vancouver, on Nov. 16, while a search continues for others who are missing.
"This is a major catastrophe, not only for this region in terms of the displacement of thousands of people and the impacts on people, property, and animals, but also the fact that this is one of the major bread baskets of the country," says David Leis, a vice president with the Frontier Centre for Public Policy, who is a resident of Abbotsford, a city near the U.S. border about 70 km southeast of Vancouver.
"We have major infrastructure failure. This also means that Canada's largest port, the Port of Vancouver, is highly limited in its activity, and that is a disaster for the whole country, particularly given the current supply chain challenges."
As of Nov. 17, main road and rail services to and from the port remained cut off. The port, which handles $1 out of every $3 of Canada's trade in goods outside of the continent, is crucial for Canada's supply chains, already in stress as part of a wider global pandemic-led disruption of supply links.
Isolation and Evacuations
On Nov. 16, Abbotsford Mayor Henry Braun issued an urgent evacuation order for all residents of Sumas Prairie, an area south of the city, as a key pumping station fighting water levels in the region was on the brink of becoming inoperable with rising waters.
The low-lying area is home to major farming and agricultural operations.
"I know it's hard for farmers to leave their livestock, but people's lives are more important to me than livestock and chickens. We'll deal with the rest come morning," Braun said at a news conference.
Further north in the central interior, the residents of Merritt, with a population of 7,000 people, were evacuated on Nov. 15 because of flooding from the Coldwater River and from the collapse of the city's sewage treatment plant. Locals were forced to travel to Kamloops, Kelowna, and Salmon Arm for safety, with officials saying the evacuation may last at least one week or more.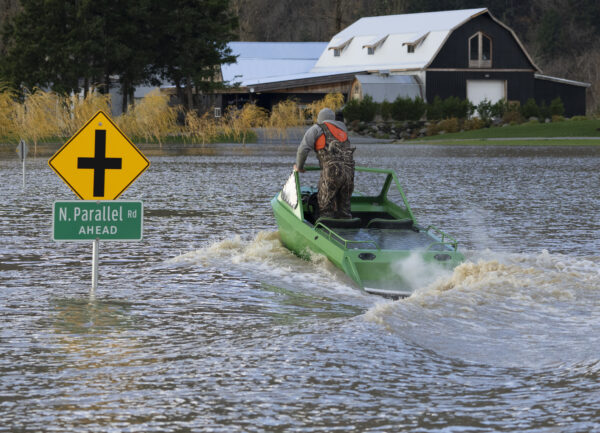 In Hope, about 122 km east of Vancouver in the Fraser Valley, which became isolated from the rest of the province due to road damage, rescue crews earlier in the week airlifted to safety 275 people caught between two separate slides on Highway 7 west of the community.
Lorne Marchildon was on his way home from Osoyoos to Cloverdale, some 45 kilometres southeast of Vancouver, on Nov. 14 and has been stranded in Hope ever since.
"Tonight will be my fourth night sleeping in my truck," Marchildon said in an interview on Nov. 17, adding that he didn't want to go to the shelters for stranded travellers so that there's more room for others who need it.
"At the beginning, there was a lot of hope that they're going to fix it, they're going to get us through. But now, there's no one in the streets anymore. People are just waiting now because they're exhausted."
Marchildon says he was in the area when the mudslides hit Highway 7 between Hope and Aggasiz on Nov. 14.
"I saw the disaster. I saw the people running around screaming for their kids in the dark. It was just terrible."
Elsewhere in the province, stores with empty shelves are a common sight as panic buying and supply chain route disruptions deplete fresh food supplies. Segments of oil and gas pipelines were also shut off temporarily due to flooding and debris flows.
The province declared a state of emergency on Nov. 17, with Premier John Horgan saying it will give the province more options to respond to the natural disaster.
Bill Blair, the federal minister of emergency preparedness, said on Nov. 17 that the Canadian Forces will deploy air support personnel to assist with evacuation efforts, support supply chain routes, and protect residents against floods and landslides.
'Uncertainty Creates a Lot of Stress'
Ray Nickel, a board member with the BC Chicken Marketing Board, says his organization is following the developments closely.
"From what we understand, our farm families are safe, so that's obviously our number one concern," Nickel said in an interview. "And then, corresponding with that, obviously, we're very concerned about our animals and the safety and welfare of those. You can imagine, the uncertainty creates a lot of stress, especially when you're threatened like this."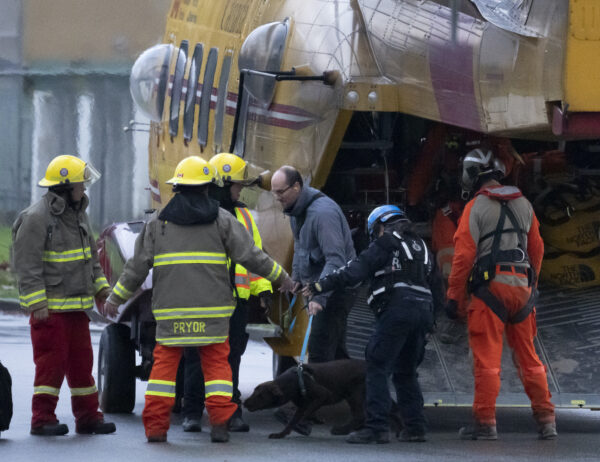 The BC Milk Marketing Board issued a statement to its producers on Nov. 16 saying that farms in many areas in the Fraser Valley, the Interior, and Northern B.C. will not have their milk picked up until further notice. The board asked the producers to dispose of their milk responsibly into their manure pit.
This exacerbates a milk shortage throughout the province where grocery stores outside of Greater Vancouver have already run out of dairy supplies because shipments were stalled from the highway closures.
Dave Earle, CEO of the BC Truckers Association, encouraged residents to remain calm and trust the industry to get food and supplies to them.
"What's really important for everybody to realize is the goods will get there. It just may take a little longer, they may cost a little more, but the goods will get there," Earle in an interview with CFJC Today in Kamloops.
Rob Fleming, B.C.'s minister of transportation and infrastructure, said his department is focused on getting the roads repaired and supply chain routes cleared.
"We fully recognize how important it is now in British Columbia to reopen the road connections from the Lower Mainland to the Interior to get supply chains moving again," Fleming said on Nov. 16.