The Las Vegas massacre has left 527 injured and 59 dead—a number that could still rise. But amid the tragedy there are stories of heroism and self-sacrifice, people who, despite the danger, stopped to save others.
Stephen Paddock, 64, fired hundreds of bullets from the 32nd floor of the Mandalay Bay hotel on concertgoers below, who were watching Jason Aldean at the Route 91 Harvest Festival in Las Vegas on Sunday, Oct. 1. Officials say there was no apparent political or ideological reason.
But the evil deed did reveal shining examples of heroism. Some of those heroics came from expected quarters—police and firefighters—but others were from regular people doing what they could in a terrible situation.
Protecting Others
Kurt Fowler, a firefighter with Desert Hills Fire District was shot while trying to protect his wife.
"They heard the gunfire, him and his wife. Kurt took his wife to the ground and was shielding her and then was struck in the leg," Erickson and Desert Hills fire captain and union president Steve Bunn told CBS 5.
Fowler, a father of three, will survive the injury but faces extensive recovery before he can return to work.
"Kurt's surgical team has completed the surgery on Kurt's leg and the doctors are optimistic," reads a GoFundMe post raising funds for his recovery.
"He will have to go through an extensive recovery and rehab that could range from 7 to 10 months before he can return back to the job he loves. His brothers from the Desert Hills Professional Firefighters 4543 are reaching out to all friends, family, and neighbors to donate money to help alleviate this burden."
So far, $17,133 has been raised out of a $50,000 goal.
Sonny Melton, 29, was the first identified among the victims. Melton died while getting his wife, Heather, away from the danger.
"He saved my life. He grabbed me and started running when I felt him get shot in the back," Heather told WSMV. "I want everyone to know what a kind-hearted, loving man he was, but at this point, I can barely breathe."
Melton's last Facebook post, a check-in to let friends and followers know he was at the concert, was posted just minutes before the shooting. It's now turned into a virtual memorial, with thousands of comments marking his passing.
Melton was a registered nurse in an emergency room and intensive care unit at Henry County Medical Center (HCMC) in Paris, Tennessee—the same hospital as Heather, who works as a surgeon there. They married in 2016.
The hospital sent out a statement mourning Melton's death.
"The thoughts and prayers of the entire HCMC family are with Sonny and Heather's families," said HCMC CEO Thomas Gee.
Others at the event did their best, as bullets flew around them, to save those that were already injured.
Best Friend Hit
Retired teacher Mike Cronk was in Las Vegas to celebrate his 48th birthday when he started hearing gunfire.
"My buddy, after some of the popping, was like, 'I got hit!' and my buddy got shot three times," Cronk told ABC News.
Cronk said he used his shirt to slow the bleeding and got help from other concertgoers to keep Macintosh's wounds compressed.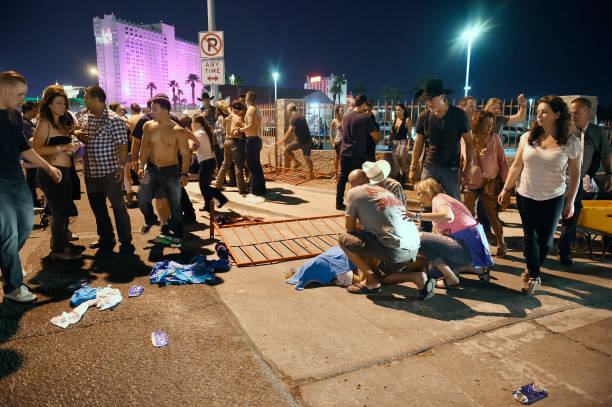 Others then helped Cronk carry his friend to a pickup truck being used as a makeshift ambulance that was already carrying three other injured people. The Daily Mail reported that the others in the truck have died, but Cronk's friend is expected to survive.
Cronk got emotional as he told ABC how he helped carry another badly injured man into an ambulance. The man died in his arms.
Grazed
Los Angeles fire captain Mark McCurdy saved his sister-in-law Jessi Presten by carrying her back to the hotel room after she was shot.
He and his wife, Kelly Presten McCurdy, were in Las Vegas for the festival.
After bringing his sister-in-law to safety, he went back out to see if anyone else needed help.
Another firefighter, Steve Keys, with the Glendale fire department, narrowly escaped death that night while performing CPR on a woman struck by a bullet when another bullet grazed his torso.
"Prayers needed. Lot of people hit. A lot killed. Was doing CPR on a woman in the concert when I got grazed. I'm ok. But a lot of people aren't. I am lucky," Keys wrote on his Facebook with a video showing the wound.