The 9-year-old missing girl from Florida, Diana Alvares, has yet to be found, despite her believed captor, Jorge Guerrero, being arrested and charged.
Alvares was last seen on May 29, in Fort Myers. It was initially believed she was traveling with 28-year-old Jorge Guerrero, who has ties in the Orange and Okeechobee Counties—his tan Chevrolet Malibu was located on June 4, and just hours later, he was found.
"Locating Guerrero did not resolve the case as Diana was not with him," the Lee County Sheriff's Office said. "The investigation is active and on-going as detectives are diligently continuing to look for clues and run down leads and interview anyone who might know the whereabouts of nine-year-old Diana Alvarez."
Guerrero was transferred to the Lee County Jail and charged by the FBI with child pornography, a federal offense. He is currently being held without bail. The child pornography charges are related to allegations that Guerrero had photographs of a young girl's body on a phone he had been in possession of, according to The News-Press. The child in the photos has not been identified.
Description of Diana Alvares
Diana has black hair and brown eyes, is 4 feet 5 inches tall and weighs 95 pounds. She was last seen wearing a short-sleeved shirt and shorts.
Several media outlets are reporting that when Alvares's mother and step-father went to wake her up for Sunday morning church, she wasn't in her bed.
Shortly after her disappearance, Alvares's biological father, Martin Alvares-Moreno said all he "can do is wait from God to tell me where my daughter is," speaking from Mexico through a translator. Alvares-Moreno was deported from Florida to Mexico in August 2015, following a domestic dispute, reports NBC2.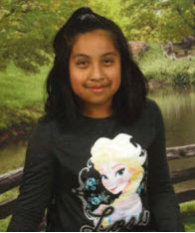 Alvares-Moreno told the publication that he believes it is the fault of Diana's mother and step-father that the girl disappeared. He said he has been offered several times a way back into the United States illegally, but says he wants to do it the right way, stating he plans to ask the U.S. consulate for help.
The Florida Department of Law Enforcement issued an AMBER Alert on June 2—at that time, Alvares was considered "endangered."
There is currently a $7,000 reward for information leading up to the discovery of Alvares.
"Calls into Crime Stoppers have been instrumental and we encourage the public to call with any information, no matter how small it may seem," the sheriff's office said. 
Anyone with information was asked to call the Lee County Sheriff's Office at (239) 477-1000, or dial 911.