A dog may have saved the life of an 87-year-old woman in Minnesota during last week's dangerous cold spell that was brought on by the polar vortex.
The dog found the woman, Noreen, lying in the snow outside of her house. The temperature at the time was -1 degrees Fahrenheit, with a harsher wind chill.
The dog, Midnight, a black Labrador mix, sensed something was wrong on Jan. 28 when she accompanied her owner Tim Curfman outside to take out the trash.
"She had her ears perked up looking at me," Curfman told WCCO. "She doesn't normally do that. Sometimes you get that feeling something's up."
Curfman followed the dog as she went to a spot on the other side of his house. That's where his elderly neighbor was lying in the snow after having fallen while trying to fill her bird feeder.
"We figured she was out there at least a half an hour," said Curfman. "She could not have gotten up because her gloves had gotten wet and she didn't have enough strength in her fingers to push herself up. Nothing around the corner to get up and get a hold of either."
Curfman helped his neighbor inside and his wife helped her change into dry clothes.
Due to the cold weather at the time, the dog likely saved the woman's life.
"We've been very proud of her because it's not every dog that pays attention to things like this," said Curfman. "And she got so many treats it was a shame."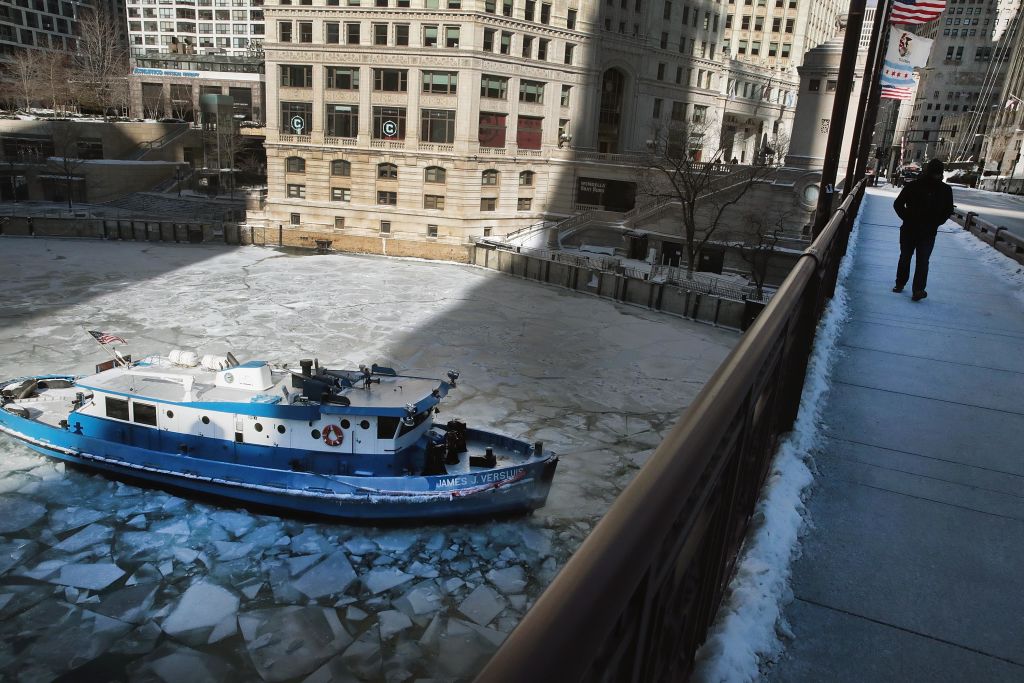 Polar Vortex
Temperatures across the Midwest plunged into the negatives, with wind chill often creating conditions even colder than the temperatures indicated.
Authorities urged people to stay indoors from Tuesday through Thursday as wind, snow, ice, and subzero temperatures all contributed to deadly conditions.
"The combination of very cold air and the wind will create dangerously low wind chill values. Frostbite can occur quickly and even hypothermia or death if precautions are not taken," the National Weather Service stated in one alert.
Multiple people were found frozen outside.
Sad to report that 2018 Alum Gerald Belz passed away last night. Our condolences to the Belz family. Please keep his family in your thoughts during this difficult time. pic.twitter.com/Bml2uBU1q9

— CR Kennedy Football (@CRKFootball) January 30, 2019
In Iowa, an 18-year-old pre-med student was found outside his University of Iowa residence hall.
At the time of his death, the air temperature in Iowa City was 22 degrees below zero with a wind chill of 51 degrees below zero.
The university said in a statement: "We are saddened to share we've lost a member of the Hawkeye family. Our thoughts are with his family, friends, and loved ones. We encourage our students to reach out if they are in need of support."
In Milwaukee, a 55-year-old was found frozen to death in a detached garage. Officials said he had likely collapsed after shoveling snow.
Another death in Iowa came as an 82-year-old man was found frozen outside of his home after falling while trying to get inside.
Frostbite can occur in just minutes due to the dangerously cold wind chills. https://t.co/EtGRJ0WO06

— Epoch Times LA (@EpochTimesLA) January 30, 2019
And another death in Wisconsin was reported as a 38-year-old woman was found frozen to death in her unheated apartment after the heating system reportedly broke.
Officials in the state also said that a 62-year-old man was found "frozen solid" in his backyard.
The man didn't come to work, which prompted co-workers to call the authorities to respond to his home in Cudahy, near Milwaukee, said the Milwaukee County medical examiner's office.
The unidentified man didn't have enough clothes on to be outside in subzero temperatures, Karen Domagalski, the examiner's office's operations manager, according to ABC News.
Temperatures in the area dropped to 23 degrees below zero and minus 40-degree wind chill in Cudahy on the morning of Jan. 31. The temperature, as of the afternoon, was minus 4 degrees with a minus 19 wind chill.
From NTD News