Chinese authorities locked down at least nine cities on the tourist island of Hainan on Aug. 8 as a COVID-19 outbreak was detected. Over 80,000 tourists and six professional soccer teams are unable to leave the far southern province and are facing higher hotel rates.
The lockdown has left the streets of Hainan's capital, Haikou, and tourist city Sanya deserted and its beaches havens for sea birds.
All of Hainan's over 10 million residents and any visiting tourists were ordered to undergo COVID-19 testing on Aug. 7. According to official data, about 8,600 medical personnel from 18 provinces arrived by Aug. 8 to assist with the mass testing.
The communist party's "zero-tolerance" COVID-19 policies state that travelers can leave the island once they return five negative tests within the previous seven days. But no commercial passenger flights are operating between the island and the mainland. Tourists told China's state-run media that they have been driven off airplanes after successfully boarding with all the necessary negative tests, right before the lockdown was announced on Aug. 6.
Beijing has plans to transform the 12,800 square mile island province into a massive free trade port. It's uncertain how much economic harm the lockdown will cause.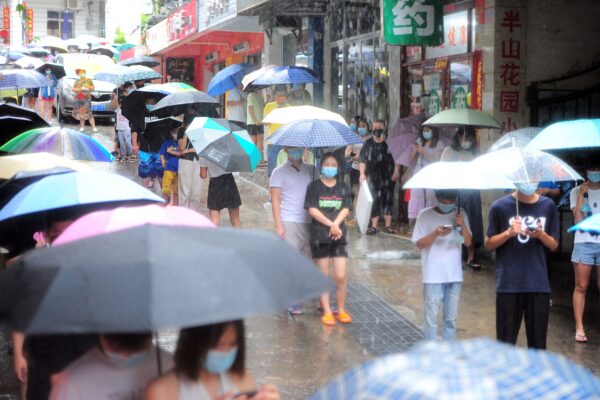 An Expanding Lockdown
The Hainan provincial government announced on Aug. 8 that over 1,500 infections had been diagnosed in the province during the outbreak, which began on Aug. 1. On Monday, 77 new infections were diagnosed. Official reports said that more COVID-19 cases were still being detected amid the strict lockdown measures.
To curb the outbreak, the regime announced lockdowns for one city after another on the island. As of Monday afternoon, residents in Sanya, Wuzhishan, Haikou, Zhanzhou, Waning, Qionghai, Dongfang, Lingshui, and Chengmai were prohibited to leave their homes.
"We must firmly prohibit people's moving out. We must ensure that no one may leave [the island]," Hainan party secretary Shen Xiaoming ordered of the provincial regime on Aug. 6. "We must monitor the people who enter Hainan. Every fisherman must be quarantined for seven days and tested five times during this time."
Shen then announced that the province will operate under "a wartime mode."
The epicenter of the Hainan outbreak is Sanya. The city regime announced it would open a second makeshift hospital on Aug. 7. The new facility with a capacity to handle 2,000 COVID-19 patients would open on Aug. 11. The regime said that currently, the island's makeshift hospital can take 2,876 patients.
The true COVID-19 infection rate in China is questioned by outsiders, due the regime's history of coverups and non-transparency with uncensored data.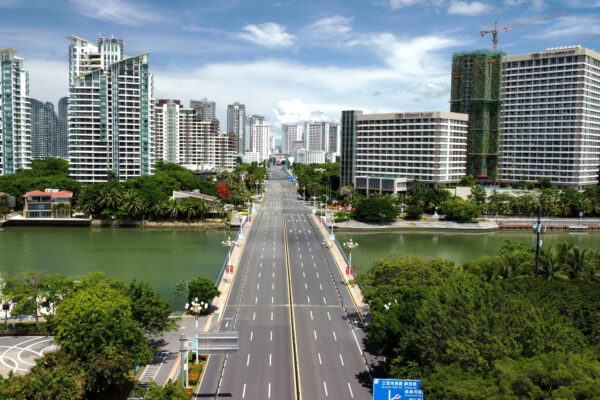 Frustrated Tourists
Because of its beaches and climate, Sanya is referred to as "China's Hawaii." On the afternoon of Aug. 6, a few hours after the regime had shut down all public transportation, Mayor He Shigang announced: "We estimated that over 80,000 tourists are stranded in Sanya."
"334 flights were canceled at Sanya Phoenix Airport on Aug. 6," State-run Hongxing News reported. "Some passenger flights had to return back to Sanya after take-off."
Ms. Wang is a Shanghai native. Her family was locked down at home for months this year under the regime's "zero-tolerance" COVID-19 policies. After the Shanghai lockdown lifted, she quickly arranged the trip to Sanya for her family of five, which includes old parents and a young child.
Wang learned in the early hours of Aug. 6 that Sanya might suspend all public transportation. She bought the earliest flights back to Shanghai immediately.
"I thought I had luckily acquired the last tickets [that could leave Sanya]," Wang, who didn't provide her first name, told State-run Yicai on Aug. 6. "We hurried to the airport, got through security, boarded the plane, and heard the pilot said the plane's doors are closed. We believed we could fly back to Shanghai."
In the end, Wang said, the plane wasn't allowed to take off, and her family and the other passengers were forced to exit the aircraft along with the flight crew.

Businesswoman Yang Jing told Reuters that she decided to take her family on vacation to Sanya because the island had reported only two COVID-19 infections in 2021. Now, her family is stuck on the island and facing high hotels rates, leaving them eating pot noodles to save money.
Yang and other tourists worry that the lockdown in Sanya will mirror the one in Shanghai, which was initially scheduled to last for five days but ended up lasting three months.
Stranded Soccer Teams
The China national football team and six Chinese Super League soccer teams are also stranded in Haikou, state-run Beijing Youth reported on Aug. 8. The teams won't be able to attend their scheduled matches.
The national team traveled to Haikou after finishing the EAFF E-1 Football Championship in Japan on July 28. Following the policy at the time, the players were quarantined in a hotel for ten days, to be released on Aug. 8. Now, they're facing more time in lockdown.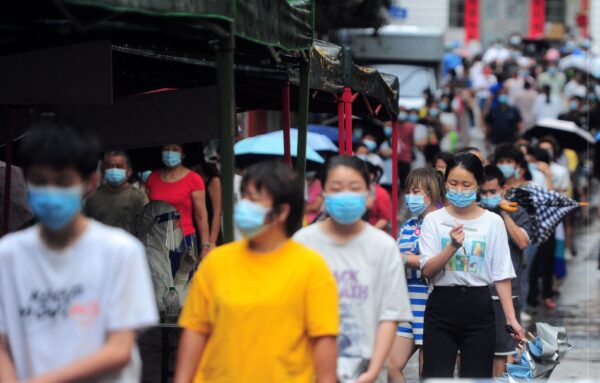 Six super league teams are stuck in Haikou: Chengdu Rongcheng, Jinmen Tigers, Shandong Taishan, Hebei, Cangzhou Lions, and Guangzhou. They were there for round 12 of the league's competition.
The Chinese Football Association (CFA) has postponed the matches involving these six teams.