7 Headlines You Won't Read Anywhere Else Today: April 20
April 20, 2014 8:51 am Last Updated: April 20, 2014 8:51 am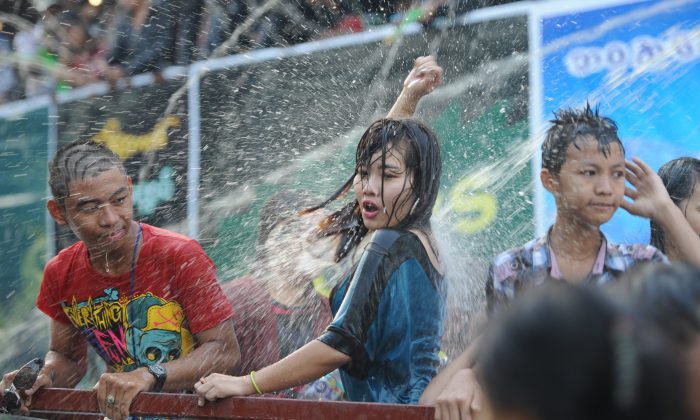 For a wet, wild week in the middle of the month, thousands of young people in Yangon and other cities around the country will do their best to wash away whatever sorrows they may have in a water fight that has to be seen to be believed.
Despite the Buddhist origins of the Thingyan water festival, which marks the start of the traditional Myanmar New Year, this is for many an occasion to indulge in a lot of loud, free-spirited fun.
But this is not to say that everyone is happy with the way many now celebrate the nation's most important holiday. "This is such a loss of our culture," says Mandalay-based writer Hsu Nget. … (Read more)
The Irrawaddy
Yana on her dream to create a magazine matching Vogue, and Taya on photographing Siberian women to rival the world's top models. … (Read more)
Siberian Times
NASA man Joe Tanner had trained all his life to fly into orbit. So when he climbed from the shuttle the one thing he did not want to do was let go … (Read more)
Wales Online
When you're an underachiever at home, you can move to Berlin and be an underachiever there. That's the narrative of "La Deutsche Vita," a documentary about being Italian in the German capital.
Italian directors Tania Masi and Alessandro Cassigoli live in Berlin. For both of them, producing the film "La Deutsche Vita" was a kind of therapy against the inevitable identity crises many immigrants face. And it worked. … (Read more)
Deutsche Welle
Coins dating back to 2,500 years ago as well as an antique gramophone … are some of the items a Kuwaiti collector has in his collection … (Read more)
Kuwait Times
'Some children think we are robots' — the first people to try out the groundbreaking Google eyepiece device in the country explain all.
Although Google's mind-boggling wearable technology is yet to be developed for users outsider of the United States, one expat couple has brought the digital eyewear over and is laying claim to the title of the first Google Glass users in Chile. … (Read more)

Santiago Times
The Canadian beast, Cladorhiza caillieti, looks like a skinny bottle brush. The samples were 5 to 7 cm long and only millimetres wide.
VANCOUVER—They look like fuzzy fingers, waving gently from the depths of the ocean floor but make no mistake — they're stone cold killers.
Scientists have discovered four new species of carnivorous sponge off the Pacific Coast, including one deadly variety found hanging from the deep-sea ridges off southern Vancouver Island. … (Read more)

Toronto Star