LOS ANGELES—Officials at 7-Eleven's corporate office encouraged all Los Angeles-area stores to close again on Tuesday night as police continue to search for suspects involved in robberies at six of its Southern California stores Monday, which resulted in two deaths.
Two victims in Orange County—a store clerk in Brea and a 24-year-old man in Santa Ana—were fatally shot July 11 during separate robberies. Three other victims are recovering from gunshot wounds.
"Our hearts remain with the victims and their loved ones, and our focus continues to be on Franchisee, associate and customer safety," 7-Eleven told The Epoch Times in an emailed statement. "With that in mind, we have encouraged stores in the Los Angeles area to close again tonight."
The early-morning robberies occurred within five hours at independently owned 7-Eleven stores in Brea, La Habra, Riverside, Upland, Santa Ana, and Ontario.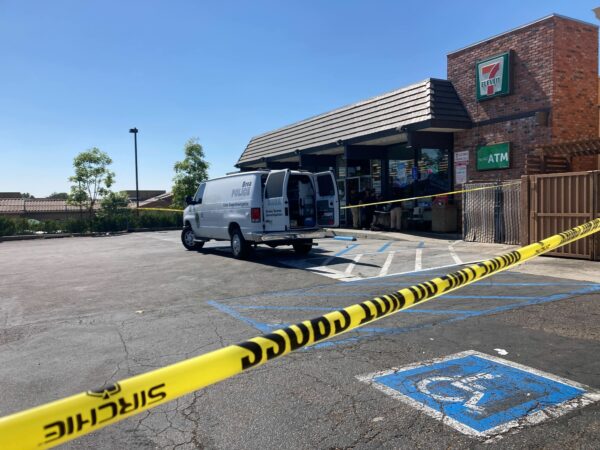 Officer Ryan Railsback, a spokesman for the Riverside Police Department, said closing stores Tuesday night might be wise as investigators search for suspects.
"I'm sure, in the circumstances, it could be a smart idea," he told The Epoch Times. "Safety is paramount to anything else. If 7-Eleven is recommending that, I think you'd see law enforcement getting behind that as well for the purposes of safety until this killer is found."
At least four of the police departments—La Habra, Brea, Riverside, and Santa Ana—have confirmed their investigators have connected the shootings to the same male suspect, whom they are working together to identify.
"We're comfortable saying it appears our guy is the same," he said.
Riverside police detectives continued to investigate a shooting that occurred at 1:51 a.m. July 11 at the 7-Eleven at the 5100 block of La Sierra Avenue.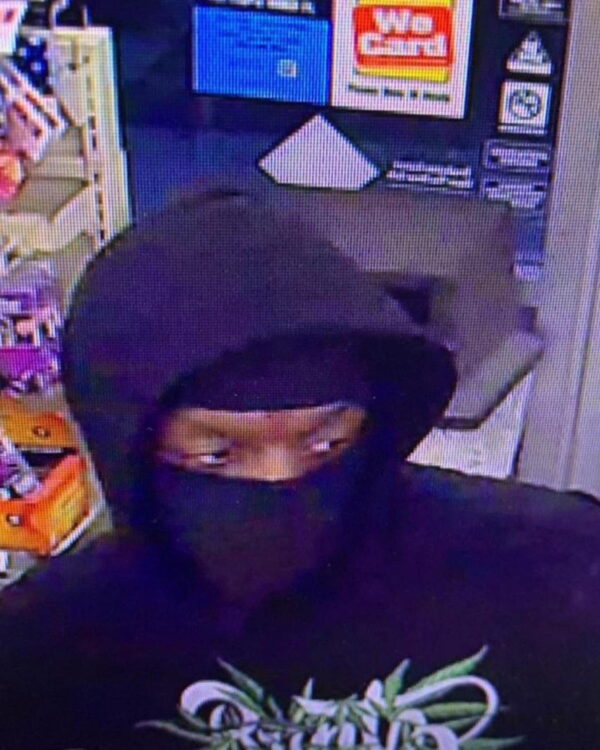 The suspect—wearing a black hooded sweatshirt and a black mask in photos released by police—has not yet been identified or arrested by Tuesday afternoon, officials said.
In Brea, a male clerk—later identified as 40-year-old Matthew Hirsch—at the convenience store on Lambert Road and North Brea Boulevard was shot and killed allegedly by the same suspect, according to Capt. Phil Rodriguez, spokesman for the Brea Police Department.
Yellow police tape was strung in the early morning hours along the parking lot, next to a makeshift memorial which had been created for Hirsch.
The Brea location was one of several stores that opted to close Monday evening and early Tuesday morning.
In La Habra, officers responded to a robbery report at a 7-Eleven at 381 E. Whittier Boulevard at about 4:55 a.m. and found two people suffering from gunshot wounds. Both were treated by paramedics and transported to a local hospital where they are listed in stable condition and are expected to survive, the city's police spokesman Lt. Jose Rosha told The Epoch Times.
La Habra's shooting happened less than an hour after the one in Santa Ana.
Santa Ana Police Department identified Matthew Rule, 24, as the victim of the homicide that occurred at 3:25 a.m. at a parking lot outside the convenience store in the 300 block of East 17th Street.
The suspect apparently never entered the store, and it appears he robbed Rule, according to Santa Ana Police Department Sgt. Maria Lopez. It wasn't clear if Rule was a customer of the store or why he was there, she said.
Based on surveillance photos of the suspect in the Brea and La Habra shootings, Santa Ana police said they believe it was the same suspect in Santa Ana, Lopez said.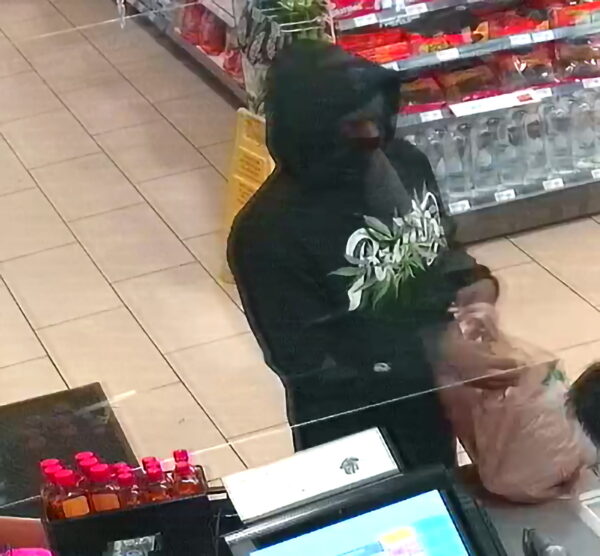 The 7-Eleven robbery spree may have started in Ontario. Police said just after midnight Monday, the store at 636 N. Vine Avenue was robbed. The suspect held up the store with a handgun, but no shots were fired, and no one was injured, police said.
Shortly after, a 7-Eleven store at 2410 W. Arrow Route in Upland was robbed at 12:40 a.m., police said. Investigators there had not yet confirmed a connection between the case and the other robberies.
City News Service contributed to this report.