A 7.0 magnitude earthquake slammed Papua New Guinea on Oct. 10.
The National Weather Service's office in Honolulu tweeted that "a tsunami threat exists for parts of Pacific located closer to the earthquake, but it is too early to determine whether there is a tsunami threat to Hawaii."
The quake hit near the New Britain Region of the country, the U.S. Geological Survey said. The quake was initially recorded as a 7.3 magnitude quake, but it was revised down.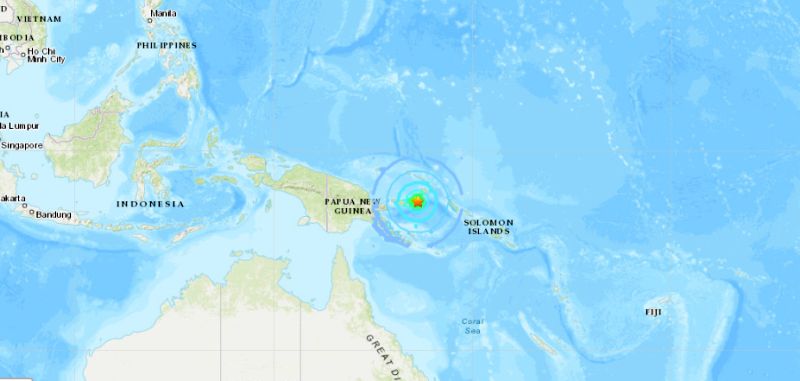 The Pacific Tsunami Warning Center also said that hazardous tsunami waves could hit Papua New Guinea's coast, according to Hawaii News Now.
The quake comes more than one week after a 7.5 magnitude earthquake slammed Sulawesi island, Indonesia, killing thousands of people.
CBS News reported that more than 2,000 people died in the Sept. 28 quake. But officials have warned that as many as 5,000 people may have died in the quake, which turned the ground in areas around the city of Palu into liquid via a process called liquefaction (as seen in the top video). A large tsunami also rocked Palu after the quake struck.
"Liquefaction occurs when loose sandy soils with shallow groundwater are subjected to sudden loading such as shaking from an earthquake," Jonathan Stewart, a professor in the Civil and Environmental Engineering Department at the University of California, Los Angeles, told CNN. "During the earthquake, water pressure is generated in the soil, which causes a dramatic loss of strength," added Stewart. "The strength loss can be so great that the soil behaves almost like a liquid."
Papua New Guinea, like Indonesia, is located on the Pacific "Ring of Fire," a seismically active region that encircles the Pacific Ocean. Most of the world's earthquakes hit along the ring.